Holiday Traditions: Advent Letters
The Advent Season, My Favourite Time of Year
Christmas and the Advent season are my favourite times of year. I love preparing for Christmas and Advent is the perfect way to prepare for both the sacred and secular reasons for the season. In our house we don't just prepare for Santa Claus to come down our chimney, we prepare for the Nativity. Some families struggle with combining these two parts of the holiday season. My family's tradition of activities, including Advent letters, helps us to prepare for both.
Daily Advent Letters in December
Every day in December, from the 1st to the 25th, I write a letter to my boys. It is usually a rehash of things that we did the day before and ideas of what we will do for the day. Sometimes it is just the usual activities like school and extracurriculars. Other times I write about special activities like going to take our picture with Santa, or dropping off some toys for The Christmas Bureau. All the activities are mixes of fun, charitable contributions, crafts, baking and special events.
Holiday Traditions That are Full of Meaning
Each year the Advent letters are more important to my boys than the other Advent calendars we have around – even the Lego Advent calendar. This year my older son has started to write Advent letters to me and my husband, as well. I love that this is encouraging Aidan to write on his own, and the letters are precious. For Quinlan this year we have added some words for him to learn as he is itching to learn how to read. He is so excited to be learning words like snow, happy and joy.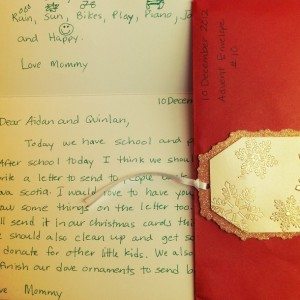 Preparing Your Children for Christmas
It is easy to start an Advent tradition on your own. There are lots of things you can do during the month of December. It can be as simple as watch a Christmas movie, or something more complicated like bake and decorate sugar cookies. In years past we have made salt dough ornaments, donated to the food-bank, baked cookies, decorated the Christmas tree, ridden the train at Stanley Park Bright Nights, gone to Van Dusen's Festival of Lights or any number of other activities. And it's not too late to start – children will enjoy the countdown, whether it's for 25 days or less than a week.
In the last few years I have taken pictures, written the Advent letters and collected tickets from some of the activities into a scrapbook. We have a nice record of what we were doing and the holiday traditions we are building with our kids from Christmas to Christmas. The boys love to look at the scrapbooks and re-read the letters and see what we were doing on this same day last year or the year before.
See Also
What are some of your family holiday traditions? How do you prepare your children for Christmas?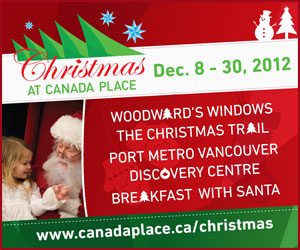 This post was sponsored by Christmas at Canada Place, which runs through December 30, 2012 under the sails in downtown Vancouver. Stroll the Christmas Trail with an array of beautifully decorated Christmas trees, hot chocolate, festive craft activities, face painting, storytelling and several of the Woodward's Windows displays. With events continuing until the end of the month, there's still plenty of time to stop by and get in the Christmas spirit. It's truly one of the best holiday traditions in Vancouver – add it to your list.
Gwen Floyd
Gwen Floyd is a by all accounts a marvellous chauffeur to her two sons ages 4 and 7. When she isn't getting her kids to various ballet and theatre classes she can be found on twitter or her blog or out actually talking to real live grown ups.While she doesn't have the PhD that her husband has, she does have a vast knowledge of Buffy the Vampire Slayer and a tonne of YA lit. You can find her on Twitter as @GwenFloyd or on her blog leftcoastmama.net