Holiday Entertaining: Small Spaces Big Parties
Family, friends and food hosted in small Vancouver living spaces defines the holiday season for most urban dwellers. A small party can feel big even when you've just invited a few neighbours and their lovely kids. You don't have to shy away from a big gathering even if your space feels a bit tight. The size of the space does not have to dictate the of the size of the party! All you need are a few ground rules when it comes to holiday entertaining and instead of being stuck in the kitchen you just might find yourself on the dance floor.
Five Tips for Small Space Holiday Entertaining
1. Red Plate Special
You can use this tip year round. Even if it's not a major holiday, just pull out the 'red plate'. The red plate adds a special touch to a regular meal and is a great way to recognize someone around the table for an accomplishment. It can be used to reward great behaviour or something that one of your loved ones have done that is worth taking the time to celebrate. The red plate special gives your gathering a little more significance than any other regular night and not knowing when it will show up will keep the anticipation high.
2. Embrace Offers of Help
When your guest offers to contribute to the meal, go ahead and say yes, please!. An appetizer or dessert can take the pressure off of the host and can still keep it simple for everyone. When people offer to help, it usually means they want to so saying yes isn't in poor taste. Hosting a party doesn't need to fall on just one person, even a more formal gathering can benfit from the variety of guests. A pot luck will leave your kitchen freed up for extra mingling. This is especially important when you're holiday entertaining in a small space, because every square foot counts!
3. Pull out the Rewards Cards and Reedem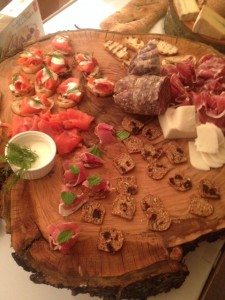 We are all invested in keeping our meals and homes as natural and homemade as possible. But popping by the grocery store for pre-made dips, oven appies and desserts is not a crime. Gone are the days of overpriced tasteless options that leave you feeling like you need to apologize for being short on time. Loblaws City Market in North Vancouver is the first of its kind locally. It's a sister store to their mega counterpart Superstore and No Frills. Brand new this season is their PC Points Card that earns you rewards points whenever you shop at one of their stores. The points add up quickly and can be redeemed just as fast. The more you use your points card the better the offers are that reach you. Their reward system starts to track what you like to buy and tailors their promotions and dinner ideas sent to you. This is just one example of a rewards card – there are many more. Wherever you shop, saving your points for holiday entertaining can relieve a lot of expense when you are feeding more than just your family.
4. Give
If $25 secret Santa gift exchanges are starting to lose their lustre, break with tradition and suggest that everyone pools resources for a greater contribution. Get a group of people together to collect toys for a family in need, or stock up on the essentials toiletries, blankets and non-perishables to be dropped off at a local donation centre. Offering to be the central spot to drop off the 'goods' is a great way to rally everyone around and bring a greater meaning to your holiday entertaining. Sharing this expereince with friends and family can also lead to great conversations and teachable moments for the kids, not to mention making a difference in the lives of people around us. Also, if you are choosing to donate gently used toys and children's items, this will be a great way to do some clutter control before the wrapping paper starts flying on Christmas morning.
5. Get the Kids Involved
In an effort to relieve the stress of making it all look just right, recruit the kids! Have your young ones set the table, draw up name cards and make the signs. It's a festive touch and it keeps things from getting too formal. Enrolling the artistic talents of the kids helps them take ownership of the experience and instead of asking for the iPad when the adults arrive they get into hosting their guests and showing off their hard work.
Whatever it is this holiday season that makes you the happiest, let it be merry and bright. Share your holiday entertaining ideas, best time and money savers, and favourite holiday shopping tips by using the hashtag #VMholiday on Twitter and Instagram and let the our online community share its joy!
Katie Smith
Katie is a lover of all things Vancouver. She lives in the city (yes, in an apartment!) with her husband and two kids. She takes her coffee seriously and like any mama declares blogging to be the new therapy and Instagram the new scrapbooking. You can find her at www.worldbysmith.com and on Twitter where she's @worldbysmith.