Go Fly a Kite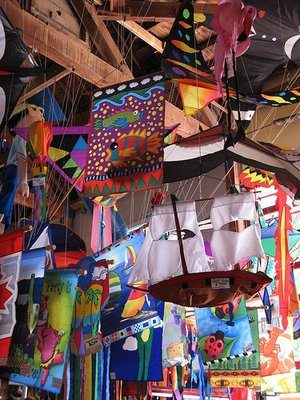 It's hard not to squeal with glee when your kite takes flight, whether you're 5 or 45. Find the best places to get a beautiful kite and where to fly it.
Vanier Park
Great place to kite watch, or fly your own. Serious goose poo, watch where you sit. And step.
1000 Chestnut Street, Vancouver
Garry Point Park
Beautiful park with good kite winds, near Steveston, and it did we mention fish and chips, and ice cream?
12011 Seventh Avenue, Richmond

Kites and Puppets
Beautiful kites for all levels of flying – it's a small shop so not always a huge selection.
1496 Cartwright Street, Granville Island, Vancouver, (604) 685-9877

Ambleside Park
Beachside kite flying with a view of the Lionsgate Bridge. Can get busy on sunny weekends.
West Vancouver, (604) 925-7275
Kites on Clouds
Good selection of showier, and pricier, kites. Prices go up to $200, check the tags before going to the cashier!
150 Water Street, Vancouver, (604) 669-5677

Find more great places for moms just like you. Download JellyBeen, the social mobile app to find the best places to shop, eat and play with kids.
Image credit: Ann McKinnell

Erin McGann
Erin McGann is the former Managing Editor for Vancouver Mom and Toronto Mom Now. She drinks just a bit too much coffee, is a bit obsessed about sourcing local food, plays the cello moderately well, spends too much time on Twitter, keeps honeybees on a rooftop, and has a thing for single-malt whisky. Erin is working on a novel set in turn-of-the-century Vancouver, which her husband, son and dog have to hear about all the time, and also blogs at Erin at Large.