Harrison Hot Springs: Around Town With the Kids
Looking for a relaxing spring break getaway with the kids? Believe it or not, it is possible to relax and entertain the kids at the same time with a trip to nearby Harrison Hot Springs. While there, the place to stay is hands-down, the deluxe Harrison Hot Springs Resort & Spa.
While you could spend all day at the Resort enjoying its soothing waters, sometimes it's nice to stretch the legs and head outdoors for a little nature fix and, maybe ever a treat.
Three things to do with the kids around town

Walk to the source
A short jaunt from the Resort lies the actual source of the decadent mineral hot pools the resort is so famous for. The littlest of kids can walk or be carried along a gravel trail to the point where the steaming waters bubble out of the ground. Be sure to walk around the back where a little waterfall hits the hot waters causing it to steam.
Hang out on the beach
The beachfront looks out over sparkling Harrison Lake. On a clear day, you can see magnificent snow capped mountains in the distance. The kids can spend hours tossing rocks in the water, building castles in the sand, or playing with driftwood. Once they tire of the beach, keep walking and make a pit stop at the playground.
Have a treat
Head over to Muddy Waters for the best latté in town while the kids enjoy a mid-winter ice cream cone next door (because ice cream is good in all weather!). If you're feeling hungry, the café also serves tasty meals using local ingredients from cheese and eggs to seasonal fruits. If brunch is on your mind, the kids will love the pancakes, fruit topping and mile high whipped cream at Chuck and Kitty's Country Café. PS: Look out for Sasquatch enroute!
And once you're done, head back to the resort and resume swimming, soaking and cocooning. Rinse. Repeat.
Harrison Hot Springs Resort & Spa
www.harrisonresort.com | Twitter | Facebook
100 Esplanade Avenue, Harrison Hot Springs, BC, 1 800-663-2266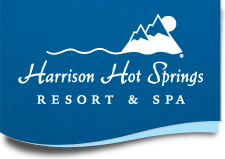 This article was sponsored by Harrison Hot Springs Resort & Spa. Family adventure. Romantic relaxation. Nightlife and great cuisine. It's all here at Harrison Hot Springs Resort & Spa – a landmark British Columbia resort hotel on the picturesque shores of Harrison Lake. Since 1886, travelers have sought the source that provides warmth to our five mineral hot pools and inspiration for our healing spa treatments.

Harriet Fancott
Harriet Fancott is the Editor and Social Media Manager for Vancouver Mom. She has over 20 years experience in the arts, tech and mom-based blogging arenas. She lives in East Vancouver with her husband and son where they enjoy exploring all that Vancouver has to offer from festivals and events to playgrounds and beaches to sushi and ice cream (although not together).