Don't Lose Sleep to Scary Movies this Halloween
Are scary movies part of your family's Halloween celebrations? Guest contributor Julie Miller shares her tips for deciding whether your kids are ready to join in the fun.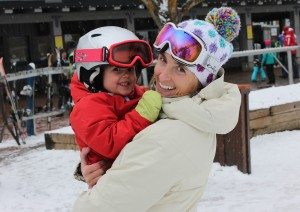 Halloween is right up there with Christmas in my house. My kids are still young, so I can only imagine the hype as years pass. My oldest child is just at that age where she is really understanding the idea of dress up and trick or treating. Both my girls love to get a little bit scared sometimes with me jumping out behind a door or sneaking up behind them. It's all part of the Halloween fun.
Many holidays have special movies linked to them. Unlike Christmas, with happy cartoon Santas, cute little elves and Frosty the Snowman, Halloween has movies of a whole different nature. Of course I know the Charlie Brown Halloween special, which is light and fluffy. Then there are the others.
 In my work as a certified Family Sleep Consultant I help children overcome sleep challenges of all kinds. I find it interesting how many families don't see the link between their children suddenly getting nightmares and just recently watching a scary movie. During the Halloween season it is important to be especially attentive to how the movies we let our children watch will impact them.
Movie Nostalgia
I know we all think back to a movie we watched as kids. We remember it fondly, and then show it to our kids with excitement and good intentions. We don't event stop to consider how scared they may be or how old we actually were when we saw it. Many times when parents watch a scary movie with their children they do so because they remember that excited and scared feeling they had watching the same movie.
As adults, Nightmare on Elm Street seems silly now. Friday the 13th seems funny and cheesy. But think back to when you saw these movies for the first time. You may have even had trouble sleeping yourself after these movies. Even children's movies can leave some kids truly petrified. My nephew was completely overwhelmed by the movie Finding Nemo. How do you know if your child is ready for a scary movie?
Is Your Child Ready for Scary Movies this Halloween?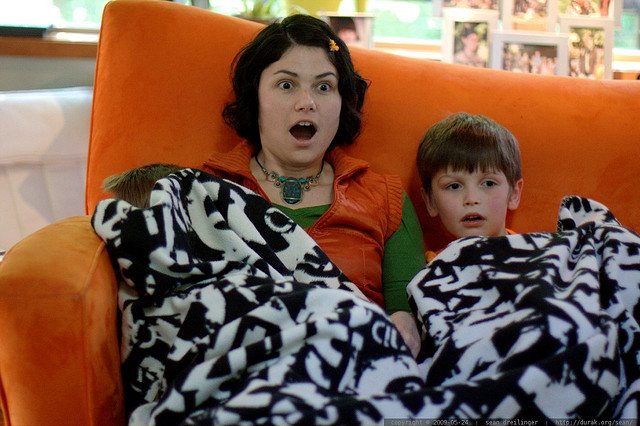 Here are a few things to keep in mind to help you decide if your child is ready:
Does your child act his or her age? If no, decide if the movie is appropriate for their developmental stage.
Is your child easily scared? You can't un-watch the movie, so err on the side of caution.
Does your child have a history of trauma, or experiences of major loss? I would delay scary movies until they are old enough to understand that movies are not real if this is the case.
Does your child struggle with anxiety? If your little one is already a worrier then scary movies are maybe not a great idea until they are older.
[/unordered_list]
This Halloween season, do your child and your family a favor. Wait until your kids have the coping skills to handle scaru movies. Be mindful of movie ratings such as PG-13, but also use your judgement as they are just guidelines. Not every child is ready when a rating says so. Otherwise the whole family may be in for some long sleepless nights until you can work through this fear.
Julie Miller, founder of Mountain Dreams Family Sleep Consulting, lives in Squamish, BC Canada with her husband and two girls, Sola and Yale. Julie is a certified Family Sleep Consultant with the Family Sleep Institute. This is complimented by her Masters degree in Social Work and extensive experience working as a therapist with children and families. She is confident addressing a complex set of issues and is comfortable working with individuals from all backgrounds. For more information please phone Julie at 604.377.0682, email julie@mountaindreams.ca, visit www.mountaindreams.ca and follow her on Facebook.
Photo Credit – Sean Dreilinger on Flickr
Vancouver Mom
Would you like to write for us? We welcome well-written guest submissions with a local interest slant. Share your tips, review local businesses and highlight hot trends for Vancouver moms. Get all the info on our Contributor Page!