Parents! Work (or lounge) while the kids jump at Sky Zone Trampoline Park
SKY ZONE SURREY IS NOW CLOSED
Did you know that you can work or relax in the Parents Lounge at Sky Zone Trampoline Park while the kids bounce? The brilliant setup is perfect for WAHMs and anyone who doesn't feel like jumping. Yup. You can grab a coffee, set up your laptop or just chill on your iPhone all without any small people telling you they're bored, hot or hungry!
How Sky Zone makes it easy on parents
No special equipment required: Kids do need the special jumping socks but you only have to buy them once. They are good for multiple uses!
Quick waiver and register process: The process to register and sign waivers for your children only takes about 10 minutes and the info is kept on file for next time.
Court monitors: Enthusiastic (and well-trained) court monitors are stationed at EVERY court to supervise (and often play) with your kids. Leaving you free to focus on grownup things…like that client proposal or the novel in you waiting to come out!
"I loved that there are court monitors at every court. I was mentally prepared to spend the whole evening supervising my kids, but to my surprise I was told that I didn't even have to be there!" ~ Joanna, Sky Zone Parent
Air conditioned comfort: The entire park is air conditioned making it a cool escape for parents. And encouraging your kids to work hard to get their body temp up with some serious bouncing.
Parents Lounge with FREE WiFi
Not only are there court monitors watching your kids, there's free WiFi throughout Sky Zone so you can just open your laptop, log on and book your next trip to Paris (or work on those excel files). Or maybe edit some photos, add to your Instagram stories or play Candy Crush! Your choice!
And as added peace of mind, the Parents Lounge has a great view of all of the jumping courts, so its easy to keep an eye on your kids.
I grabbed my laptop from the car, got a coffee and settled down in the parent's lounge where I could use the free Internet. It was pretty cool because it overlooked the whole park so I could glance at the kids every once in a while but honestly it seemed like the staff knew what they were doing so I wasn't too worried about their safety. ~ Kelly, Sky Zone Parent
Water fountains: Forgot your water bottles? Kids have access to the water fountains so you don't have to buy bottled water.
Parents can get a last minute bounce in for $5!
After an hour of jumping, the kids wanted to stay a bit longer so in the end we've spent 90 minutes there and we all loved it! They were happy bouncing around and I was happy to get some jump time for myself and it only cost me $5 for half an hour! ~ Joanna, Sky Zone Parent
Summer Sky Camp
Kids already bouncing off the wall? Send them to Sky Camp so they can bounce off the Sky Zone walls instead. Think jumping, arts and crafts, games, friendships and fun! For kids aged 6-14.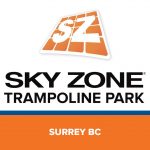 This post is sponsored by one of our Community Builders, Sky Zone Trampoline Park Sky Zone is the world's first indoor trampoline park. We're the inventors of "fun fitness" and the makers of trampolines as far as the eye can see. Sky Zone Surrey is all about spreading the good word of Fun Fitness. We believe that combining the best equipment with caring, motivated staff equals the best time you can have indoors!
Harriet Fancott
Harriet Fancott is the Editor and Social Media Manager for Vancouver Mom. She has over 20 years experience in the arts, tech and mom-based blogging arenas. She lives in East Vancouver with her husband and son where they enjoy exploring all that Vancouver has to offer from festivals and events to playgrounds and beaches to sushi and ice cream (although not together).