Pumpkin Patch Paradise: Westham Island Herb Farm
Want to get this year's pumpkin from a real deal pumpkin patch? Then put on your rubber boots and head out to Westham Island Herb Farm, about a 40-minute drive from East Vancouver.
Pumpkin Patch an Annual Highlight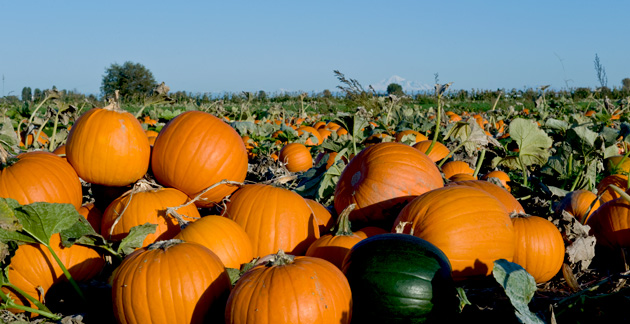 This awesome, family-friendly farm is a spring-to-fall favourite. They sell produce, preserves, fresh-cut flowers, plants, honey and homemade goodness that's either made or grown right on their fertile bit of land. The highlight each year is definitely the pumpkin patch, where you can grab a wheelbarrow and head out into the fields to pick the perfect pumpkin with your own little pumpkins. If you'd rather not embrace your free-range side in the sometimes-muddy fields, they also have a selection of pre-picked and cleaned pumpkins, as well as unusual gourds and uncommon pumpkin varieties, from teeny tiny to massive monsters. They even have white, grey and red pumpkins. Once you've picked your pumpkin, they'll weigh it and ring it up.
If You Visit
The day we visited the pumpkin patch was packed with happy kids and photo-snapping parents, so you may want to head out there earlier in the day. While there, you'll want to take a little tour around the barns to see a few farm animals, including donkeys, chickens, goats and rabbits. There are also beautiful herb gardens to admire and hot chocolate and cookies to scarf down.
See Also
While you're on Westham Island, you may want to pair your pumpkin patch visit with a trip to the Reifel Bird Sanctuary to feed the ducks and check out the amazing snow birds that nest along the Fraser River estuary. You'll likely make this family-owned pumpkin patch and farm an annual event. Dress warmly, wear boots and bring a bag to put your pumpkin in!
Westham Island Herb Farm
www.westhamislandherb.ca | Facebook
4690 Kirkland Road, Delta
Vancouver Mom
Would you like to write for us? We welcome well-written guest submissions with a local interest slant. Share your tips, review local businesses and highlight hot trends for Vancouver moms. Get all the info on our Contributor Page!