How to lift each other up this Pink Shirt Day 2021
Photo credit: Kera Skocylas
COVID can't stop kids and parents from standing up to bullying and wearing pink this year. "Lift each other up" is the theme of this year's annual anti-bullying Pink Shirt campaign. And really, is there a better way to stop bullying in its tracks than by supporting our peers and spreading kindness?
Many moms are concerned with bullying – it's sadly something many children deal with at school, and over recent years, it has become a major issue online. This year Pink Shirt Day is on Wednesday, February 24th. This is a day to raise awareness about bullying.
Three ways to lift each other up!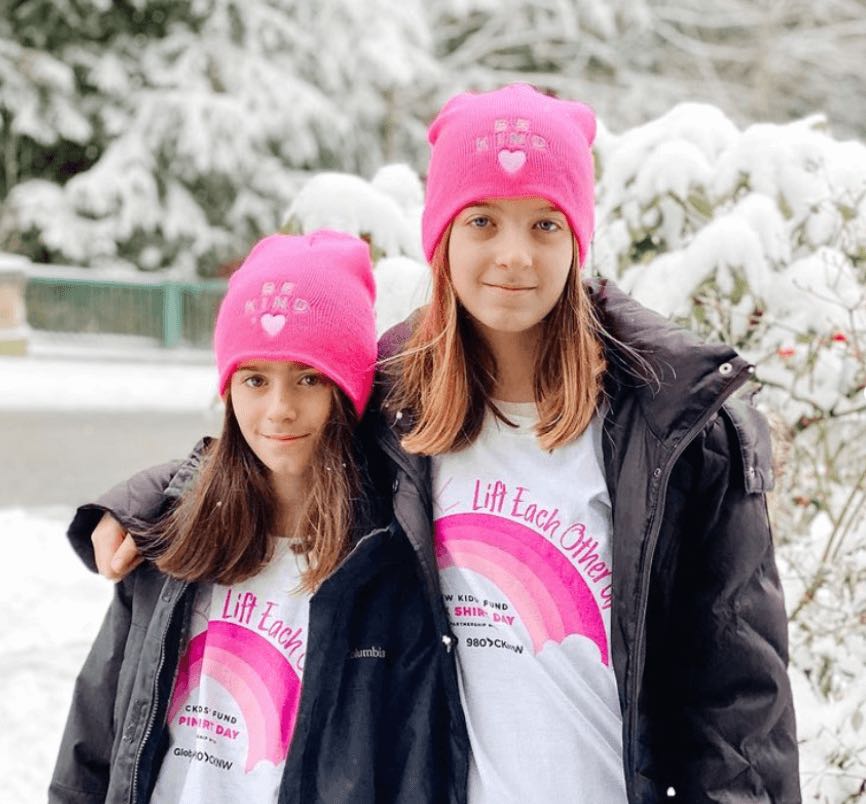 Be encouraging. Encouragement is a simple way to lift up classmates and peers. A simple "Well done" or "That was great!" can go a long way towards fostering unity.
Avoid talking about others when they aren't around. Don't talk behind people's backs, relay or reshare rumours online. Be a secret-keeper not a secret spreader.
Call out bullying behaviour: Teach you kids to lead rather than follow when they witness injustice. Sometimes that's all it takes to bring others onside. Alternatively, seek help from an adult or teacher.
What's interesting is that the official Pink Shirt Day shirts are actually white this year. This was done intentionally to focus on the pink rainbow which represents hope, opportunity and the pride of LGBTQ2+ youth who are vulnerable to bullying during childhood.
We wanted to design a shirt that would stand out from all of our past ones, one that would be worn all year long. A reminder that the last year wasn't like any other, but that the importance of sharing a message of kindness is still the same."

~ @pinkshirtday IG
You can donate or purchase your official Pink Shirt Day T-shirt. Proceeds fund anti-bullying initiatives.
Be sure to wear your pink (or white with a pink rainbow) shirt on February 24.
Kera Skocylas
Kera is a full-time mom with three kids. She lives in the suburbs of Vancouver and recently started Kids Cuddles Coffee, a 'mommy-news' blog. She loves going on adventures with her kids all over the Lower Mainland. She has a passion for writing and the news. Before becoming a mom she worked at CBC radio and at a local newspaper. Follow her on Instagram @kidscuddlescoffee
Harriet Fancott
Harriet Fancott is the Editor and Social Media Manager for Vancouver Mom. She has over 20 years experience in the arts, tech and mom-based blogging arenas. She lives in East Vancouver with her husband and son where they enjoy exploring all that Vancouver has to offer from festivals and events to playgrounds and beaches to sushi and ice cream (although not together).