Kindergarten Registration Time in Vancouver
Kindergarten Registration Already?
As unreasonable as it may seem, kindergarten registration time is here. If your child will turn five in 2013, you'll want to read this article carefully. When I was registering my oldest son for kindergarten I was a mess. I needed to figure out what every school wanted – and each school handles kindergarten registration a little bit differently. This year I am registering my youngest and things are a little easier as I know what to expect, and he has sibling priority.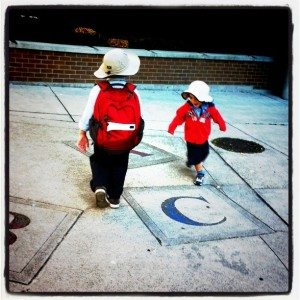 Kindergarten Registration Choices
In the Vancouver school district you have a few choices for where to go for kindergarten registration. The school boundary maps are helpful and list the schools nearest to your address. Things become a little more complicated if you decide on a special school such as French immersion, but they also have a catchment boundary map. If this is your first child going to kindergarten and you want French immersion you still need to register at your local English school. Things can become more complicated if you decide to try to get into one of the Montessori schools or the arts based school.
Documents Needed
No matter what option you choose, you need to go to the schools of your choice and pick up the forms you need to fill out. Be prepared to have the following documents:
[unordered_list style="bullet"]
Your child's birth certificate
Proof of Canadian citizenship or immigration documents for yourself
Proof of Address like a tax assessment, home buying agreement or rental agreement, and a utility bill
Immunization Records
Check the Vancouver School Board site for information on documents needed for children not born in Canada.
[/unordered_list] If you are renting a place most schools want a copy of a rental agreement or letter from your landlord and a copy of a utility bill.
On the kindergarten registration form you also need to know your doctor's name and phone number and your child's provincial health number. If you are applying to multiple schools it is useful to make photocopies of all the documents and keep a copy for yourself. Make sure you bring all the documents with you or the schools will not accept the registrations.
Registration Time Frame
Kindergarten registration is open from November 1, 2012 to January 31, 2013. Priority will be given to children who are registered in this time frame over those who register later.
If you decide to register your child cross boundary you still need all the same information, but you will need another form and it is due at a different time. If you have any questions about the process it is a good idea to talk to the school administration, especially the school secretaries. They are a goldmine of information and should be able to help you with any questions you might have.
Do you have a little one starting kindergarten in 2013? Tell us what you're looking forward to – or not looking forward to – in the comments.
Gwen Floyd
Gwen Floyd is a by all accounts a marvellous chauffeur to her two sons ages 4 and 7. When she isn't getting her kids to various ballet and theatre classes she can be found on twitter or her blog or out actually talking to real live grown ups.While she doesn't have the PhD that her husband has, she does have a vast knowledge of Buffy the Vampire Slayer and a tonne of YA lit. You can find her on Twitter as @GwenFloyd or on her blog leftcoastmama.net