Kid-Friendly Fun at The Great Escape in Langley
Looking for a place to have fun on a rainy day? Be sure to visit The Great Escape in the Fraser Valley. Located conveniently just off the Langley ByPass, this indoor entertainment play park is great for all ages. They have food at the Coba Café so you can grab a bite to eat while the kids have fun at the indoor playground. And their hours are generous – they are open 10:00am-9:00 pm every day.
Kid-Friendly Fraser Valley Fun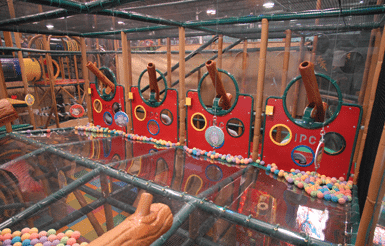 From the Toddler Zone (up to three years of age) to the famous Lava Drop slide, there are over 50 different play elements at The Great Escape to entertain your kids for hours. There are many arcade games to choose from as well. The Ballistic Ball Shooter is a fun and safe game area for your children. They can get lost in the climbing jungle playground, and can blow off steam on the disco dance floor.
For the older kids, there are many ways to have fun: Laser Tag, Mini-Golf, Air Trek and arcade games throughout the park.
From Birthdays to Company Parties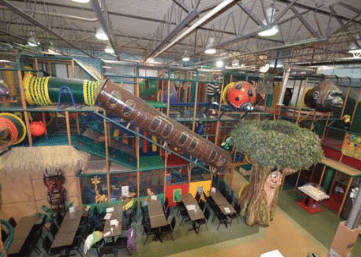 Take the stress out of birthday party planning and book a party room at The Great Escape. They take care of everything from the food and paper plates, to the cutlery and party favours. For your convenience, there is an easy to download link to make easy party invitations from home. You can bring in your own cake, or they can take care of that too.
You can add on fun extras like the 3D Mini golf or Laser Tag. There is a minimum of eight kids required to book a party room. And they don't just host birthday parties. They offer party planning for companies to enjoy the play park too. Just call or check out their website.
Where to Eat
The Coba Café boasts a large menu. It features burgers, sandwiches, fries, pizza, cold and hot drinks and many healthy snack options. They can cater to any sized party. Bring your food up to the Café's top mezzanine to get a fantastic view of the play park.
If You Go
Babies under six months are free. Children three and under are $8.00 for general admission. Kids four and over are $12.00. Adults are free per child's admission. Additional adults are $6.00. We recommend getting the Game Cards for the best value. Get a $25.00 game card for only $20.00! See their website for more information on prices for extra entertainment.
This is a wonderful and safe environment to exhaust your kids on a rainy day. There is plenty of parking beside and behind The Great Escape. Sign up for their newsletter for all updates, including current deals.
The Great Escape
www.thege.ca | Twitter | Facebook
105 – 20645 Langley Bypass, Langley
Danielle Christopher
Danielle moved to Langley with her husband when she was expecting their first child. It was a move of convenience eight years ago, and they can't imagine living anywhere else. They fell in love with the neighborhood and the community around it. Danielle's personal blog (MotherlessMoments.com) was nominated for Vancouver Mom Top Blogger 2013. She writes about being motherless and raising a child with autism. Find her on Twitter: @DanielleASigne