Holiday Shopping: Nurturing Creativity with Kids Art Supplies
Looking to get your holiday shopping off to an artistic start? Sue Sinclair has some children's gift suggestions for nurturing creativity.
In a society that is overrun with technology, good old fashioned art is a great place to inspire creativity. Colouring books and art supplies are a great place to start.  For the more advanced artiste, kits and crafts can provide hours and hours of a creative outlet.
Great Art Supplies for your Holiday Shopping List
P'kolino, a US based company has a fabulous selection of quality art supplies from crayons, markers, paints, pencil crayons or all of the above in the ultimate art supply set.
Once you've got the tools, you can add awesome doodle and sketch books to get the artistic juices flowing.  For those of us who struggle to draw stick people, the step by step guides in these books are extremely helpful and seeing the look of accomplishment on your child's face is priceless.
Nurture Creativity and Archive the Creations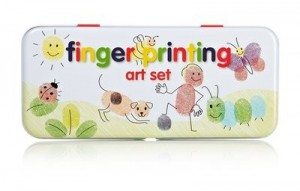 Budding Picassos and Emily Carrs will love making finger print creations with these great sets from NPW.  Available in a variety of designs and colour combinations, the sky is the limit for your fingerprint masterpieces.
For the more advanced or older children, origami is a fun activity and Djeco has absolutely stunning art supplies and kits including stencil sets, glitter sets, mosaics, collages, art by numbers and more!
I'm consistently blown away by the projects and portfolios my kids bring home.  While I cannot keep and store all of their work, I use an awesome app called Artkive to take pictures and preserve the memories!
What about you? How are you nurturing creativity through your holiday shopping and all year long?
Sue Sinclair is the Chief Executive Mom at Raspberry Kids, a local Vancouver lifestyle store where you will find fresh, healthy and fun products for little ones and families. She's also a very proud Vancouver mom of three Vancouver Kids. Catch up with her (and do some holiday shopping) at raspberrykids.com.
Vancouver Mom
Would you like to write for us? We welcome well-written guest submissions with a local interest slant. Share your tips, review local businesses and highlight hot trends for Vancouver moms. Get all the info on our Contributor Page!