Giveaway: SPUD.ca has Baby Covered
Vancouver moms love SPUD.ca – short for Sustainable Produce Urban Delivery. Thanks to the convenience of online shopping and home delivery, you never have to visit the store. While this is fabulous anytime, it's an even bigger deal when you have a new baby. This is why we were really glad to hear that SPUD.ca is now carrying organic, local and healthy baby products. Moms can now get their groceries and diapers delivered to their doorstep, taking away the stress of the weekly grocery trip with kids in tow. After all, we all have more than enough to do already. So we're especially thrilled to be teaming up with them for a fabulous giveaway!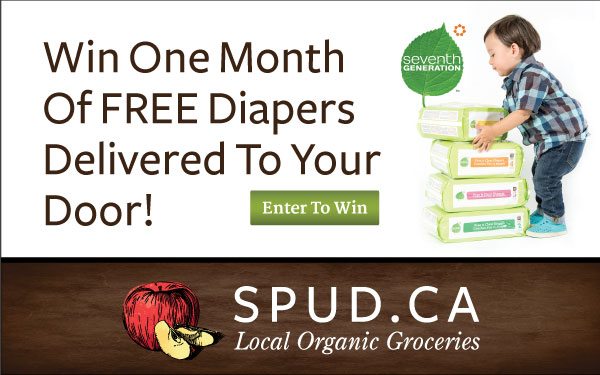 The Prize
To kick off the launch of their new baby section, SPUD.ca is giving away one month of FREE Seventh Generation diapers to one lucky mom. That's over $100 in FREE diapers being delivered to your door! Plus, these diapers don't contain any fragrances, latex or petroleum-based lotions, and they're not processed using chlorine. What's not to love about that?
SPUD.ca Baby Giveaway
Now that we've got your attention, it's time to fill you in on how to take part in this amazing giveaway. Luckily, entering is easy – read on for all the details.
How to Enter
Mandatory entry:
Fill out this form to enter. Note that you will be subscribed to our mail list:
Contest Rules for the SPUD.ca Baby Giveaway
[unordered_list style="bullet"]
Contest runs until February 3, 2013 at 11:59 pm.
You may only enter once.
Winner will be selected and contacted by email. If the winner doesn't claim the prize within 48 hours, then another name will be selected.
[/unordered_list]
Good luck, and happy shopping!
SPUD.ca Baby
Amber Strocel
Amber Strocel is a writer, aspiring math teacher, suburbanite, wife and mom of two. She believes in the power of the Internet to connect people, and she believes that numbers are the poetry of the universe. You can often find her knitting, sewing, volunteering, working in her garden, and sneaking chocolate when no one's looking. She blogs at Strocel.com and shares her photos on Instagram as @AmberStrocel.