George C. Reifel Bird Sanctuary isn't just for the birds
What's wackier than getting up close and personal with your favourite waterfowl friend? At the end of October, we had a chance to venture to the tip Westham Island in Delta, and for those who prefer to travel with a baby-stroller—please pay close attention to this one!
The George C. Reifel Migratory Bird Sanctuary is a nationally owned, 850 acres of managed wetlands, marshes and low dykes in the heart of the Fraser River estuary. It's the main West Coast spot to watch millions of birds seeking shelter during their annual migrations along the Pacific Northwest Coast. Here you'll have the chance to find 290+ different bird species—and if you're like my kiddos, you might even be invited for a close conversation with a Sandhill Crane!
Once owned by the well-known Reifel Family, the area was first purchased by George C. Reifel as he built a successful real estate and brewery business—Reifel Farm. In fact, they were responsible for ⅓ of the sugar beet seed production of Canada during the WW2 period.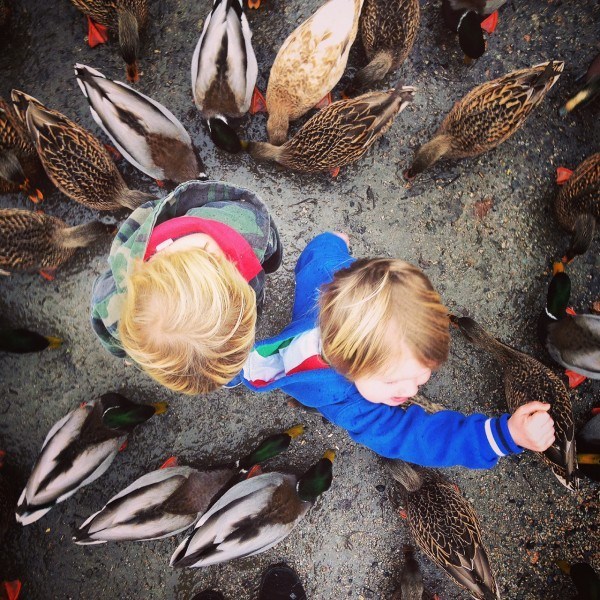 As the years went by, due in part to its location, it became widely recognized that the Reifel homestead plays a significant part in wildlife habitat value. And in 1972, in combination with land sale and part donation, George H. Reifel (son of) agreed to passing the property to the Federal Government with the conditions that it will: (1) continue to be managed for the primary benefit of waterfowl; (2) the sanctuary would carry on the name of the original owner (his father) George C. Reifel for the generations to come.
This sanctuary is also a trail, and there are many gravel pathways, causeways, picnic areas to rest, a lookout tower to climb and even a large covered "Warming Hut" (closed at the moment, due to our 2nd wave). As this estuary is well operated and cared for, it's the perfect setting for a midday gentle stroll with your family.
The sanctuary is opened year round and here are some things to expect during the different seasons:
Fall
The migration of many ducks—majority of them spend their falls in the shoreline of our BC Coast. You'll have a chance to see many waterfowl friends in the sanctuary at one time. You'll also see many shorebirds, warblers and hawks on their way south for the winter. One notable species according to Reifel Sanctuary's notes, is to be on the lookout for the Snow Geese from Wrangel Island (Russia) as they migrate South and will spend their winters in the Fraser River estuaries.
Winter
Largest opportunity to see all the ducks living together at one time. You'll get to see mallards, black-cappped chickadees and many forest birds. Don't be surprised to see many owls, eagles, hawks and ever so often if you're lucky enough to witness a massive fleet of thousands of Dunlin birds covering each inch of the skies.
Spring
The birds now fly north and the passage upwards begins. You'll get a chance to see many shorebirds, warbles and waterfowl on their way to areas of the North—Artic, Yukon, Alaska and Interior and northern BC and Alberta. If you listen carefully you'll hear hummingbirds and swallows. In April, you'll see many flocks take flight as they head north. You'll also start to see nesting behavior for songbirds and mallards; some specific species namely are the Gadwall and Wood ducks, Canada Geese and Sandhill Cranes.
Summer
Babies, babies, babies! Here's your chance to see the hatching & development of young ducklings and goslings. Nesting behavior for ducks, geese and song birds are all around in the ecosystem. Most adult waterfowl also gradually begin to shed and replace their feathers. Late in August, you'll see the passage of shorebirds on their way south leaving their Arctic nesting areas.
If you're planning to walk the whole way through, do spare yourself the 1.5 hours so you can stop to feed the ducks (food for purchase on site, do not bring your own). Stop and admire the beauty that brings the term beautiful British Columbia to light.
How to Plan Your Visit
Admission & Hours
Adults               $5
Seniors (60+)     $3
Children (2-14)   $3
9 am to 4 pm
Last entry 3 pm *Closed Mondays*
Bird seed (1 Bag)  $1
Ways to Save
Annual membership available: Single (any age) $25, Family $50 or Lifetime $500
Parking
Large complimentary parking lot footsteps from entrance
Time spent on-site
Most visitors spend 1 to 1.5 hours walking on this trail (note that all visitors need to be out of the Sanctuary by 4pm)
Main Attractions and Learning
Come see over 290+ different species of migratory birds, have the chance to view, to feed and to be with them in their natural setting.
A leisurely stroll through the well groomed pathways perfect for your family
Baby-stroller friendly
Washrooms
Full functioning flushing toilets on site with washing basins set up outside next to the parking lot.
Social distancing orders in place.
What to bring/ What to wear
Proper footwear and must proceed with care. Seasonal weather makes for changing conditions as they are open year round.
Special Notes
Each week, the list of recently seen species gets updated, please check before you enter and you can play a fun 'Find It' game with your kiddos.
Many activities such as dog-walking, petting the birds, cycling trails, picking any vegetation or flying drones, for example are prohibited.
Bring binoculars—you'll be so glad you did.
George C. Reifel Migratory Bird Sanctuary
5191 Robertson Road, Delta
www.reifelbirdsanctuary.com
Connie Hobbis
The author behind @buddycons, Connie writes about her detailed adventures with her kids around BC (& beyond), believer of 'presence over presents' in motherhood & literacy development in children. She shares tips on traveling with ease with kids, home organization & gentle minimalism with having less. She lives in the Metro Vancouver area with her husband & two kiddos. Before becoming a mom, she worked in the Financial Industry and is a two-time award winning People Leader. Follow her adventures & updates on Instagram @buddycons.