After a long year of pandemic-related restrictions, lockdowns, and rainy days cooped up inside it is time to get your kids outside and have some fun.
Warmer spring days mean flowers are blooming and Metro Vancouver has some of the most stunning spots to check out. Being outdoors also means you can re-connect with loved ones since outside visits with up to 10 people are now allowed.
Here are 10 must-visit places to let your kids burn off some energy and snap that oh-so-perfect Instagram photo. And the best part? They are all stroller-friendly!
The best places to find blossoms and flowers in Vancouver
1. Garry Point Park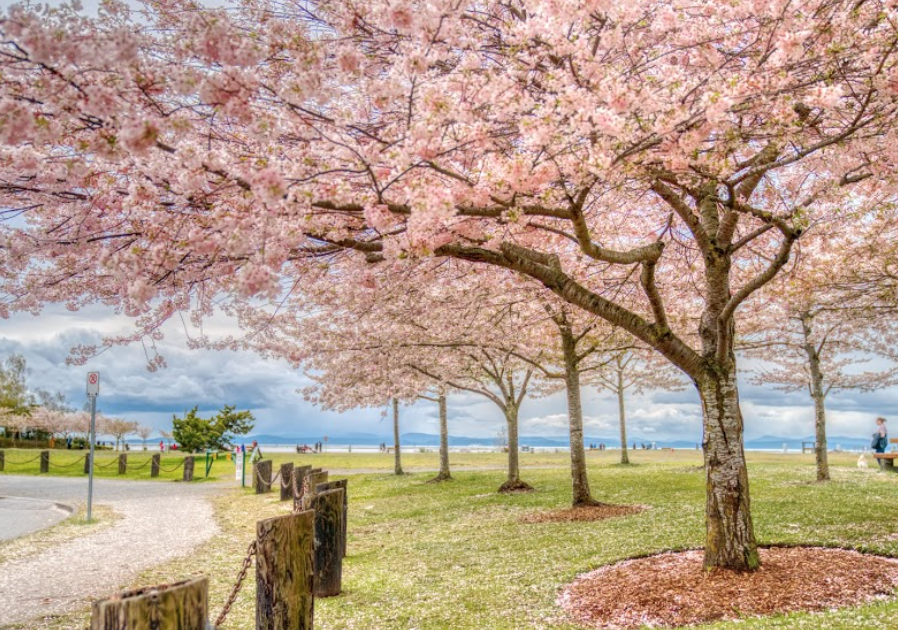 Garry Point Park is one of the most stunning places to see Akebono cherry blossoms in Metro Vancouver. While the normally in-person Richmond Cherry Blossom Festival will be virtual this year, you can still visit the blossom grove with your family and get your Spring family pics.
Location: 12011 7th Avenue (Southwest corner of Richmond between Chatham and Moncton Street on 7th Avenue)
2. Dr. Sun Yat-Sen Classical Chinese Garden
Reopening at the end of April 2021
One of the most charming (and almost secret) spots in Vancouver is the Dr. Sun Yat-Sen Classical Garden. This Ming Dynasty-style garden-home is a registered museum and a must-visit spot. Enjoy beautiful architecture, stunning gardens, koi fish and so much more. This wonderful space makes you feel as if you are on vacation and not in the middle of the city.
They offer family activities, including scavenger hunts and family days every Wednesday during the summer. Children of all ages and compact strollers are welcome!
Address: 578 Carrall Street, Vancouver, British Columbia
>> Dr. Sun Yat-Sen Classical Chinese Garden
3. Queen Elizabeth Park
Queen Elizabeth Park is home to multiple gorgeous gardens with flowering trees and colourful flowers (think magnolias, rhodos, tulips, daffodils and roses). From Early March to late April their cherry blossom grove in in full bloom making a perfect picnic spot. This park has tons of perfect backdrops for photos and lots of places for your kids to run around.
Address: Located at the junction of Cambie Street and West 33rd Avenue, Vancouver
4. Chilliwack Tulip Festival
A short drive out of the city will bring you to the Chilliwack Tulip Festival (sadly the Abbotsford Bloom festival has left the city). They have rows and rows and ROWS of stunning perfect tulips for you to enjoy. The drive is totally worth it for this adventure – a fun day and gorgeous photos are guaranteed.
They are planning to open in April and are currently finalizing the details. Be sure to check out their website and pre-book your tickets when they become available.
5. Park & Tilford Shops and Gardens
Attached to a variety of shops, including a coffee shop and a variety of food options, there is something for everyone. This colourful garden is the perfect place for a fun day out with your kids this Spring.
Location: 333 Brooksbank Ave, North Vancouver
>> Park & Tilford Shops and Gardens
6. Minoru Park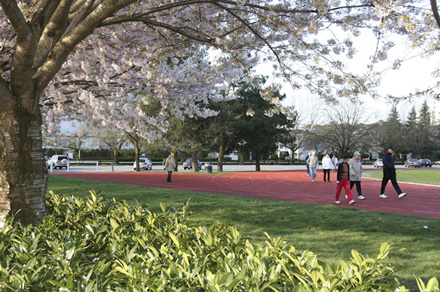 It's hard to beat Richmond's Minoru Park for kid-friendly fun and beautiful blossoms. There are a variety of floral displays for you to take perfect spring photos of your kids and lots of spaces for them to run around. The park has a playground, various fields, basketball courts, tennis courts and so much more.
Location: 7191 Granville Ave, Richmond
>> Minoru Park
7. Darts Hill Garden Park
This beautiful and super fun garden has tons of picture-perfect areas as well as fun activities to take part in. Spring scavenger hunts are designed as a teaching activity, drawing stations are available to allow guests to tap into their creative side and flower seek and find is a fun way to determine your favourite type of flower.
Location: 1633 170th St (16th Ave at 170th St), Surrey
Register for tickets online or call the City of Surrey Call Centre at 604-501-5100.
8. Stanley Park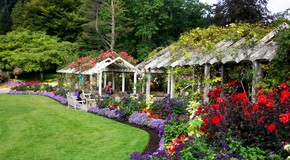 Stanley Park is full of photogenic flowers the whole family will love. One of the most spectacular hot spots at the park is the famed Rose Garden. There are so many colours of roses to enjoy, as well as the nearby cherry trees A huge bonus is that Stanley Park is very stroller-friendly.
Location: 610 Pipeline Rd, Vancouver
>> Stanley Park
>> Where to see roses in Vancouver
9. VanDusen Botanical Garden
One of the most beautiful spots in Vancouver during the Spring is VanDusen Botanical Garden. There are so many colourful flowers to admire, including cherry blossoms, magnolias, tulips and so many more. There are endless photo-ops, and it's completely stroller-friendly. Parents can have a relaxing time while enjoying the scenery with their kids.
You must reserve tickets ahead of time.
Location: 5151 Oak Street, Vancouver
>> Check out the Guardian of the Bees!
10. UBC Botanical Garden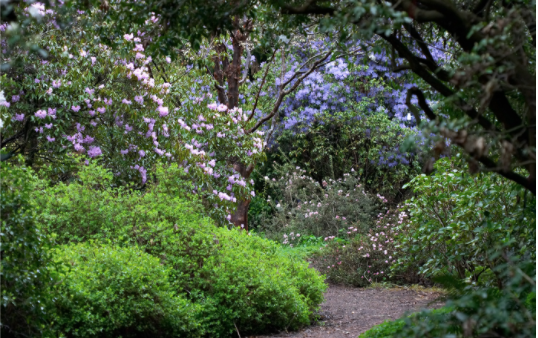 Visit Canada's oldest botanical garden is located at UBC. This garden boasts cherry blossoms and so many types of flowers to enjoy. Snap perfect photos of your kids while you walk through various gardens, including the BC Rainforest Garden, the David C. Lam Asian Garden and the Food Garden.
Location: 6804 SW Marine Drive, Vancouver
Enjoy the warmer weather and bright sunny days. Use this list when you are out with your kids and tag @vancouver_mom on Instagram for your chance to have your flower photo-ops featured.
Kera Skocylas
Kera is a full-time mom with three kids. She lives in the suburbs of Vancouver and recently started Kids Cuddles Coffee, a 'mommy-news' blog. She loves going on adventures with her kids all over the Lower Mainland. She has a passion for writing and the news. Before becoming a mom she worked at CBC radio and at a local newspaper. Follow her on Instagram @kidscuddlescoffee