VMgram of the Week: Holiday Photos from Vancouver Moms
Every Friday VancouverMom.ca shares a new Instagram photo taken by a Vancouver mom. A VMgram, if you will. It's a privilege to share these photos of our beautiful city and the families who live, work and play here. It's especially great to see how these photos have such a seasonal hue right now.
Sharing your own VMgram is easy – just tag your photo with #VancouverMom. And of course, follow @vancouver_mom on Instagram, too, to stay in the loop on kid-friendly local finds.
VMgram of the Week
This week I'm taking off my editor hat, abusing my position, and sharing my own VMgram. I am doing this because, after three and a half years, I am leaving VancouverMom.ca. I am very sad to say good-bye. This online magazine has served as my online home, as well as a source of community, information, and inspiration to me, for the past few years. My kids don't remember a time when I didn't work for this site. This feels like the end of an era for me.
I wanted to take this opportunity to say good-bye and thank you. Thank you for sharing your own tips and ideas. Thank you for letting me know when I missed something important. Thank you for your stories and your photos. And, most of all, thank you for reading.
With the launch of JellyBeen rapidly approaching, big things are happening for the VancouverMom.ca family. I'll be sticking around to see them, and I hope you will, too. I'm excited to see what's in store for this site. Now, without further ado, here is my VMgram, snapped at IKEA in Coquitlam a week before Christmas: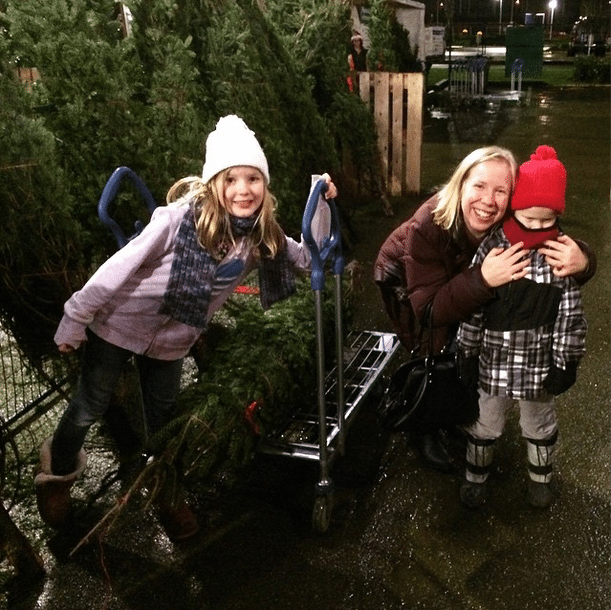 In search of the perfect tree #VancouverMom
Be sure to follow me on Instagram where I'm @AmberStrocel. Stop by my website at www.strocel.com to find out what I'm up to now. And be sure to share your own VMgram (or VMgrams) by tagging your photos with #VancouverMom.
VMgram Gallery
To give you a taste of what other Vancouver moms are up to on Instagram, check out the VMgram gallery:
[instapress tag="vancouvermom" piccount="16″ size="150″ effect="0″]
Amber Strocel
Amber Strocel is a writer, aspiring math teacher, suburbanite, wife and mom of two. She believes in the power of the Internet to connect people, and she believes that numbers are the poetry of the universe. You can often find her knitting, sewing, volunteering, working in her garden, and sneaking chocolate when no one's looking. She blogs at Strocel.com and shares her photos on Instagram as @AmberStrocel.