Be Yourself at Fan Expo Vancouver
Article by Eschelle Westwood, who's helping you be yourself, and embrace your inner nerd, at Fan Expo Vancouver.
Children Teach You to Be Yourself
My name is Eschelle and I am a recovered geek. Yes, a recovered geek. There was a time there that I had lost myself, and really didn't feel connected to who I was or who I thought I wanted to be. A time where there was so much to do – so much to be – that you couldn't find your thread in the big mass you found yourself in. My inner drama geek was screaming at me, my inner artist yearned to get out, my take-charge self was dying to do something! And then my boys came, my sweet wonderful boys who created a window for me to do all of these things. They started to teach me how to let myself out again…
When my boys started getting to the age where they were deciding about all the things they liked and disliked, all on their own, I started to notice some things. First, I noticed how mine and my husband's likes and dislikes influenced them; second, I noticed just how much of a complete nerd I really was. I know, not exactly the usual kind of thing you would have an epiphany about as a parent, but I had never really noticed it before. I am a complete geek, down to the bone. I am a Jedi Hobbit with super powers, with an intense desire to kick tush, just like my two wild-no-boundaries boys! After all Dr. Suess says: "You are you. And that is truer than true! There is no one alive who is youer than you!"
Get Rid of the Labels
This new side of me that my boys helped me rediscover was so exciting and unhindered by labels or peer pressure. I began to wear my mockingjay pin with pride on my jacket, my Gryffindor scarf usually around my neck and my head held high! After all, my boys could show off their love for Harry Potter and the wizarding world, or the pure awesome-ness of wielding a light saber, why couldn't I?? I am an adult, but I like those things, too! I don't think I ever stopped liking those things, and who on earth says I can't enjoy wielding a light saber from time to time?! These little things are what make me special, what makes my boys special and it is what makes us happy. To quote Dr. Seuss again, "You are you, now isn't that pleasant?"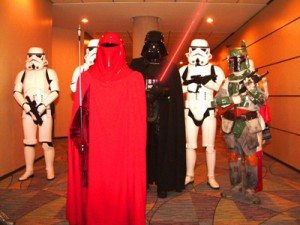 My boys taught me to be me and to love doing it. To do so with all my heart, even if it is completely nerdy. Heck! Maybe especially if it is completely nerdy! I look up to my boys so much for their ability to be themselves and feel no reservations about it. It is so inspiring and I have decided to dedicate the rest of my life to doing things that make all of us happy. My first step? Enjoying a weekend at Fan Expo in April with the boys, a star wars filled day for them and a full circle moment for mom. I will swoon over the stars and gush over all the geekery I can buy, after all don't we always tell them: be yourself?
Fan Expo Vancouver is happening April 20-21, 2013, at the Vancouver Convention Centre. A one-day pass is $30 for adults and $10 for kids 12 and under. For more information, or to buy tickets, visit their website. It's what to do in Vancouver to really be yourself, whatever that looks like.
See Also
Eschelle Westwood is the writer of Mumfection and is a dedicated young mother to two wonderful (though mischievous at times) boys. In between school drop offs, scraped knees, and milk spills you can usually find her on Twitter or on her hilarious Facebook page!
Fan Expo Vancouver
www.fanexpovancouver.com | Twitter | Facebook
*Photos courtesy of FanExpoCanada on Flickr.
Vancouver Mom
Would you like to write for us? We welcome well-written guest submissions with a local interest slant. Share your tips, review local businesses and highlight hot trends for Vancouver moms. Get all the info on our Contributor Page!