Our visit to Metropolis at Metrotown showed us how creative recycled garbage can be. This spring, the Grand Court of Metropolis at Metrotown is home to the Washed Ashore exhibit. It's a free display of incredible sea creature sculptures made entirely of waste that washed up on Oregon's shores. Washed Ashore volunteers, conservationists and artists have removed over 60,000 lbs of waste from the sea. Additionally, they've cleaned over 482 kilometres of beach, collecting everything from flip flops, bottle caps, lighters, beach toys, even a toilet seat and a microwave. Using these pieces of garbage, Lead Artist, Steve Wright designs and builds intriguing and beautiful marine animal sculptures – large in scale but highly detailed. These works of art fuse imagination and education as they showcase creativity along with the need for sustainability and to protect our oceans.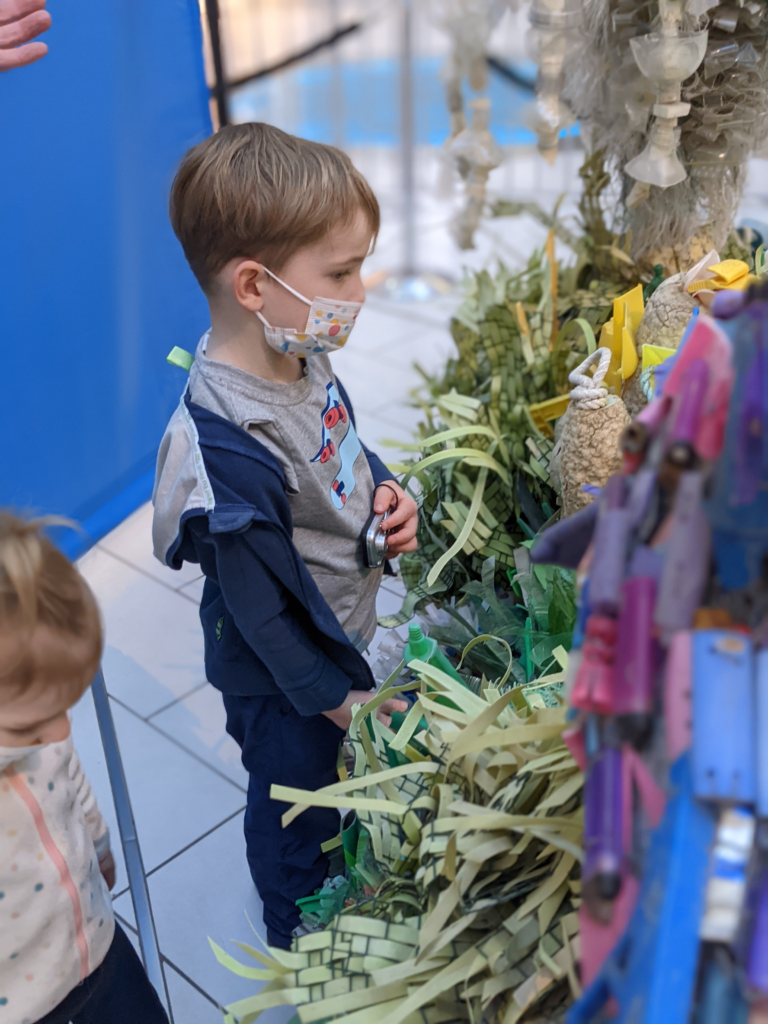 Highlights of the Washed Ashore Exhibit at Metropolis at Metrotown 
The Washed Ashore Conservation Education Director, Brad Parks, showed us around nine giant marine wildlife sculptures made entirely of ocean waste. He played eye-spy with the kids pointing out items found in high volume. These included items like tires and plastic bottles. As well as others that were odd like toothbrushes and a car radio. We examined Octavia the Octopus, a 9 ft x 12 ft Octopus weighing 1200 lbs. In addition to Grace the Humpback Whale Tail and Maggie and Charlotte, penguins that were part of a real Disney movie premiere. We learned that most items found on the shores are black, green and clear. Pink and purple items are harder to come by. Volunteers spend many, many hours cleaning the beach to bring in enough plastic pollution from the Pacific Ocean to create these unforgettable works of art.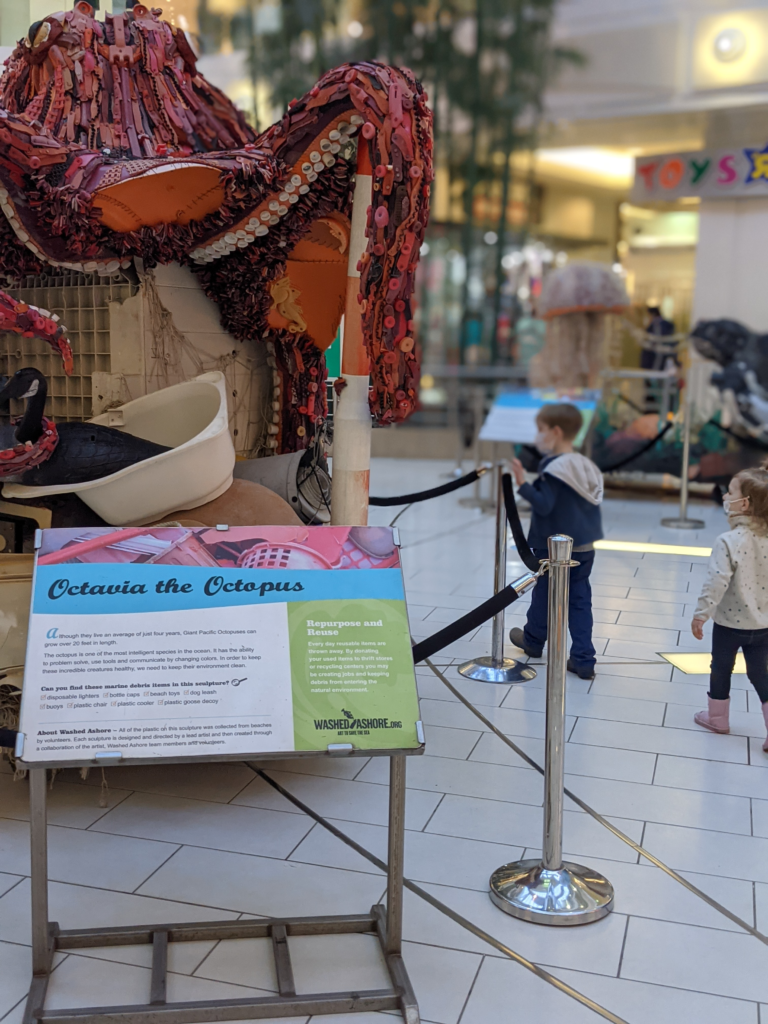 An Opportunity to Reflect 
Getting close to the sculptures and seeing the everyday items, you can't help but think about your own consumer habits. Washed Ashore is a creative and impactful way to educate visitors on the importance of sustainability. As well as personal responsibility and reducing plastics from our oceans. The exhibit served as a great opportunity to talk about the importance of taking home everything we bring to the beach. As well as how we can re-use our plastics. My 5 yo had lots of questions. He wanted to know where the items had been found and how they got into the ocean, especially the toilet seat! My 2 year old enjoyed finding and identifying items she saw in the sculptures. It's a great learning activity for all ages, kids and parents alike – I learned quite a bit too.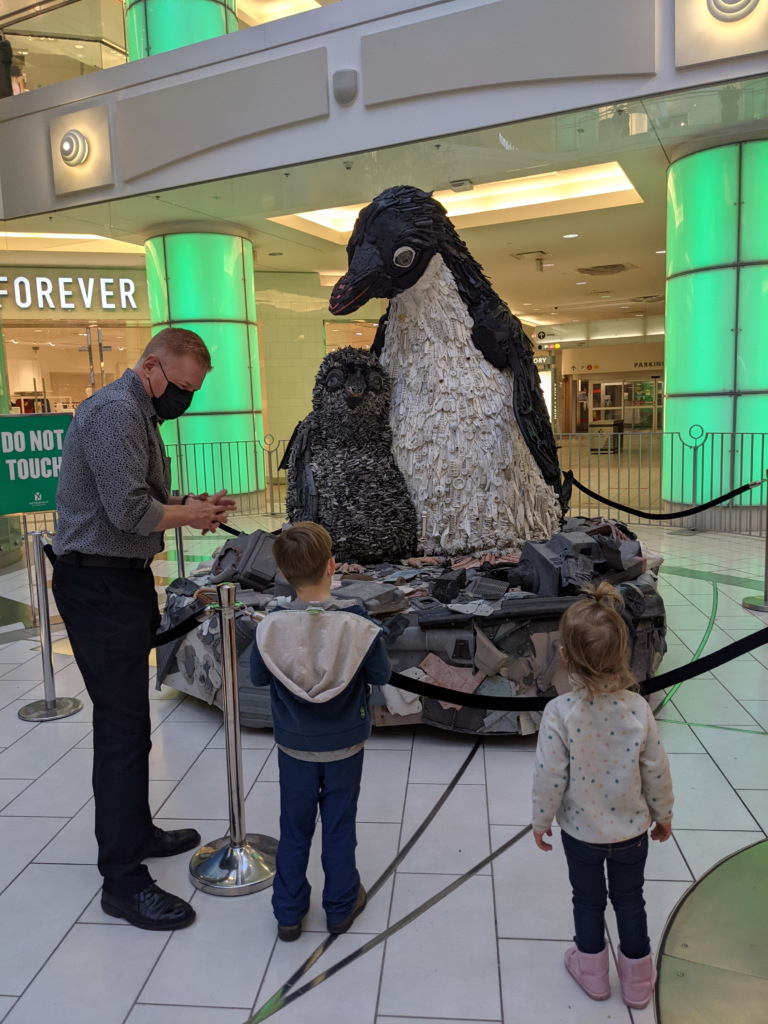 Where to Find the Washed Ashore Exhibit 
The Washed Ashore Exhibit is on display in the Grand Court of Metropolis at Metrotown. It's located near the Walmart entrance. Finally, this free, family-friendly, educational exhibit is available to view during mall hours at Metropolis, now through April 30, 2022.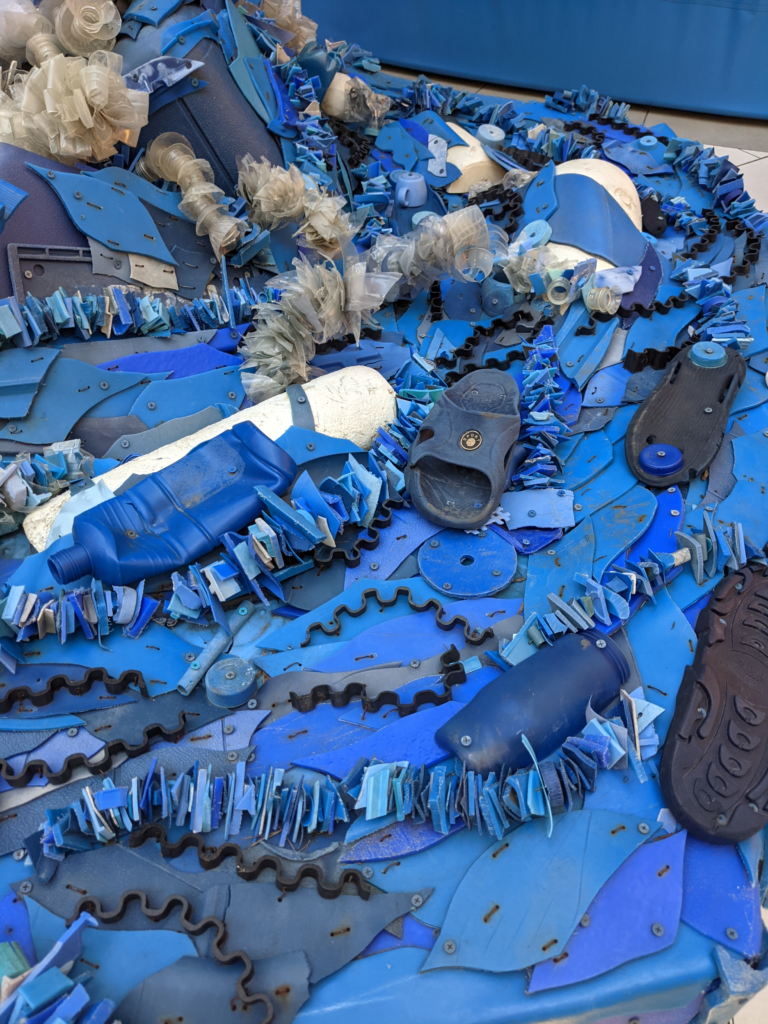 Contest Alert 
There's even more to get excited about! Stop by the contest kiosk on your way out or scan the QR code on their sign to let the mall know if you enjoyed the exhibit. By doing so, you can enter a contest for a chance to win a $500 shopping spree. As well as a $500 donation to an environmental charity of your choice!
Share your visit to Washed Ashore on Instagram and tag #METWashedAshore @metropolisatmet for an additional chance to win a weekly prize package, including a Metropolis gift card.
More info on the exhibit and Washed Ashore, Art to Save the Sea, follow @washedashoreart. Or visit www.washedashore.org/.
Jenn Wint
Jenn Wint is a writer, communications strategist and a public relations specialist. She is passionate about storytelling and community. Jenn lives in East Vancouver with her husband, 3yo son and 1yo daughter. You'll find them hanging around Vancouver's playgrounds, water parks, coffee shops and anywhere that bakes fresh cookies in-house!