Spring strolls to take your baby on
Grease up the stroller wheels, spring has arrived! With plenty of ground to cover over the next few months, you'll want to add these gorgeous walks to the top of your list.
Spring baby walks in Vancouver
Cherry Blossoms
From March until the end of April, Vancouver streets and parks are painted pink with the blossoms of thousands of cherry trees. There's even an annual festival and events to celebrate this marking of springtime. Check out the Cherry Festival's neighbourhood map for the best streets to stroll down.
One of the most relaxing, scenic and stroller-friendly walks in the city. A stroll around the entire garden is under a kilometre, but may take a while, depending on how many roses you stop to smell. Afterward, head to the dancing water fountain outside the Bloedel Conservatory for a snack and some people watching.
4600 Cambie St, Vancouver
Fraser River Park

A great place to catch your breathe and rejuvenate before the next baby-related bump in the road. Wash away the stress of the day (or week) by strolling down these smooth pathways. Bring your fur baby too, it's a pooch paradise here. Tons of free parking and beautiful views along the water.
8705 Angus Dr, Vancouver
Olympic Village & False Creek Seawall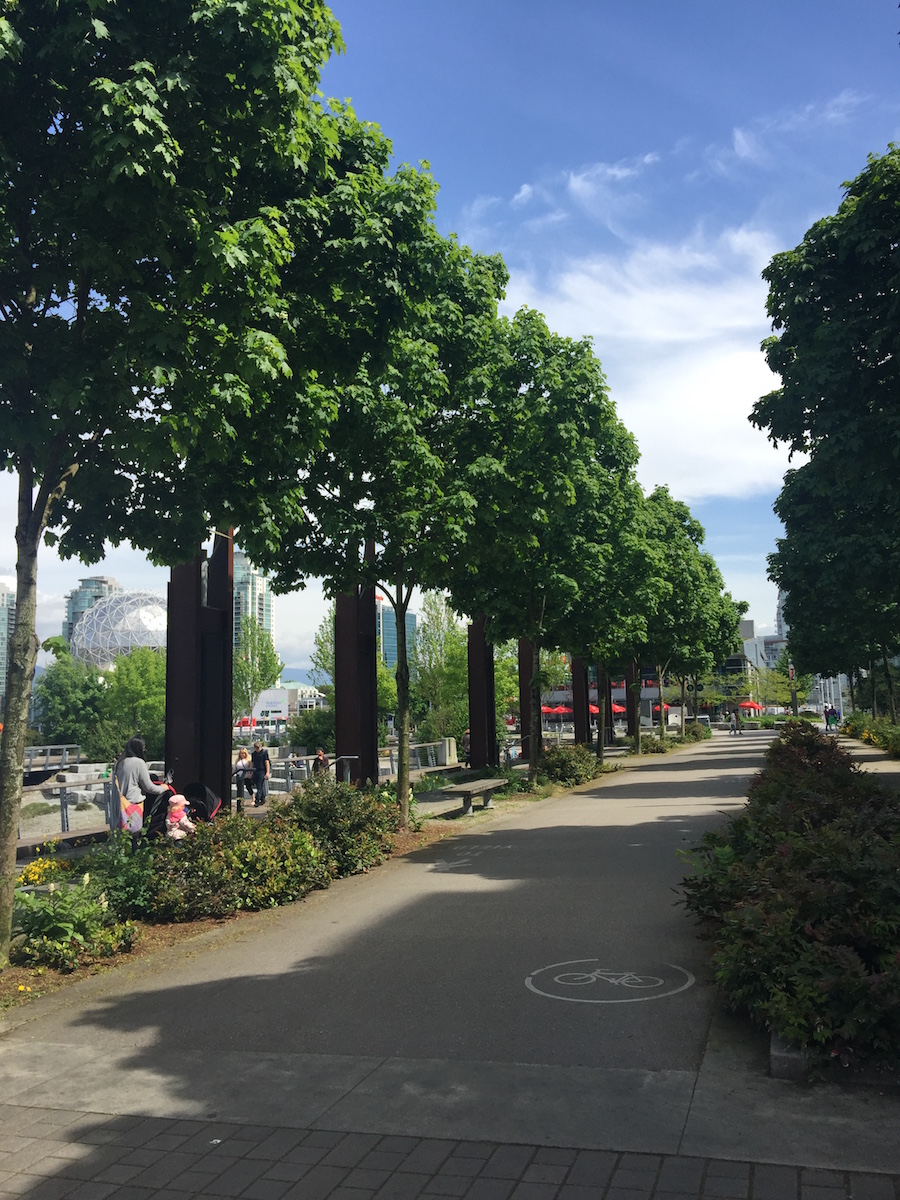 The Olympic Village SkyTrain station is the perfect stop for incredible panoramic views of the city. Take baby for a stroll on the south side boardwalk near the Olympic Village. A great opportunity for a fun and artistic photo shoot. Rest on some oversized lounge chairs and enjoy a few boats cruising by. Grab a scoop at Earnest Ice Cream – just a 10-minute walk from the station.
1693 Manitoba St, Vancouver
Angela Robertson
Angela Robertson is a writer, mother of two and classic rock aficionado. She spends way too much money on sour keys, and when she's not spinning her records for her kids, she's blogging about them at Rock 'n' Rattle.