How you and your family can reimagine Canada Day
Photo credit: Harriet Fancott
It's clear that celebrating Canada Day this year is disrespectful and tone deaf given the horrific discoveries of mass and unmarked graves of Indigenous children who attended Canadian residential schools. Most official events have been cancelled or reconfigured, and an honouring of Indigenous culture and history seems much more fitting.
Read >> Let them come home
Guided by the writings of two Indigenous moms (Kera Skocylas and Alison Tedford), we've come up with some ways you can make July 1st a meaningful day for your family.
Read >> Ways to build understanding of Indigenous people
Things families can do
Visit the memorial at the Vancouver Art Gallery steps: You will be moved beyond words by this installation of shoes, poems, and artwork. It's considered a safe cry zone, and you will cry but it's a must visit.
Check out some of the Indigenous murals around Vancouver. The most recent are at Cathedral Square (near the BC Hydro building downtown) but there are some beauties at Granville Island and around Main and 3rd st. Kudos to the Vancouver Mural Festival for these.
If you're at Ambleside beach in West Vancouver, wander over to the Squamish Nation Welcome figure (pictured in the above banner) that looks over the water towards Stanley Park. It's an incredibly powerful piece.
Listen & amplify Indigenous voices: Instead of offering your own two cents, share the views, books, and ideas of Indigenous people.
Read the TRC's 94 calls to action and contact your MP: This is a groundbreaking document that every Canadian should read. It's not long, and it lays out all the actions that the Canadian government should be undertaking. One of the items is "Missing Children and Burial Information." (You will see how none of these recent discoveries are a surprise to Indigenous communities).
Read >> The Truth and Reconciliation Calls to Action
Buy from Indigenous artists and creators to support their work: Make sure what you are buying is legitimately Indigenous made. This includes bead work (earrings, cuffs, artwork), orange T-shirts, artwork, books, crafts, and food
Donate >> Indian Residential School Survivor Society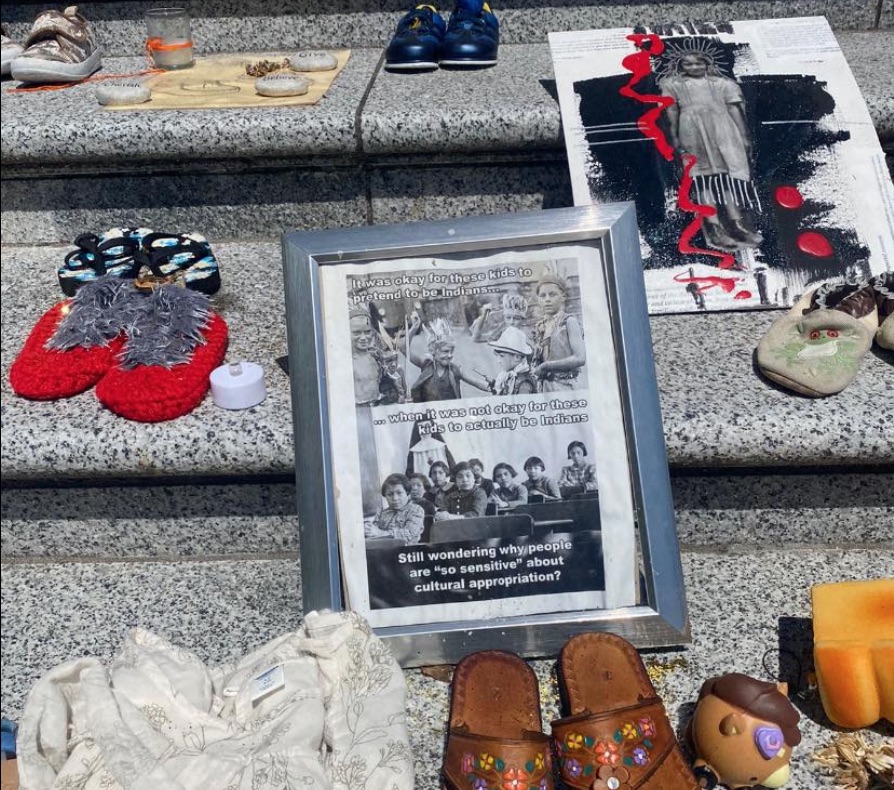 Read >> Honouring the lives of the 215
Continue your own education by reading novels, watching films and shows created and centred on Indigenous lives.
Read >> A Storybook Tour of Haida Gwai
Make sure your children's book shelves contain Indigenous stories.
Read >> 10 Kids books by Indigenous authors
Read >> Indigenous activities to do with your family (includes restaurants)
There are so many things we can do to learn, honour and respect indigenous culture. It's just a matter of taking those first steps.
Harriet Fancott
Harriet Fancott is the Editor and Social Media Manager for Vancouver Mom. She has over 20 years experience in the arts, tech and mom-based blogging arenas. She lives in East Vancouver with her husband and son where they enjoy exploring all that Vancouver has to offer from festivals and events to playgrounds and beaches to sushi and ice cream (although not together).
Kera Skocylas
Kera is a full-time mom with three kids. She lives in the suburbs of Vancouver and recently started Kids Cuddles Coffee, a 'mommy-news' blog. She loves going on adventures with her kids all over the Lower Mainland. She has a passion for writing and the news. Before becoming a mom she worked at CBC radio and at a local newspaper. Follow her on Instagram @kidscuddlescoffee