Guest post by Mary Sheridan
Looking for something educational, fun, and cool to do on a hot, hot day?  Well, how about a visit to the Museum of Surrey in Cloverdale? 
I took my eight-year-old son Dylan to the museum for their new exhibit: Trailblazing women in Canada since 1867.  This powerful exhibit shares experiences of women from all walks of Canadian life. Dylan had an opportunity to learn about the challenges faced by women – both historically and today. He especially liked the women in hockey interactive display where he had a chance to play a hockey game featuring famous Canadian female players from a variety of time periods, including Manon Rheaume – the first woman to play in an NHL game. It was neat to see him interacting with the display. 
The exhibit also showcases not just accomplishments by Canadian women, but the work that still needs to be done with respect to women's rights and experiences based on race, class, and ethnicity. It was a very powerful experience to share this with my son as I hope that one day, he will continue the fight for gender equality.
The second floor of the museum explores the history of the City of Surrey – with many topics from farming to settler life. Interesting artifacts include war uniforms, toys, and even a 1950's living room! The second floor is also home to the Indigenous Hall presented by the Katzie, Kwantlen, and Semiahmoo First Nations – Surrey's three land-based nations. This first-of-its-kind space of gathering, storytelling and exhibition is voiced completely by the communities it represents. The Indigenous Hall will evolve and change as relationships grow and strengthen. It's a space that feels very alive and is intended to educate and story tell. I highly recommend coming by and checking it out.
The Museum of Surrey holds many treasures, and our hour self-guided tour barely covered enough time for us to discover it all.  I was impressed by how well curated the space is and how much we learned in such a short time. The museum is also very inclusive, and there are many things to keep the young ones engaged as well as the grown-ups. Dylan enjoyed a scavenger hunt that encouraged him to visit all wings of the museum. (With a chocolate treat at the end!).
There are other exhibits that were not open due to COVID protocols, such as the TD Explore Zone, which has been created with a sustainability focus, so kids can learn how to take care of our city. Hopefully we can experience this exhibit soon. NB: Restrictions are lifting so this could change soon!.
If you haven't visited the museum lately it's worth coming back to it. If you never been, make sure you do.
The Museum of Surrey is free to visit, and it's located at 17710 56A Avenue in Cloverdale. Pre-registration is required. >> Register for your one-hour self-guided visit.
Museum hours: Wednesday to Saturday from 9:30 am to noon and 2:00 to 4:30 pm except Thursdays afternoons.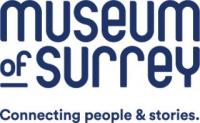 Museum of Surrey is open with new ways for you to enjoy the museum safely. One hour pre-registered, self-guided visits are available Wednesday to Saturday from 9:30am to noon and 2:00 to 4:30pm (except Thursday afternoons) with a break for cleaning mid-day. Visitors must be pre-registered to enter the museum. After an hour exploring the exhibits, head outside to see the Heritage Campus. The hands-on TD Explore Zone will remain closed until further notice. www.surrey.ca/arts-culture/museum-of-surrey
Vancouver Mom
Would you like to write for us? We welcome well-written guest submissions with a local interest slant. Share your tips, review local businesses and highlight hot trends for Vancouver moms. Get all the info on our Contributor Page!