Paper Playground, a perfect show for babies & tots at this year's Children's Festival
Think your little one is just a little too little for the Kids Fest? Not so! This year's Vancouver International Children's Festival, which hits stages all around Granville Island from May 27 – June 2nd, is especially baby and tot friendly.
Parents with babies, crawlers and toddlers will love the much raved about Paper Playground, a unique show created just for the 3 and under crowd. It's a rare opportunity for the littlest of littles to experience live theatre created just for them and be a part of the action too.
Paper Playground, a playful and beautiful exploration of childhood
A joyous and stimulating experience for the youngest of audiences, Paper Playground is a playful and interactive dance performance where children, ages 0-3 are free to join in and explore, because that's what young ones do best!
Paper Playground is a celebration of and a tribute to the art and the beauty of childhood.

~Astrid Pedneault
Set on a large paper carpet, children are encouraged to explore the theme of water with the moving performers. Dance, drawings, live music and projections are used to create a magical world where boats, fishes, crabs and sharks merrily come alive. Share a special moment with your little one in a world filled with play, exploration and discovery
No one present in the room could remain immune to the beauty and emotion generated by the experience.

~Astrid Pedneault
>> Get tickets to Paper Playground
Don't miss the Activity Village

Included in your ticket price, the Activity Village is full of fun, interactive and creative activities for kids including circus skills, face painters, a musical maze and more. You can also buy activity village wristbands for $6 per person on-site.
This post is sponsored by Vancouver International Children's Festival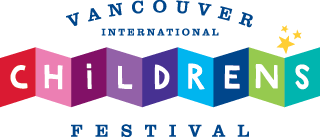 The 42nd annual Vancouver International Children's Festival takes place May 27 – June 2 on Granville Island where world-class theatre, music, dance, circus, puppetry and storytelling comes to entertain Vancouver children and families. This year, fourteen professional performing artists from as far-reaching as Scotland and the United States are scheduled to perform over 80 fantastic shows.

Harriet Fancott
Harriet Fancott is the Editor and Social Media Manager for Vancouver Mom. She has over 20 years experience in the arts, tech and mom-based blogging arenas. She lives in East Vancouver with her husband and son where they enjoy exploring all that Vancouver has to offer from festivals and events to playgrounds and beaches to sushi and ice cream (although not together).