Five Stroller Friendly Walks in Metro Vancouver
We live in a West Coast wonderland and that means we're experts at getting outside, rain, snow or shine. And, with post holiday routines back in full swing, there's no better time to escape the madness and head outdoors on one of these toddler and stroller friendly walks. So, start humming "Raindrops Keep Falling on My Head", pull on your rain boots, grab some snacks (okay, lots of snacks), and check out these five toddler approved walks. All of the walks listed are stroller friendly and wheelchair-accessible too (weather pending – assess the wheels on your ride or substitute a sled for towing if the snow returns). Each walk offers a hard paved surface or packed gravel path, along with the ability to access entrance points with wheels in mind. We hope you love these five stroller friendly winter walks in Metro Vancouver as much as we do.
1. Burnaby Lake Regional Nature Park
4519 Piper Ave, Burnaby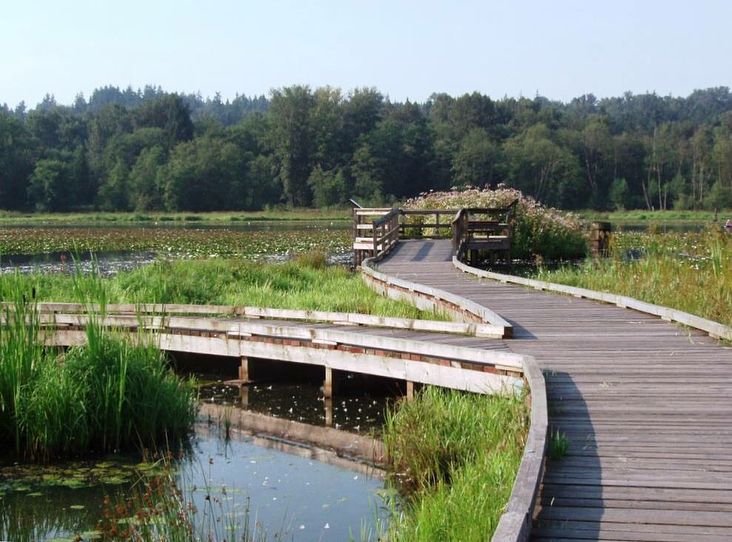 If you're on a mission to enjoy a great toddler and stroller friendly walk, without venturing too far from the city, Burnaby Lake Regional Nature Park is a great choice. Additionally, this expansive urban park offers numerous trails. Many of the trails are wheelchair accessible and stroller friendly.
We recommend parking at the Piper Avenue entrance to access the Cottonwood Trail which is mostly flat and semi-paved. At 2.6 kilometres it's much more toddler friendly (and mom-friendly if you've been granted "permission" to carry said kid's coats, bags, leaves, etc.) than the entire park loop, which is 10 kilometres. Enjoy the viewpoints of the lake and wetlands along the way. Learn about nature and spotting local wildlife – you may even see an endangered Western painted turtle (Burnaby Lake has the largest known population) on a sunny winter day. As a bonus, dogs on leash are welcome at this park.
2. Lafarge Lake
1299 Pinetree Way, Coquitlam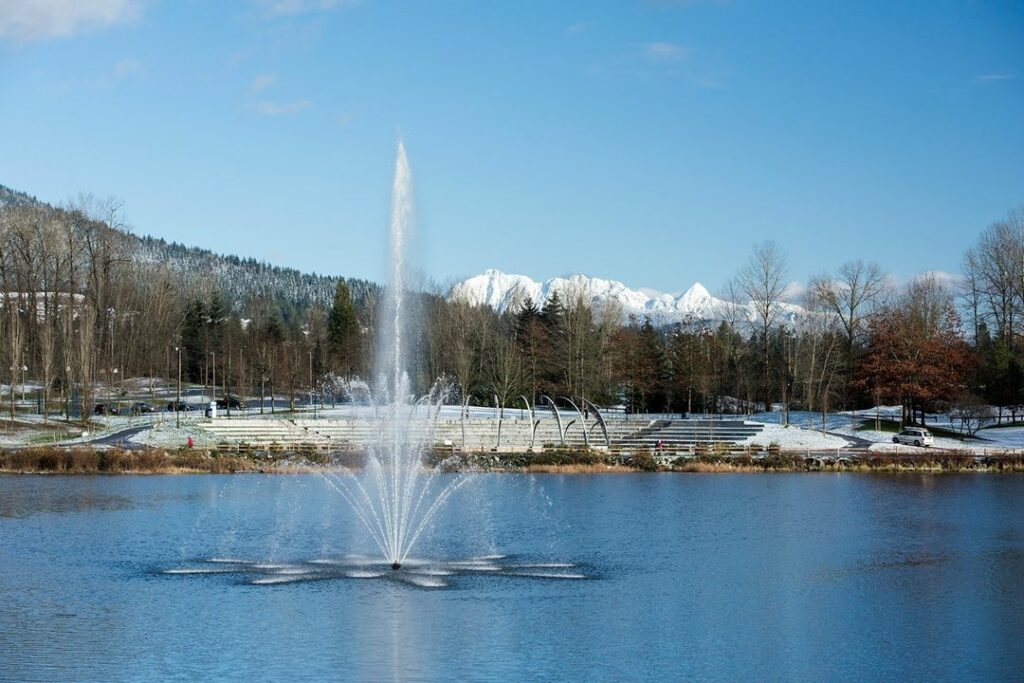 Take an outdoor walk with your toddler through winter wonderland at Lafarge Lake in the heart of Coquitlam. This stroller friendly loop around the man-made lake is just over one kilometre, making it one of those easier toddler outdoor adventure options year-round (think: more walk, less hike). Still, there's no shortage of beautiful scenery to take in – the lake features a fountain and in addition to waterfowl and turtles, you may even see an otter looking for a fish to catch. The walking trail is paved, making it stroller- and wheelchair-friendly.
And, if you plan to go before January 31st, you'll be surrounded by winter lights and seasonal ornaments for Lights at Lafarge. The stunning display returned this year after being cancelled in 2020. Please note, Lafarge Lake loop is in Town Centre Park, it can be fairly busy, especially during the holidays, so plan to go during non-peak hours.
3. Maplewood Flats Conservation Area Loop
2649 Dollarton Highway, North Vancouver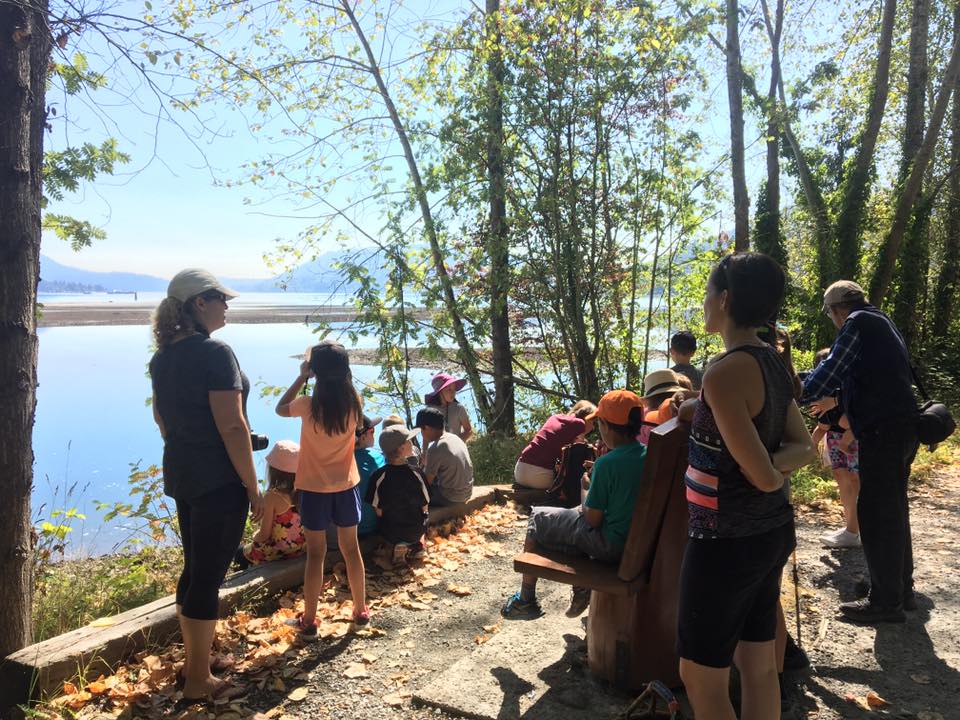 Just east of the Second Narrows Bridge in North Vancouver, you'll find Maplewood Flats Conservation Area. Managed by the Wild Bird Trust of B.C., the wildlife refuge is home to more than 200 species of birds. It's birdwatching bliss ,but also a peaceful setting for toddler adventures and stroller friendly winter walks (as peaceful as it gets with kids!). The area features a well-maintained network of smooth gravel paths that are both stroller- and wheelchair-friendly. The loop is approximately 2.5 kilometres with numerous lookouts throughout, offering breathtaking ocean and mountain views. No matter the season, this is a great spot for kids to learn about nature (birds and marshes and frogs, oh my!), so be sure to indulge them in a good old fashion game of Eye Spy. Parking is also super convenient as you can park along the entrance road or in the nearby lot.
4. Rice Lake
Top of Lynn Valley Road, North Vancouver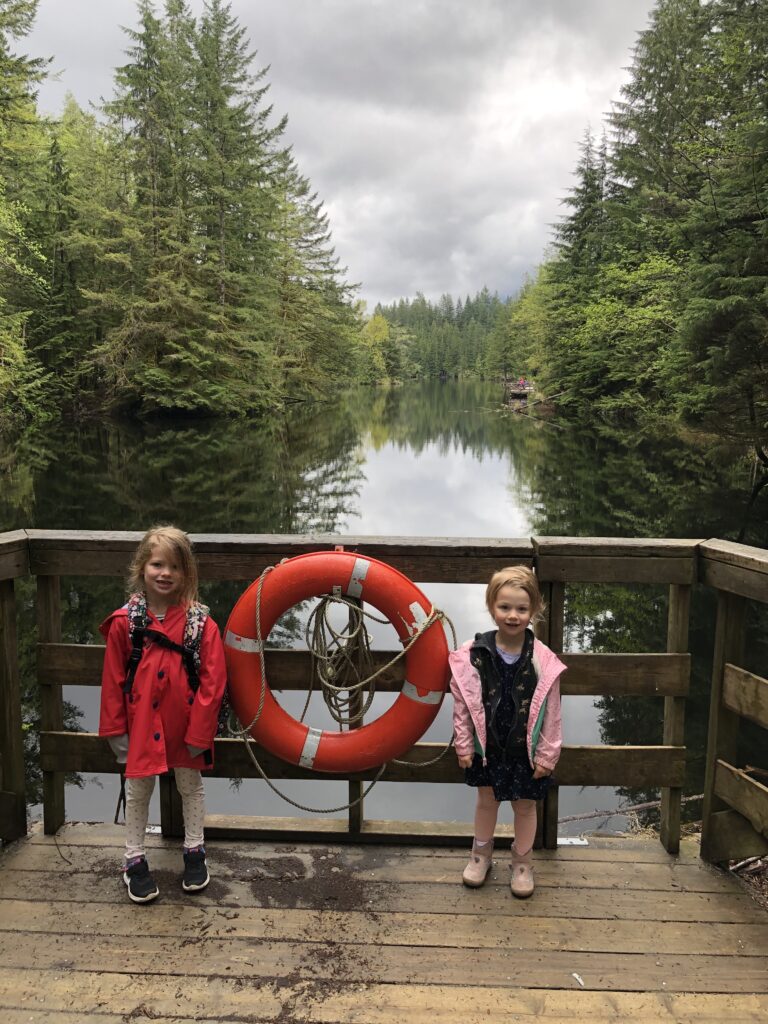 As North Vancouver boasts some of the most scenic walking trails in our region, we'd be remiss not to include Rice Lake. At the edge of Lynn Headwaters Regional Park, it's one of our favourite stroller friendly winter walks. The three-kilometre-long trail loops around the lake and its wide path and minimal incline make it an ideal spot for accessibility.
Once you've parked, head down Rice Lake Road and cross the Pipeline Bridge (note that wheelchair users may want to park in the Lower Seymour Conservation Reserve parking lot to access Rice Lake). Continue walking past the Learning Lodge and you'll find signage marking the start of the Rice Lake Loop. There is a wheelchair-accessible dock as well as benches along the route where you can look for wildlife including heron while enjoying a quick snack. And, if your kids have a fear of dogs, this is one trail dogs are not permitted on. Bonus: End of the Line General Store near the entrance to the park is the perfect spot to indulge in a post-hike treat.
5. Central Park Burnaby
3883 Imperial Street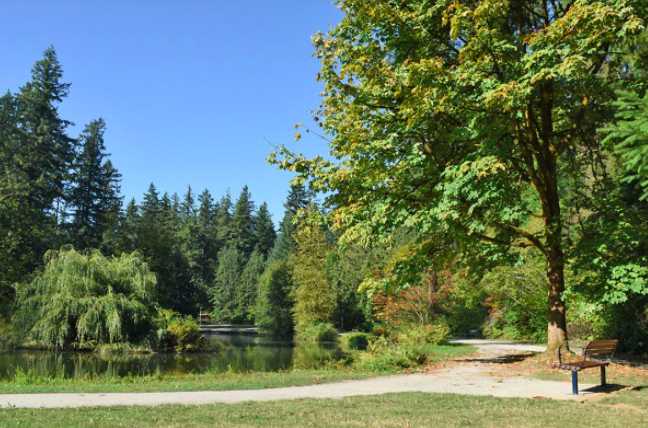 Central Park in Burnaby is a great place to enjoy a stroller friendly winter walk or toddler adventure. There's lots for little ones to see and explore with two duck ponds. In addition, there's a huge playground complete with bathrooms.
You can park in the lot off Patterson Avenue. Then, take the outer loop to the right to hit the playground about a third of the way through. Or, go left and save it as an incentive near the end. One of the things that makes this park fun is that there's an extra slide near one pond and a merry-go-round near the other. There's also a gazebo to run around in and many squirrels for toddlers to spot along the way.
We get that winters in the Lower Mainland often feel long. Break up the day with a toddler energy burning outdoor walk to reset and boost your entire family's mood. No matter where you go exploring this winter, rest assured that fresh air, exercise and family time together do wonders for the soul.
Lindsay Marett
Born and raised on the North Shore, Lindsay loves calling this picturesque part of the world home. After having spent more than 12 years working in a PR agency, Lindsay hung up her heels and stepped back to focus on life at home with her husband and two girls. She's still figuring out what she wants to be when she grows up, but you can bet it will involve writing … and eating cookies.