Family Fun at Fan Expo Vancouver
Article by Eschelle Westwood, who let us know about Fan Expo Vancouver back in March, and is now sharing what the experience was like.
The weekend of April 20-21, 2013 was one of the most memorable of my life. I had the opportunity to enjoy the nerdilicious Fan Expo here in Vancouver and it was such an awesome experience. One of the largest events to hit here in Vancouver filled with nothing but kindness and good manners, I was so impressed. An amazing crowd really made for a truly amazing weekend that I honestly didn't want to end.
Families at Fan Expo Vancouver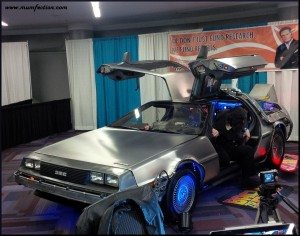 I was especially impressed with the families that attended Fan Expo. There were so many young kids there, and the majority were joining in with their whole families. It was a time that you could tell was truly bringing them all joy, and not just for the event. The whole ritual is an amazing team-building and family bonding experience that everyone really took advantage of. It was truly inspiring.
All walks of life came to Fan Expo, from grandparents to newborns, and they were all relishing their favorite things. The amazing people behind the event literally had it all! Toys, games, Lego, star wars, celebrities, time machines, graphic novels, clothing, vintage gear from when you were a kid and again AMAZING people dressed up in the most incredible costumes I have ever seen. The fans were in their finest moment and all the celebrities were loving it:
"… it is always a pleasure to be with my fans…" –David Prowse.
"… best part is the fans they're so kind… such an inspiration…" – Amanda Tapping.
"…the fans here in Vancouver are just incredible…" – Michael Benyaer.
Changing Sights and Good Sports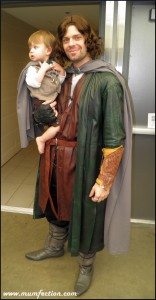 Walking my way around the expo, the sights were constantly changing. I was always finding something new and amazing to experience and explore. I even got a few kids to help me out trying the new God of War game… I might have looked strange with kids younger than ten teaching ME how to play a game but it was fun; and lately I love to be out of my comfort zone. Everyone there was enjoying the experience immensely and it showed. The environment was always clean, line-ups were polite even if they were long, and everyone was happy to do what they could to ensure everyone got a great experience.
And those people in the costumes, also known as cosplayers? They were incredible sports about taking photos and having others take pictures with them. There were many little super heroes getting their pictures taken with their favorite villains and heroes. The sparkle in those kids' eyes never seemed to die out. There wass something for everyone. Even if you aren't a geek I dare you to not be able to find something at Fan Expo to be thrilled about.
Thank you to Fan Expo Vancouver for hosting a wonderful weekend!
Eschelle Westwood is the writer of Mumfection and is a dedicated young mother to two wonderful (though mischievous at times) boys. In between school drop offs, scraped knees, and milk spills you can usually find her on Twitter or on her hilarious Facebook page!
Fan Expo Vancouver
Vancouver Mom
Would you like to write for us? We welcome well-written guest submissions with a local interest slant. Share your tips, review local businesses and highlight hot trends for Vancouver moms. Get all the info on our Contributor Page!