Best sledding hills in Metro Vancouver
https://www.instagram.com/p/BtwTy7mlFxu
https://www.instagram.com/p/Btv_7CgB1ez
https://www.instagram.com/p/BtweSSaB-3J
We finally got some of that white stuff the rest of Canada has been bragging about! School cancelled? Kids feeling cooped up? Dig those snow pants out of storage! Dust off the ol' sled! Snowmaggedon has arrived. We've rounded up a list of awesome and fun Vancouver sledding hills or you.
1. Burnaby Mountain Park
One of the most exciting and busiest hills, Burnaby Mountain Park is not for the faint of heart. A long-time favourite for many generations, with parking near Horizons restaurant. Steep slopes, rocks and trees make this option best-suited for helmet-wearing adventure seekers. (Note: Burnaby Parks does not encourage tobogganing. Stay safe out there!)
>> Check out these super cute snow babies!
2. Robert Burnaby Park
Looking for an alternative to Burnaby Mountain? Robert Burnaby Park has a great hill without the crowds! Parking near the pool provides easy access to the slope.
3. Coquitlam Crunch
Situated along the hydro lines of the Coquitlam Crunch, this wide-open slope is a popular sledding destination for a reason! It's crazy fun! If you don't mind sharing the slope with a crowd, it's worth checking out. Just watch out for jumps and hard-packed icy snow on busy days.
4. Queen Elizabeth Park, Central Vancouver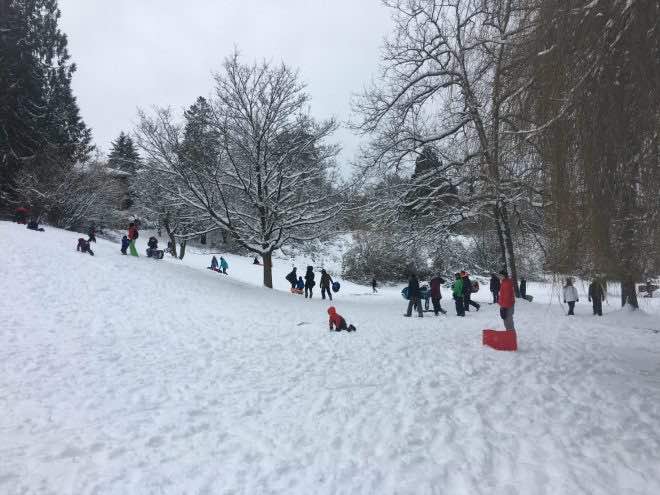 Can't go wrong with QE! Centrally located in Mount Pleasant with lots of options ranging from gentle slopes for little ones to steep runs for thrill-seekers! Parking can be a challenge on snowy days, so be prepared to walk.
5. Kensington Park, East Vancouver
When the snow hits, this moderate but wide sledding pitch is packed with locals tobogganing. If the sun comes out, there's an amazing view of the North Shore mountains. Bathrooms available at the Community Centre.
6. West Point Grey Park, Point Grey
Also known as Trimble Park, this slope near Jericho will take your breath away. With big trees and blackberry bushes awaiting at the bottom, it's a popular choice for older kids.
7. Diefenbaker Park, Delta
A long, wide-open hill with lots of run out space at the bottom, this park is one of the best options for fun and safety. Totally family-friendly, with lots of accessible parking. Kids of all ages will love riding a crazy carpet or snow-racer down this smooth slope!

Looking for more ideas for sledding in Vancouver?
>>10 Places to go Sledding and Snow Tubing in Metro Vancouver
Jeanine Wasik
Jeanine is a teacher, writer, and mom to two active and curious toddler boys. She has a passion for education and outdoor adventures. She loves to discover and share the best hidden parks, playgrounds, and beaches in Greater Vancouver. When she isn't writing, you'll find her and her boys playing in the dirt or peeking under logs in the forest.