Remembrance Day ceremonies in Vancouver and beyond
On Remembrance Day, we we are all invited to take a two minutes out of our day at 11:11 to be silent and remember those who sacrificed so much for our freedom. A great way to bring Remembrance Day to life, is to attend one of the many ceremonies around metro Vancouver. They are outside and often full of pageantry: uniformed solider, RCMP officers, horses, parades, wreaths and marching bands. They are short in duration and can also be wonderful community events.
Remembrance Day ceremonies across Metro Vancouver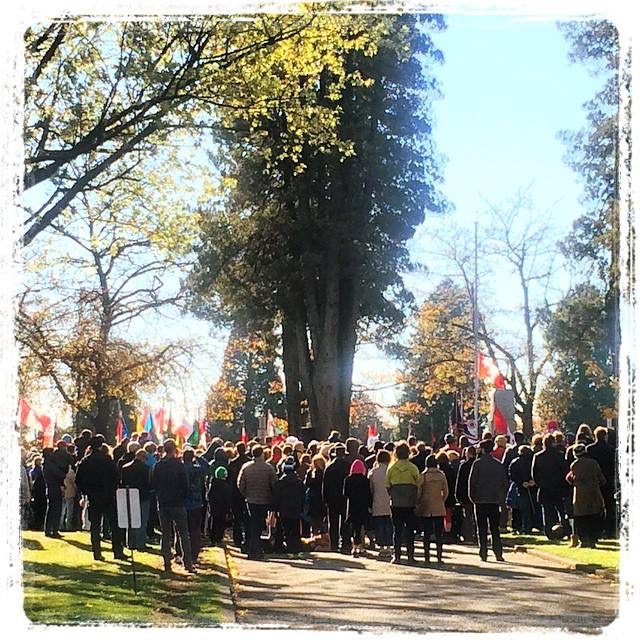 Victory Square
In Vancouver the biggest event happens at Victory Square at the corner of Hastings and Cambie every year. The event starts at 9:45 am, but try to arrive early so that your kids can be close enough to see. If you're not able to travel downtown, or if you'd like something different, there are ceremonies held all across Metro Vancouver.
Port Moody
Port Moody Remembrance Day ceremonies begin at 10:00 am in the auditorium at the Port Moody Legion. At 10:30 am attendees form up and parade down Clarke Street to the Port Moody Cenotaph. At 11:00am the two minute silence happens, followed by the laying of wreaths and a 21 gun cannon salute by the Seymour Artillery and the Swiftbird Ex-RAF Team Cenotaph Flyover. The parade will give little ones a chance to stretch their legs, and because the cenotaph is outdoors there's plenty of space. Note that the guns are very loud, and while some kids are fascinated others may be frightened, so use your judgment.
Richmond
Richmond's Remembrance Day ceremonies kick off at 10:20 am as a military parade marches from Minoru Park to the City Hall cenotaph. Official ceremonies begin at the cenotaph at 10:40 am, with the two minute silence at 10:40 am followed by the wreath-laying. The event will also be live streamed to the City Hall Council Chambers, and the public is welcome to attend. If you'd prefer to be indoors, this may be a good option for you. Following the service everyone can enjoy a free hot drink and snack at the reception in the City Hall Galleria. A local choir will perform and there will be Remembrance Day displays to enjoy.
South Burnaby
Participants meet at 10:30 am at Legion #83 on Grimmer Street in Burnaby, and parade to the South Burnaby Cenotaph in Bonsor Park. Ceremonies begin at 11:00 am at the cenotaph with two minutes of silence and a wreath laying. There is lots of space for strollers, and the ceremony is shorter than many others, making it a little more kid-friendly.
Have you read?
Coquitlam
Join the Park Spark Team at Blue Mountain Park to honour those who have served our country by contributing to a community display in preparation for Remembrance Day. Paint-a-Poppy onto the grass at Blue Mountain Park on the lawn area surrounding Veteran's Way, Write a message of remembrance on yellow ribbons then tie it to the trees Help paint 12 banners that will wrap the tennis court fencing along Veterans Way.
The Royal Canadian Legion # 263 will host a traditional Remembrance Day ceremony on Nov. 11 at the Blue Mountain Park Cenotaph.
Surrey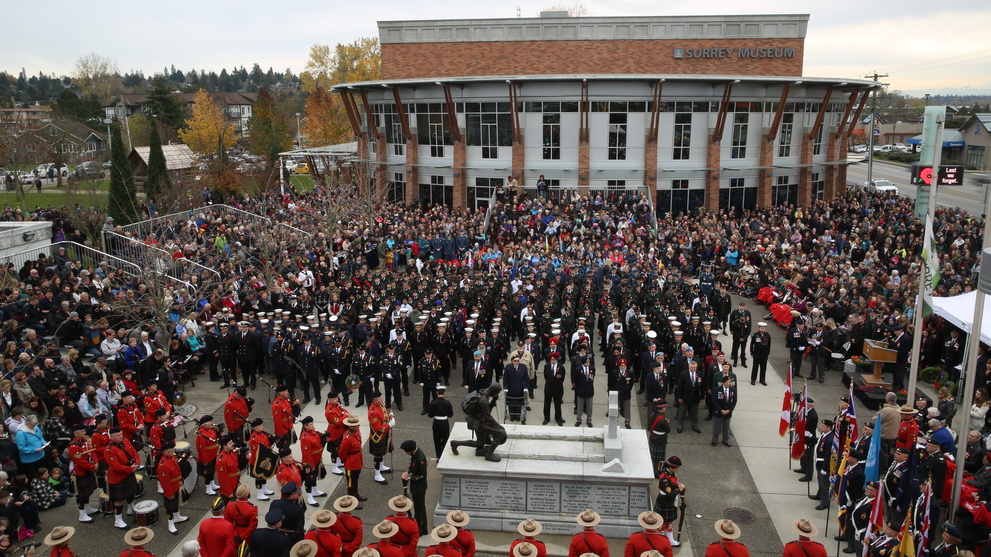 Beginning at 10:15 am local veterans will parade from the Cloverdale Legion to the Cloverdale Cenotaph. There will be a service including prayers and two minutes of silence at 11:00am, following by the laying of wreaths. Following the ceremonies, head to the Surrey Museum next door where kid can make 'peaceful crafts', and enjoy hot chocolate and cookies. Families can also write thank you notes on postcards for local veterans and their families, view WWII documentary videos and more.
Vancouver
On top of the big ceremony downtown at Victory Square, additional ceremonies take place all over Vancouver. If there is a cenotaph in your neighbourhood park, there may be a ceremony there. Known events takes place at Memorial Park (off 41st between Fraser and Knight), Mountainview Cemetery, Grandview Park, the Japanese Canadian War Memorial in Stanley Park, and the Chinatown Memorial at Keefer & Columbia Streets. Most ceremonies begin between 10 and 10:30 and wind up an hour later.
Lest we forget.
Banner Photo Credit: City of Surrey
Vancouver Mom
Would you like to write for us? We welcome well-written guest submissions with a local interest slant. Share your tips, review local businesses and highlight hot trends for Vancouver moms. Get all the info on our Contributor Page!