ParticipACTION Shares Back-to-School Backpack Essentials
Vancouver moms know that back-to-school often means a return to structured activities for kids. However, ParticipACTION is urging us not to forget the importance of free, unstructured play. Kids need time to explore and use their imaginations, before, during and after school. Spontaneous outdoor play and walking or cycling to school and home can ensure that kids get the recommended 60 minutes of activity every day. To help you out, ParticipACTION has created a list of backpack essentials to help parents encourage their kids to be active throughout the day.
Backpack Essentials
"Sport leagues, programs and school activities are essential, valuable components of getting our kids to more active, but kids need to do more than that, and more often," says Elio Antunes, president and CEO of ParticipACTION. "Our kids are missing out on opportunities for spontaneous movement—such as getting to places on foot and playing freely outdoors. So, let's pack our kids' backpacks for active play!"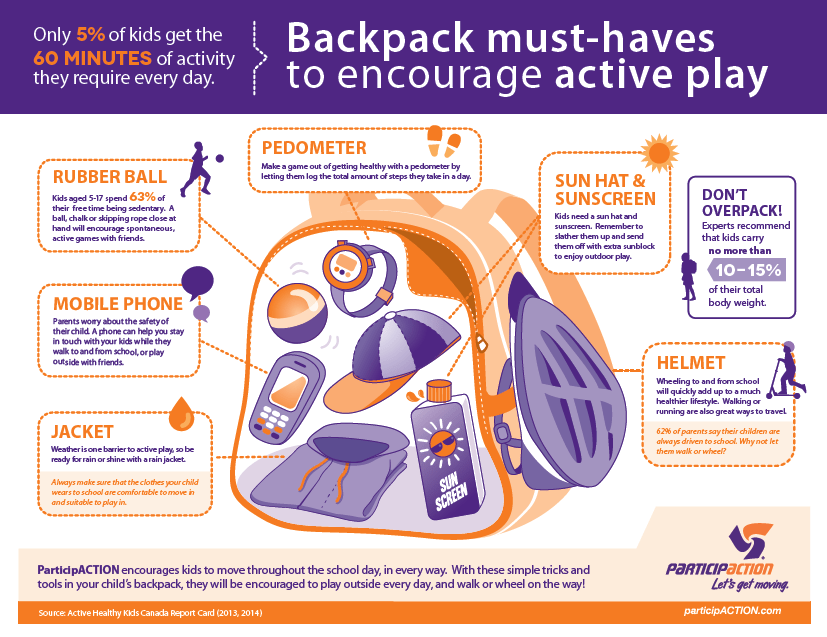 See Also
What's on the List?
ParticipACTION's backpack essentials to encourage active play include:
[unordered_list style="bullet"]
Pedometer – Let kids log the total amount of steps they take in a day and gamify getting healthy.
Skipping rope – 63% of children's free time is spent being sedentary, so send kids to school with a toy to active games.
Mobile phone – This is a little controversial, but many parents worry about the safety of their kids. If you're one of them, a phone can give you the peace of mind you need so your kids can walk or cycle to school on their own.
Jacket – Weather is one barrier to active play, so make sure children are ready for rain or shine.
Umbrella – This one is ours. Here in 'Raincouver', you never know when the drops will fall, so help your kids be prepared.
[/unordered_list] While you're adding these backpack essentials to your children's bag, remember experts recommend that kids carry no more than 10-15% of their total body weight. So try not to overpack!
Amber Strocel
Amber Strocel is a writer, aspiring math teacher, suburbanite, wife and mom of two. She believes in the power of the Internet to connect people, and she believes that numbers are the poetry of the universe. You can often find her knitting, sewing, volunteering, working in her garden, and sneaking chocolate when no one's looking. She blogs at Strocel.com and shares her photos on Instagram as @AmberStrocel.