Wellness: Cultivating a New Mind with Meditation
A New Year, A New Mind, Greater Wellness
The beginning of the new year often brings a sort of melancholy for some, while others propel themselves forward, excited by the adventures that create more happiness and invite more love into their lives. But what sets those people apart who seem to have it all? How do they achieve that kind of wellness inside and out? In part, they meditate.
The Happiest People Meditate
The happiest, most driven and centered people I know spend time developing mental discipline. They train their minds and get to know themselves as they sort through challenges in life that are inevitable. These people have more love around them and move forward in their lives with apparent ease. But how do they cultivate the inner peace described? They include meditation as part of their wellness path.
Meditation Comes in Many Forms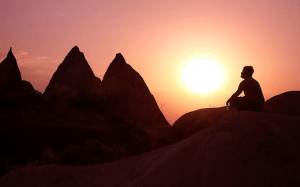 Meditation takes many forms, and there are many ways to structure a regular meditation practice. You can sit on a pillow in full lotus, you can sit in a chair, or lie on the floor in savasana (my favourite) with or without guidance. You can practice meditation by walking a short path you've decided on beforehand, and you can meditate on something specific while doing a household tasks like laundry. Many people practice Tibetan Buddhist meditation, others incorporate yoga or Transcendental Meditation, or do a combination of all the above. When you're a busy Vancouver mom, you need to be flexible with your wellness routine, and meditation is no different.
Science Backs Meditation
Science is now proving the benefits of mediation. Including a meditation practice in your life is considered a vital part of your personal wellness. It doesn't really matter which method you choose, practice makes more practice necessary when it comes to meditation.
When you include meditation in your life you will get to know and accept your motivations and mental blocks. You will naturally invite more love, compassion, patience, generosity and forgiveness in your life. Your mind and body, and family, will thank you for it. After all, what parent couldn't use a little more patience?
"Many of us are slaves to our minds. Our own mind is our worst enemy. We try to focus, and our mind wanders off. We try to keep stress at bay, but anxiety keeps us awake at night. ..It seems we all agree that training the body through exercise, diet, and relaxation is a good idea, but why don't we think about training our mind?"
-Sakyong Mipham
Turning the Mind into an Ally
Meditating in Vancouver
Looking for a place to practice meditation in Vancouver? It can be helpful to be among other people as you implement a new wellness practice like meditation. Local Buddhist Centres welcome everyone, regardless of their spiritual beliefs and background. Group classes provide a gentle introduction Here are a few options to check out:
[unordered_list style="bullet"]
The Shambala Meditation Centre, 3275 Heather Street, Vancouver
Tilopa Kadampa Buddhist Centre, 1829 Victoria Diversion
Introduction to Meditation at Hillcrest Community Centre
A Day of Mindfulness, Mountain Rain Zen Community Space, March 2, 2013, 604-565-0379
Free Meditation Classes, Collingwood House, Fridays at 7:00pm, 604-729-6990
Triratna Vancouver Buddhist Community, 1871 East 7th Avenue (entrance at back)
[/unordered_list]
Do you meditate? How do you find time for the practice in your busy life? Leave a reply and let us know!

This article was sponsored by Executive Lifestyles. Located in the heart of downtown Vancouver, Executive Lifestyles is a state-of-the art, fitness facility. As the city's largest personal training center, they have over 40 qualified personal trainers on staff. You'll also find group classes, sport specific training and nutrition, active rehab, weight management and cooking classes to improve your wellness.
Lee-Anne Ekland
Leeanne Ekland is a stay-at-home mom of one, who's on a mission to rediscover love, wellness, and neighbourhood happenings and to have a ton of fun. She's also a lover of wine and yoga and believes that sharing her experiences at www.MomParadigm.com brings her closer to living her best life. Having started the parenting experience much later than most, she offers a unique perspective on the challenges and all that is amazing about being a mom over 40.