Vancouver Design Week: Mom and Designer Adea Chung of Billy Would
"Being a self employed mom has been the greatest experience, I am always available and I get to show my daughter what it's like to be your own boss and love what you do."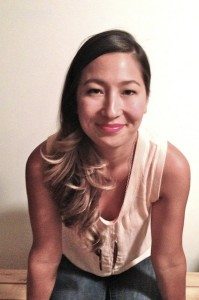 Seven years ago, Adea Chung started Billy Would. From her workshop in the neck of the woods known as North Vancouver, Adea began creating jewelry out of reclaimed wood. With thanks to the local woodworkers, Adea took leftover wood pieces – that would otherwise be thrown away – and fashioned them into necklaces, earrings and other accessories. Moving into present day, her latest pieces are belt buckles and bottle openers made from recycled skateboards. In fact, if you bring her an old skateboard, you'll get $5 off your next Billy Would purchase (but don't forget to email her ahead of time!).
Talking to Adea Chung of Billy Would
Adea was kind enough to agree to an interview and so below are some of her answers to our questions about Billy Would, her inspirations and even her favourite tea to drink! Get to know a little bit more about this Vancouver designer-slash-mom below.
Tell us a little about Billy Would, what are some of your favourite pieces?
BILLY WOULD DESIGNS evolved from my need to create, love for reusing and support from friends and family. Each piece is slightly different and completely handmade. Lately I've been having a lot of fun working with 'scrap' bits of leather and combining it with the wood for one-of-a-kind pieces.
How did growing up in rural BC influence your designs?
Growing up in a very small town influenced me in more ways that I can count. You're very limited as far as shopping [goes] so you get creative and make what you can't buy. Being surrounded by fresh lakes and trees, you appreciate the beauty in nature; the simple clean designs that allow the natural grain and colour of the wood to stand out are my favourite.
These days where do you draw your inspiration?
I still love making regular trips up to the interior of BC so the changing landscape is always very inspiring. Just getting in the shop and playing around with different designs and not having a set plan usually ends up being the most fun and productive. As my daughter shifts from child to tween, she's become more interested in fashion design with a great sense of personal style. It's always surprising and helpful to hear her take on various trends and pieces.
How do you balance being both a mother and designer?
In the beginning it was a lot more challenging (during the younger years) as some days I was all mom and others I'd be working all day. Now that she's older, she actually helps out and is great at keeping busy when we're at the shop. Being a self employed mom has been the greatest experience, I am always available and I get to show my daughter what it's like to be your own boss and love what you do.
We know you're a tea drinker, what's your go-to cup of tea and how do you take it?
It changes like the weather, these days I've been loving this years harvest of nettle tea. I'll make a strong pot in the morning and enjoy it all day, even cold.
We're big supporters of local brands, do you have any favourites?
Tons! Vancouver is full of wonderful people making wonderful treasures. My little brother makes beautiful leather goods (Frankenstrap) and last year I had him make me a custom shopping bag-style purse; it looks great and can hold all my personals plus groceries. I also love everything Meghan (Identity) makes. My next purchase will have to be a super cool dog bed from old army blankets. As the cool weather creeps in it's time to bust out my favourite wool sweater from Granted, too bad they last so long otherwise I'd get to buy a new one.
Lastly, what are you most looking forward to at IDS West?
IDS West is such a fun event, it's full of inspiration and creative people. You never know who you're going to meet and what you'll see. Besides catching up with all the great designers in The District, I'm looking forward to seeing Prototype. It's new for this year and showcases innovative never-before-seen designs.
Find out more about what's coming up at IDS West in our article Celebrate IDS West's 10 Year Anniversary.
Vancouver Mom
Would you like to write for us? We welcome well-written guest submissions with a local interest slant. Share your tips, review local businesses and highlight hot trends for Vancouver moms. Get all the info on our Contributor Page!