Vancouver Mom Style: Mandala Sky
Vancouver mom style reflects the city we call home. This is a casual city with a counter-culture vibe. We care about things like buying local and supporting ethical businesses. We need clothes that can withstand the weather, and that work on the playground and in the office. That's why we were thrilled to connect with Sky Marcano of Mandala Sky recently, to find out about her Vancouver mom style.
Talking Vancouver Mom Style with Sky Marcano
How has living in Vancouver influenced your designs and over all style?
Vancouver had a pretty extreme influence on me and still does. I feel connected to women all over the city and it has been fantastic to watch what Vancouver women wear. Main Street Vancouver has a pretty diverse fashion sense, so it really helped me pull all of the inspiration in, making new designs flow outwards, creating useful, unique, stylish and wearable designs so women can feel relaxed every day.
To you, wardrobe pieces are most essential to Vancouver mom style?
I think Vancouver women should have two really great tanks tops for layering. If one of the tanks goes over the booty it's a bonus for doing yoga, cycling or just running around with the kids. As you can tell from my Facebook page and site I love to design well made screen-printed zip jackets. If you can grab a stylish, cozy, comfortable jacket you are good to go all day long!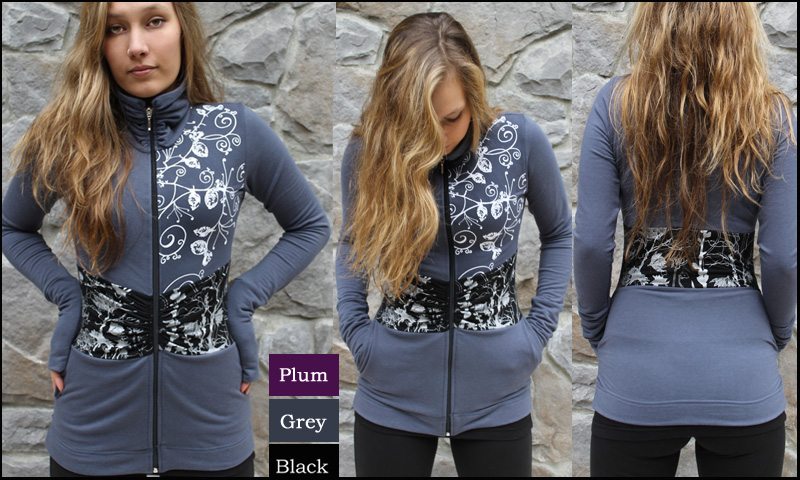 Photo Credit: Mandala Sky Clothing
As a Vancouver mom, how have you managed to create the perfect work-life balance?
Through years of trial and error, I figured out how to manage both. It's not perfect but more relaxed and in line with my inner Zen. In my early thirties I finally realized that a warm, happy family makes for a more delightful work life.  If one area is lacking it crosses over to the other. I really try and focus on bringing the family together every night for dinner. I also try and include my family with some of my work life; they help me out when I need it. I don't hold back, I also talk about work and design often.  I think showing passion for work can also help your children understand dedication and working on things that bring you happiness.  Although I must admit they think I work a little too much so I have to make time to go away and have mini vacations away from the office and studio.
What sacrifices have you had to make to be a mother in business?
In the early days of my career when the kids were smaller I missed too much time with them. I suppose I sacrificed time, later bringing me back full circle to a greater understanding of priorities and joy.  I think when people are working hard, they can sometimes forget to breathe, or I do anyway. Nowadays I really try and focus on doing a bit of deep breathing and relaxing every day because I tend to get overly excited about designing and making things for people, this can be very exhausting, as wonderful as it is.  I try to remind myself to look at the big picture and chill out.  Time is something you can't get back, so a balance is necessary.
What has been the most rewarding part about working in BC?
I really love the people I get to meet and chat with everyday in BC and other parts of the world. The most rewarding part about working in BC is being able to employ people that live here.
If you were to pick only TWO favorites of all your pieces, what would they be?
Over ten years designing clothing, I have never been asked this. Well I have to say my two favorite pieces would be The Rain Jacket and the Printed Zip, practical and unique.
What are THREE of the most popular designs you ever created?
The Jolene Jacket, Hope Tunic and my Printed Leggings have all been extremely popular and continue to sell in a very enthusiastic way!
What has been your mission from day one, being a woman in business?
This will sound cheesy, but my mission has been to BELIEVE, so far my deep belief that dreams come true and having my eye on the goal has really helped me to progress with my business, Mandala Sky Clothing.  Amazing things seem to happen when I believe in the outcome with all my heart, truly and fully.  My other mission is to NEVER let circumstances or past failures define me or my business.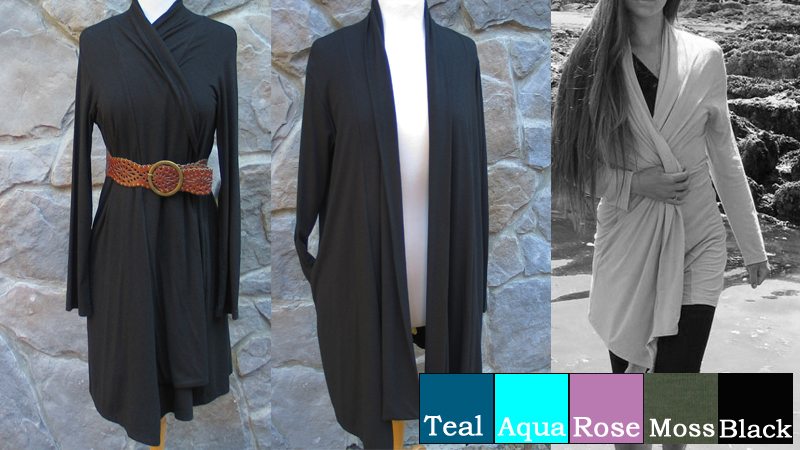 Where in Vancouver do you go to look or find inspiration?
I find inspiration on the streets, nice restaurants, the BC Ferries, anywhere I can find big crowds. I love watching people and what they wear on a typical day in the city, that's where I find the best fashion expressions. I will never tire of watching how people dress. I also have a deep appreciation for beauty in all shapes and sizes, we are all unique and special in totally different ways.
Sky Marcano is the author of "My Accidental Education" and a professional clothing designer and fashion illustrator who has been working in the industry for over ten years.  Her collection, Mandala Sky is manufactured in Vancouver BC, Canada.  She prides herself on creating beautiful fashion that makes you feel and look memorable with ease and comfort. It makes for great Vancouver mom style when you need of a quick and easy way to look your best and turn some heads!
Eschelle Westwood
Eschelle Westwood is the writer of Mumfection and is a dedicated young mother to two wonderful (though mischievous at times) boys. In between school drop offs, scraped knees, and milk spills you can usually find her on Twitter or on her hilarious Facebook page.