Vancouver Fashion Week Opening Gala: Spring/Summer 2015
Massive tents, courtesy of Tentnology, overtook the Queen Elizabeth Theatre Plaza on the night of September 15, 2014 for Vancouver Fashion Week's 2014 Opening Gala. As North America's second largest industry event, the mood felt just right. Other details such as a grand fountain, spotlights and media wall welcomed the fanciest of guests into the gala. Vancouver Fashion Week has been a growing platform for emerging and internationally acclaimed designers alike. This year just seemed even bigger as it's been mentioned that designers from over 30 countries will be represented at the shows throughout the week.
Vancouver Fashion Week Opening Gala 2014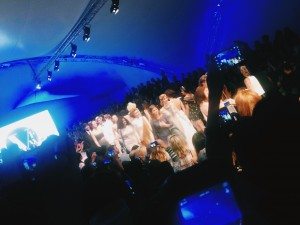 Under the tents models, designers, stylists, photographers and the like were abuzz with excitement and anticipation for the big opener. A large Vancouver Fashion Week icon illuminated the back of the runway, bleachers packed and overflowing. The event was hosted by Real Housewives of Vancouver star, Mary Zilba. The evening featured a preview of pieces from over 40 designers from their Spring/Summer 2015 collections; not bad for just a taste of the 70 to be featured over the course of the week. Later that evening a full showcase from the highly acclaimed, London-based designer, Olya Shishkina was shown.
Aside from the main event of the evening, CoverGirl offered a beauty station. The station provided makeup touch ups for guests as well as introducing them to Modiface, a 3D augmented reality makeup mirror. It's useful for not only makeup tone-matching but for virtually applying makeup. This was actually tons of fun! There was even a printer that instantaneously printed your Instagram photos using the hashtag #vfwbeauty.
For more Vancouver Fashion Week Coverage, be sure to follow their social media accounts.
Vancouver Fashion Week
Vancouver Mom
Would you like to write for us? We welcome well-written guest submissions with a local interest slant. Share your tips, review local businesses and highlight hot trends for Vancouver moms. Get all the info on our Contributor Page!