Sarah Baeumler on Motherhood, Business and Making It Work
Sarah Baeumler is one of the headlining talent appearing at the BC Home + Garden Show this weekend!  Sarah is an HGTV star on House of Bryan, House of Bryan 2 and the upcoming House of Bryan 3 (premiering Fall 2014), and a proud mom of four children (yes, four, and still alive to talk about it).
Check out our conversation with Sarah in 2016, she's still a super busy mom!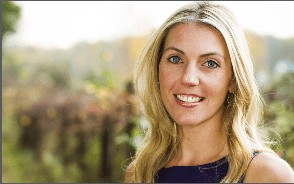 While Sarah's husband Bryan has been entertaining viewers across Canada and the US for over seven years on hit TV shows; Sarah has been running her own business in their hometown of Oakville. After 14 years training as a dancer, Sarah developed her Ballet and Jazz work at a professional level and gained her teaching qualifications in Classical Ballet, Modern Theatre and Jazz. In late 2006 Sarah founded her own classical dance school – Balletomane Performing Arts in Oakville. In 2009 Sarah joined her husband on air as fans watched in record-numbers as they built a custom 3,500 square foot home for their family.  After many years in business, three hit television shows, a husband's career that was exploding, and four young children at home, Sarah decided to trade in her dance shoes to help Bryan run their expanding businesses.  From owning a booming television production company to a thriving business building custom homes, Sarah has spent a great deal of time building the Baeumler brand.
Chatting With Sarah Baeumler
Sarah took time out of her busy schedule to tell Vancouver Mom how she has discovered the fine balance of having it all, as a mother and entrepreneur. When asked what word comes to mind when thinking of mother hood Sarah says, " There is no person in the world better at balancing the chaos that life throws at you, than a mother.  Somewhere in between late night feedings, constant diaper changes, permanent exhaustion,  and the most amazing love you can ever imagine….lies a mother that has perfected multi-tasking.  With a baby perched on your hip, a basket of laundry in your opposite hand, a telephone under your chin and a toddler clinging to your leg….a mother magically manages to juggle it.  I must admit,  I have bought cookies from a local bakery and passed them off as my own, I have sent my kids to school with a lunchbox full of takeout leftovers, and prayed that our newborn would sleep for 10 more minutes so that I could finish one last email….but I'm honoured to be a Mom."
Sarah says to have time to build her relationship with her husband, "Bryan and I have always been adamant about teaching our children that Mommy and Daddy need time to be adults and friends to one another.  When you have children you spend years dedicating every ounce of your time and energy to their well being.  But we have always told our children that we need to put time and love into our own friendship.  We don't ever take 2 weeks to vacation alone together, but rather we try to make the most of a night up at our cottage or travelling together for business when we can.  We are not big on 'date night' — possibly because we can never find a sitter for our brood!  So we try to take advantage of the day to day moments we have together.
Sarah and Bryan have now spread their wings once again.  Sarah is spearheading a longtime goal of the Baeumler Family – to create a charitable organization committed to fostering the advancement of children's emotional and physical care, research and education within Canada.  They have combined Bryan's innate construction and business leadership with Sarah's positive impact on children's growth and development to create a Foundation that strives to help families better the quality of life for their children.
One of their newest funding projects is a joint initiative with the Reach Out Centre for Kids (ROCK). ROCK is the largest accredited children's mental health centre in the Halton region. ROCK provides a multi-disciplinary approach to the diagnosis assessment and treatment of mental health issues for children, youth and their families. With the support of the Baeumler Family Foundation, ROCK has planned a 16,000 square foot expansion that will service a greater number of children within the community.
The Baeumlers' decision to partner with ROCK came out of Bryan's personal experience dealing with mental health issues as a teen. Sarah says, "During his late teens and early twenties, Bryan suffered anxiety and severe panic attacks like so many teens today. We hope that ROCK and BFF together can help promote positive child development and optimal mental health."
So is it possible to have it all? Sarah gives her sage advice to Vancouver Mom.
"Of course it is — if you manage your expectations.    I will never set a New Years resolution to lose 20 pounds or give up drinking diet Coke because the reality is I just don't want to!  We have worked extremely hard for everything we have and we are blessed to be surrounded by amazing family and friends to share it with."
Bryan and Sarah Baeumler will be hitting the main stage at the BC Home and Garden Show at 6 PM on Saturday and 12 Noon on Sunday discussing how, All's Fair in Love and Construction. Tickets to the show are $15 at the door and $12 online.
Michelle Gadd
Michelle Gadd is an urban dwelling, Vancouver housewife and mother of two rambunctious boys. She has a passion for discovering, and writing about, ways to engage kids in city culture. Michelle created www.elasticpantcity.com as an outlet to write about life, from parenting to city living, fashion to frugality, food to faith, no subject is off the table. Michelle invites readers to take a glimpse inside her life and be inspired by the beauty of art in the every day.