Book Review: Fresh Hell, Just in Time for Halloween
In this book review, we check out a spooky new title that gives an honest take on motherhood.
Most mothers experience a moment (or many moments) after the arrival of a new baby when they find themselves asking, How on earth did I get myself into this? Of course, we love our babies. Of course, we would do anything for them. And of course, looking back on it, it was all very short. In the moment, however, new motherhood can be messy and confusing and just plain hard. It's this difficulty that is captured in a new book from Vancouver mom and author Carellin Brooks. Fresh Hell: Motherhood In Pieces is a poetic memoir and a compelling read.
A Book Review from Hell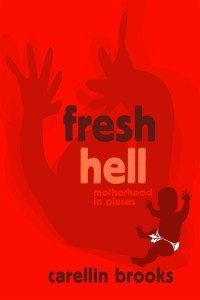 Described as 'Eat, Pray, Love for the smarter mommy crowd', Fresh Hell contains 52 meditations, one for each week of baby's first year. Covering a lot of terrain in just 96 pages, it moves quickly, ranging from disaster to delight and back again. In the process, it attempts to answer Dorothy Parker's question: What fresh hell is this? Much like motherhood itself it doesn't provide answers, lay out advice, or lead you to a tidy ending. Instead, each meditation is like a window into a few minutes in time, as if you're eavesdropping on someone's life.
In spite of the title, the book isn't a downer. Rather, it's an honest, fresh take on motherhood, which can be funny and transcendent and depressing all at once. Since each of the 52 sections is no more than a few pages, it's a great read for someone who can only pick up a book for a few minutes at a time. Perhaps because your own baby keeps calling you away.
Halloween-Themed Book Launch
Carellin is celebrating her new book with a Halloween-themed launch next week in Vancouver. The event, titled Night of the Living Dead Mom, is taking place on Wednesday, October 30, 2013 at 6:00pm at the Heartwood Cafe, 317 East Broadway. If you drop by you'll find dinner, drinks and books for sale. And, of course, your little ones are welcome to come along. We're all Vancouver moms, after all.
If you'd like to read something that speaks to every part of motherhood, you may want to pick up a copy of Fresh Hell, by dropping by the launch or ordering a copy from Demeter Press. And Happy Halloween!
Demeter Press
Amber Strocel
Amber Strocel is a writer, aspiring math teacher, suburbanite, wife and mom of two. She believes in the power of the Internet to connect people, and she believes that numbers are the poetry of the universe. You can often find her knitting, sewing, volunteering, working in her garden, and sneaking chocolate when no one's looking. She blogs at Strocel.com and shares her photos on Instagram as @AmberStrocel.