What to do in Vancouver: 100 in 1 Day
Wondering what to do in Vancouver to make this city a better place to live? "100 in 1 Day" is coming on June 7th, 2014. It's happened in other cities around the world, from Bogotá to Cape Town to Copenhagen and beyond. So what is it? It's a festival that celebrates active citizenship by inviting the local residents to create 100 urban interventions in a single day. Citizens will initiate, plan, organize and host their own urban interventions. Each one will provide opportunities to have fun, build community and showcase ideas for a better Vancouver.
Make an Impact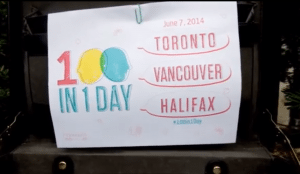 100 in 1 Day was first held in Bogotá in 2012. It quickly spread, and it's taking over Canada. In fact, Toronto, Halifax, and Montreal are all hosting the event on the same day. Here in Vancouver, Evergreen is facilitating the event, and helping residents bring their ideas to life. says Robyn Chan, Volunteer Coordinator at Evergreen, shares, ""Vancouver has a lot of great grassroots movements happening across the city. We see 100 in 1 Day as a chance to connect the great work happening across the city, and as a way to encourage citizens to take an active part in improving Vancouver."
Making this a great place to live really is what to do in Vancouver. So how does it work? Weekly workshops are running already, and interested people of all ages and stripes are invited to come together and start planning their urban interventions. But just what is an urban intervention? The sky's the limit, but some examples are playful photo booths and transit ice-breakers. Cheryl Cheeks, an intervention leader for 100 in 1 Day, wants her intervention to help people be more open to strangers. "I want to create a safe place for people to feel free to come engage strangers in conversation. My team and I are excited to see who accepts our invitation to stop and chat at our table in Dude Chilling Park."
What to do in Vancouver for Families
100 in 1 Day is what to do in Vancouver for families, too. In fact, there are specific family workshops to help you get involved. There are also a number of kid-friendly Vancouver interventions that are already in motion, including music lessons in the park, information on what a Reggio Emilia program could look like in local public schools, a chance to make dream lanterns and a parents' "break" time. To find out more about workshops, interventions, and 100 in 1 Day in general, visit 100in1day.ca/vancouver.
*Images courtesy of 100 in 1 Day
Amber Strocel
Amber Strocel is a writer, aspiring math teacher, suburbanite, wife and mom of two. She believes in the power of the Internet to connect people, and she believes that numbers are the poetry of the universe. You can often find her knitting, sewing, volunteering, working in her garden, and sneaking chocolate when no one's looking. She blogs at Strocel.com and shares her photos on Instagram as @AmberStrocel.