Sun Peaks for Outdoor Family Adventure
With a month to go before the kids head back to school, you may be looking for a quick getaway out of the city that isn't the usual fare, but one you can count on for safety and fun for the family. VancouverMom.ca's Christine Pilkington checked out Sun Peaks Resort with her family of five. Here's what she found out. 
Sun Peaks: Not Just For Winter
Sun Peaks is already known as a world-class winter resort, but it's a worthy contender for a summer family getaway – and easily accessible from Vancouver, especially if you can't spare more than a few days away.
Head out of Vancouver and up the Coquihalla. Venture 45-minutes north of Kamloops, and you're there. The distance is short enough where you can make the drive without stopping. Or stretch your legs in Hope or Merritt for a quick break and snack. 
Bonus: Arrive before August 14 and you'll also be treated to Sun Peaks' Family Weeks: free activities around the village that include performances from the Rivertown Players, Clinton Grey Magic and Uncle Chris the Clown, plus pony rides, mini golf and more.
And unlike other resorts, Sun Peaks offers lots of space to stretch out – no need to worry about maintaining your distance.
What to Do in Sun Peaks
With the pandemic always top of mind, the best place to be is outside – and Sun Peaks hits all of the Canadian experiences. On our recommendation list:
Alpine Hiking
Purchase a lift ticket and head up the mountain: you'll be treated to views of wildflower-covered meadows. We even saw a doe and her fawn. After the lift, the hike to the top is challenging but in dry weather, completely doable in durable sneakers. We ventured to the peak for a rest, a photo op and 360-degree views of Mount Tod and even Mount Revelstoke. No stroller access so bring your baby carrier. Kids as young as three were ambling along the trail, but assess your family's skill.
Downhill Biking
If you have never tried downhill biking, Sun Peaks is a great place to start. Known for its downhill trails, the resort offers lessons in its bike skills learning area. Bike rentals are available from Fall Line in the village. Not into downhill? We saw plenty of kids taking their mountain bikes on the Progression Park trail.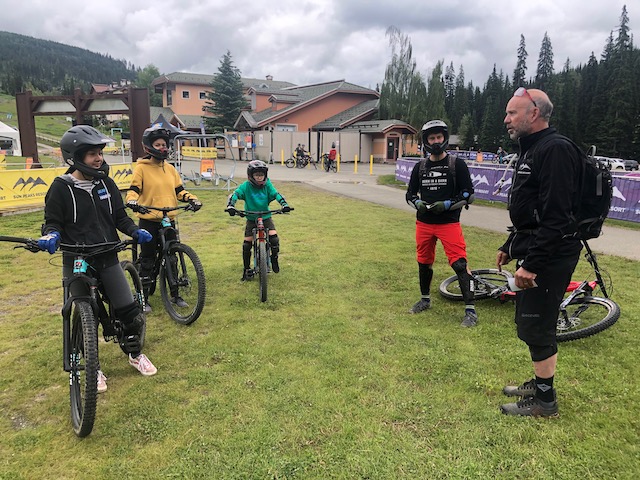 Canoeing
Pick up your paddles and safety gear from the guest services desk in the Village Day Lodge and drive 10 minutes to McGillivray Lake, where your canoe rental will be waiting for you – no need to lash it to the top of your car. Some paddling experience recommended. 
Stand Up Paddle-boarding
This activity was the highlight of our trip. Located 20-minutes from the resort on Heffley Lake, Paddle Surfit offers an incredible multi-person family board. Able to accommodate up to 8 adults, the board is fondly named nui – "big" in Hawaiian" – and my rambunctious family felt safe and secure on its surface. Look for the eagles, a family of loons and turtles while on the lake. 
Where to Eat in Sun Peaks
Ohana Deli Market
If you want to avoid crowds, but don't want to spend your entire vacation cooking and cleaning up, Ohana Deli Market is the perfect solution. A new addition to Sun Peaks, this charming deli located in Peaks West offers local and ready-made meals that you can pick up and prepare in your home. Our meals included ready-to-bake croissants, egg tortillas, granola and more.
Other options: 
Cahilty Creek Kitchen and Taproom: Delicious pub fare. Try the new beer flights – 12 taps to choose from.
Mountain High Pizza: Order pizza by the slice or by the pie. Pick up at their take-out window and enjoy in your suite.
Masa's Bar + Grill: Located near the progression bike park, the perfect location to take a break from your busy day.
Vertical Café: Pick up a latte and a freshly baked good. Or pick up a milkshake for an extra treat.
Where to Stay in Sun Peaks
We stayed at the new luxury townhouse units at Village Walk, which included a full kitchen, four bedrooms and a private hot tub. Sun Peaks currently has excellent deals for hotels within the village itself or a short walk away.
Where to Shop in Sun Peaks
Fall Line: For your bike rentals and equipment tune ups.
Lone Wolf Gallery: Unique and memorable art and quality souvenirs at very reasonable prices.
Rocky Mountain Chocolate Factory: Pick up a slab of fudge to enjoy in your suite.
Sun Peaks For Families
Visit the Sun Peaks website for more information on what to do, where to eat and where to stay.
Christine Pilkington
Christine Pilkington has over 15 years of digital and interactive media experience. Breakfast Television has dubbed her a Baby Product Guru and she frequently appears on CBC and CTV. She lives with her husband, three daughters and a Lagotto Romagnolo in East Vancouver, about 10 minutes from where she grew up. Christine is also the CEO of Crisp Media Inc, which develops digital marketing strategies for businesses.