Kids Can go Skiing and Snowboarding with SnowPass
Do you have a child who was born in 2002 or 2003 and wants to try – or already loves – skiing and snowboarding? If so, you'll want to check out the SnowPass. This national program from the Canadian Ski Council starts up on December 1, 2012. The SnowPass is valid at 150 ski areas across Canada, including Grouse and Seymour. You can also use it at Whistler Blackcomb and Hemlock, and a whole lot of other mountains around BC, if you're on the road.
Get Active This Winter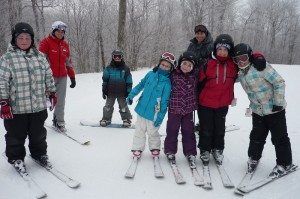 The SnowPass is a great way to get active outside with your kids this winter. We all know that skiing and snowboarding aren't cheap. This program makes them more affordable, especially if you plan on going several times this season. So why not turn off the TV and video games, head outdoors, and get some fresh air and exercise up on a local mountain?
"Introducing children to skiing and snowboarding at an early age gives them lifetime access to these healthy winter sports," says Patrick Arkeveld, President and CEO of the Canadian Ski Council. "It keeps them fit, less prone to obesity, and outside and active during the winter months. Better yet, skiing and snowboarding are sports kids can do with the whole family for a lifetime."
Skiing and Snowboarding on the Cheap
The SnowPass costs $29.95, and lets each child go skiing and snowboarding up to three times at each participating ski area. That means you could go three times at Grouse, three times at Seymour, and so on. To apply, you need to upload a photo and proof of age and pay the fee. Your SnowPass will come in the mail about a week later, and you'll be ready to hit the slopes. While you can't start using your SnowPass until December 1, they started mailing them out yesterday, so you can go ahead and apply today.
To find out more about the SnowPass program, or to apply for one for your child, visit them online.
SnowPass
Amber Strocel
Amber Strocel is a writer, aspiring math teacher, suburbanite, wife and mom of two. She believes in the power of the Internet to connect people, and she believes that numbers are the poetry of the universe. You can often find her knitting, sewing, volunteering, working in her garden, and sneaking chocolate when no one's looking. She blogs at Strocel.com and shares her photos on Instagram as @AmberStrocel.