Holiday Shopping: Beyond Pink and Blue to Toys for Everyone
When you're out doing your holiday shopping, you may notice that many stores divide their toy selection into 'boy' and 'girl' categories. In this article Sue Sinclair of Raspberry Kids shares selections that go beyond those gender stereotypes.
We've never been big fans of gender stereotyping toys for boys or girls and are amazed by how blatant this marketing can be at times. Thankfully there are some absolutely incredible toys that are beautifully designed that will not just be a hit with little girls and boys but also please us big kids as well.
Holiday Shopping: Busting Gender Stereotypes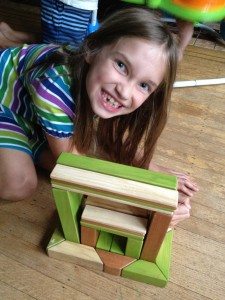 A very recent addition to Raspberry Kids this year are the fabulous Tree Hopper Toys match stacks.  Made in the USA and available in 10 gorgeous designs such as dinosaurs, in the garden and woodland animals, these memory games are great for kids of all ages.  They come in beautiful packaging and make excellent gifts.
Tegu blocks are a huge favourite in our household.  Our daughter likes to build structures such as houses and our son usually makes them into robots or animals.  Another toy that is a hit with all children and of heirloom quality to pass along to your children's children.  Add on a pair of wheels and your creation becomes mobile!
Game night is very popular in our home and Janod's Equiliblocs will encourage coordination, patience and creativity.  Bright gender neutral colours comprise this Jenga-like game.
Play With Your Food
We love talking to our kids about the importance of real food and we love to cook together.  This includes all kinds of pretend meals so whether you have a budding Jamie Oliver or a Nigella Lawson-to-be, our wooden kitchens are sure to please.  The Hape Toys Gourmet Chef Kitchen in white or green are perennial favourites.  All children love cutting up wooden veggies, serving up ice cream and making snacks and meals with pretend food.  Latte, salad, sushi or pancakes anyone?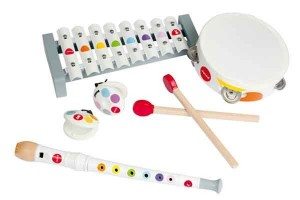 Musical instruments are a fantastic option if you're aiming to avoid the pink or blue aisle when it comes to great toys. Plan Toys, Hape Toys and Janod all have excellent choices ranging from drums to xylophones as well as flutes and shakers. Perhaps you are living with a future rock star!
Lastly, puzzles are great unisex toys. We're especially fond of ABC puzzles  and geographic puzzles. P'kolino, Petit Collage and Janod all offer amazing designs. Puzzles challenge kids to find solutions when putting them together, and let them to study the finished product when they're done.
There you have it!  Tons of holiday shopping suggestions for ah-mazing toys for kids, regardless of their gender.
Sue Sinclair is the Chief Executive Mom at Raspberry Kids, a local Vancouver lifestyle store where you will find fresh, healthy and fun products for little ones and families. She's also a very proud Vancouver mom of three Vancouver Kids. Catch up with her (and do some holiday shopping) at raspberrykids.com.
Vancouver Mom
Would you like to write for us? We welcome well-written guest submissions with a local interest slant. Share your tips, review local businesses and highlight hot trends for Vancouver moms. Get all the info on our Contributor Page!