Introducing Your Child to Skiing
Photo credit: Mount Seymour
Kids have some advantages on their side when it's time to learn how to ski, such as a low centre of gravity and a can-do spirit that keeps them climbing the furniture if there's no playground around. Skiing can be a great outlet for all that energy once your child is three to six years old. Check with your pediatrician and observe your child's skill and comfort level before committing to lessons.
Pre-Ski Activities
Before you choose ski lessons for your child, start small with a few basics. Sledding (on gentle slopes) is great fun for little kids and gets them used to the sensation of going downhill. Watching older children ski can also be helpful; your child can see how much fun it is, understand that falling is normal, and get a sense for the type of movement that skiing involves. Ice skating can also be a good way to get a sense of using edges and controlling movement on a slippery surface.
Individual vs. Group Lessons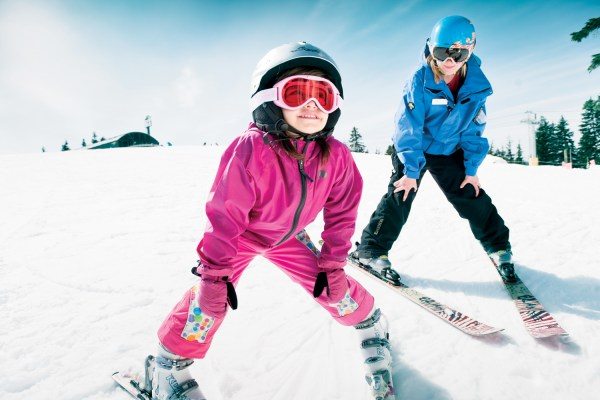 Once your child is interested in skiing, you can sign him or her up for lessons. Whether or not you select a group or private lesson depends on your child's needs. Many children have more fun when there are other kids around, but some kids might prefer more focused attention.
Ski Gear
Gear rental is usually not a problem (and one of the main attractions for signing your child up for lessons—no need to keep buying new gear as she grows!) Many parents now have their children wear helmets for skiing, and many ski areas require them for participation in lessons.
Skiing Instructors for Preschoolers
Choose an instructor who is enthusiastic about kids and their abilities, yet one who understands the limits of a preschooler or early-elementary-age child. Skiing should above all be fun; kids won't appreciate being pushed past their comfort level while they are still gaining confidence. Instructors who have had other experience with children, such as babysitting or camp counseling, may be more in tune with childhood development. Make sure that the lessons take place in an area that adults and older children won't be using at all. These areas are usually close to the main lodge and contained, but accidents may occasionally happen anyway; learn about safety procedures ahead of time.
Compare Ski Areas
Some ski areas like Grouse Mountain offer special deals to adults who take their children to the slopes for lessons—you can factor any such opportunities into your budget. Classes for kids at ski areas may be either a regular series, or drop-in classes like those at Cypress Mountain, so you can choose whichever makes sense for your family. Each ski area has different offerings in terms of price and schedule, so it's good to comparison-shop rather than selecting your slopes based on pre-kid experiences.
Here are the links to kids ski lessons in the Vancouver area:
As your child gets older, private lessons might be a good idea for helping her really hone her skills. It's also fun for children and teens to have friends with them while they ski or take lessons.
When your child becomes a confident skier, there's no better day out as a family than a day spent on the mountain.
Vancouver Mom
Would you like to write for us? We welcome well-written guest submissions with a local interest slant. Share your tips, review local businesses and highlight hot trends for Vancouver moms. Get all the info on our Contributor Page!