Giveaway: Take the Whole Family to See Will Stroet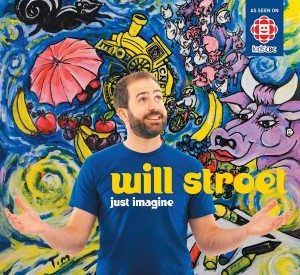 When you start listening to kids' music, you learn quickly that not all children's entertainment is created equal. You also learn that what your two year old enjoys (and wants to listen to over and over and over and over and over) and what you enjoy are not necessarily the same thing. This means that kids' music that both children and parents enjoy is worth its weight in gold. If you could use more high-quality children's music in your life you'll want to pay attention closely, because this giveaway is for you.
We've introduced you to Vancouver-based children's entertainer Will Stroet before. For instance, we shared our podcast with Will last autumn. This teacher-turned-musician creates catchy, funny, creative tunes in English and in French. His latest CDs – Just Imagine (English) and Imagine (French) – will be released on September 30, 2013. They continue the trend. We connected with Will recently and asked him how he makes songs that appeal to children and parents alike. He shared, "We're trying to keep it musically interesting and fun for adults as well as kids. Honestly, if you can make something that parents will enjoy using themes that are relevant to kids that's the trick right there."
Singing Along with Will Stroet
We managed to get our hands on an advance copy of Just Imagine. We've been dancing along to "Mama Samba", laughing out loud at "Trikers", and exploring our creative sides with "Colour It". It's catchy and fun, and you can pre-order your copy at willmusic.bandcamp.com/album/just-imagine. To celebrate the CD's launch, Will Stroet and his Backyard Band will be playing two shows here in Vancouver on October 14, 2013. They'll take to the stage at St. James Community Hall at 10:30am and 1:30pm. We're thrilled to be giving away one family four-pack to a lucky VancouverMom.ca reader. The winner can choose the morning or afternoon show on October 14.
Seating for Will's Vancouver shows is limited, so you'll want to get your tickets now. At just $12 per person, and with babies one and under free, it's affordable, kid-friendly Vancouver fun. And it's all for a good cause, as proceeds go to benefit Bayview Parent Participation Preschool in Kits. (PS – Bayview still has space if you're looking for a great school.) Don't worry, if you enter and win our giveaway, you can have the cost of your tickets refunded. Head to bayviewfundraiser.eventbrite.ca to get your tickets today. You literally have nothing to lose. Once you have your tickets, here's the scoop on how to enter our giveaway.
How to Enter
Mandatory entry:
Fill out this form to enter. Note that you will be subscribed to our mail list. For an extra, optional entry, tick the box and subscribe to Will Stroet's email list as well:
Contest Rules for the Will Stroet Giveaway
[unordered_list style="bullet"]
Contest runs until October 6, 2013 at 11:59pm.
You may only enter once using each method.
The winner will be selected and contacted by email. If the winner doesn't claim the prize within 48 hours, another name will be selected.
[/unordered_list]
Good luck!
Will Stroet
willmusic.ca | Twitter | Facebook | YouTube
Amber Strocel
Amber Strocel is a writer, aspiring math teacher, suburbanite, wife and mom of two. She believes in the power of the Internet to connect people, and she believes that numbers are the poetry of the universe. You can often find her knitting, sewing, volunteering, working in her garden, and sneaking chocolate when no one's looking. She blogs at Strocel.com and shares her photos on Instagram as @AmberStrocel.