Giveaway: Win a 4Cats Kids Birthday Party in Vancouver!
To paraphrase Forrest Gump, kids and art go together like peas and carrots. It should come as no surprise, therefore that we love 4Cats Art Studio. We especially love their birthday party offerings. If you're planning a kids birthday party in Vancouver soon, you'll want to pay close attention. We're teaming up with 4Cats Art Studio on Main Street for a fabulous, creative giveaway!
Love Art, Love Kids, Love Where You Live
So, what is 4Cats Main Street? In their own words, they say, "We are a team of happy artists who love what we do and create good art. The fact we get to do this everyday with a few awesome young friends is all the better! We believe whole, whole heartedly that art brings joy, a love of learning and makes the world a better place. The really great thing about 4Cats is that we encourage a love of learning through creating, questioning, laughing and living!"
Like the Vancouver moms who call this fabulous city home, the folks at 4Cats Main Street love where they live. They share, We all feel so lucky to be part of the Main Street community. It is so amazingly vibrant, creative and we wouldn't want to be anywhere else in the world!" Who better to team up with for a great giveaway?
You're Absolutely Glowing Kids Birthday Party Giveaway
So what is the giveaway you ask? Well… 4Cats Main Street and VancouverMom.ca have partnered to give away TWO, yes TWO, 4Cats GLOW IN THE DARK SPLATTER PAINT PARTIES in January! Each party is valued at $220 plus tax. Using special non-toxic UV paint, the guests at this kids birthday party will experience the fun of glowing, splattering and generally being wild and crazy!
There are a few notes of fine print you'll want to keep in mind. The party has to take place in January on either a Thursday or Friday from 7:00 to 8:00pm. The party is for 10 guests maximum, and does not include any canvas upgrades or canvas stretching services. And, of course, it is valid only at 4Cats Main Street. Finally, all party guests must be between the ages of 5 and 100 and not afraid of the dark or allergic to fun.
Preview a Glowing Kids Birthday Party in Vancouver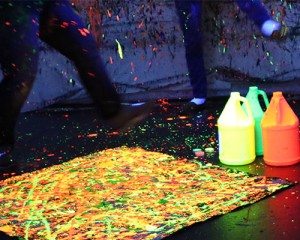 Want a sneak peek of what the glow and splatter party is like? Check out the 4Cats Says Thanks! Winter Celebration Party! Drop by the studio on Saturday, December 21, 2013 between 12:00-3:00pm. You'll have the chance to celebrate the holidays with art, games, contest, treats and a whole lot of fun!
Now, of course, it's time to enter this amazing giveaway for a chance to win a kids birthday party in Vancouver. Read on to find out exactly how to do that.
See Also
How to Enter
We know that if you're planning a kids birthday party in Vancouver you will really want to win this giveaway, and luckily entering is easy!
Mandatory entry:
Read more about the giveaway, and fill out the contest form, here: main.4cats.com/glowing-contest. But hurry, the contest ends December 23, 2013 at 11:59pm!
4Cats Arts Studio – Main Street
www.4cats.com/mainstreet | Twitter | Facebook | main@4cats.com
4529 Main Street, Vancouver, 604.568.0403
Amber Strocel
Amber Strocel is a writer, aspiring math teacher, suburbanite, wife and mom of two. She believes in the power of the Internet to connect people, and she believes that numbers are the poetry of the universe. You can often find her knitting, sewing, volunteering, working in her garden, and sneaking chocolate when no one's looking. She blogs at Strocel.com and shares her photos on Instagram as @AmberStrocel.