Back to School: Ready set, refresh and reorganize!
School is inching ever closer, but don't panic – we've loads of back to school posts to help you get ready for the new school reality! One thing we love to do is refresh our living space. It help get our heads in order for the new more structured reality of the school year.
Deep clean
Time to clear out the detritus of summer from your children's rooms. Mouldering flower bouquets, balloon animals losing air, random Playland game prizes – let it go. Clean off the homework space, trim the book selection, go through the autumn clothes and see what still fits.
Room refresh
There's nothing like a bit of a refresh to help your kids feel like they're moving up. Slightly older kid wall art? More grown-up bed sheets? Recognizing they're getting older and moving into the next grade with some special decor changes can be a good confidence builder.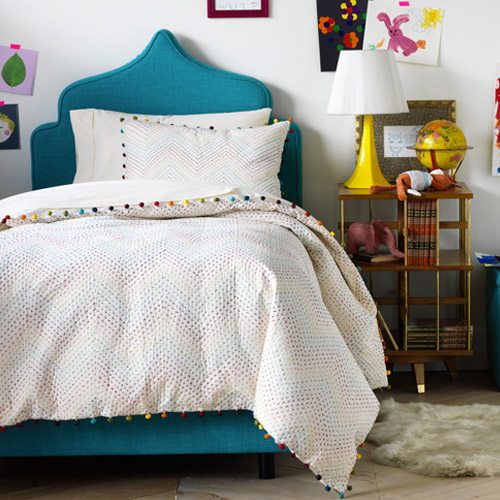 Update your calendar
Pro-d days, school holidays – it's not always predictable. Check out the Vancouver School Board's calendar and update yours, so you're not the parent hearing about the District Closure Day from another parent outside gymnastics class. Say.
Shop for backpacks
The right backpack can be a tough nut to crack, so start early. That magic triumvirate of Parent Approved, Kid Approved, and Not Ridiculously Expensive can take some research. The shops are well into back to school now – start with Vancouver Mom favourites like MEC, Herschel, and Fjällräven.
See Also
Image credits: Dwell Studio, WestCoast Kids
Erin McGann
Erin McGann is the former Managing Editor for Vancouver Mom and Toronto Mom Now. She drinks just a bit too much coffee, is a bit obsessed about sourcing local food, plays the cello moderately well, spends too much time on Twitter, keeps honeybees on a rooftop, and has a thing for single-malt whisky. Erin is working on a novel set in turn-of-the-century Vancouver, which her husband, son and dog have to hear about all the time, and also blogs at Erin at Large.