100 Mile Day Trips: Reifel Bird Sanctuary and Westham Island
A world-renowned birding paradise is in easy reach from our urban dwellings in Metro Vancouver. The Reifel Bird Sanctuary, on Westham Island in Delta, is less than a one-hour drive from Vancouver.
Reifel Bird Sanctuary
This large portion of Westham Island has been a bird sanctuary and conservation area since the 1960s. In the early 1970s, the Federal Government designated the Reifel farm site as the protected Alaksen National Wildlife Area, with the Sanctuary managed by the British Columbia Waterfowl Society.
You can walk at your own easy pace along the stroller and wheelchair-friendly dike trails at Reifel Bird Sanctuary. There are boardwalks and visiting platforms over the marshes, complete with informational signage about bird habitats and species. A two-story (10 m high) observation tower in the northwest corner of the property provides excellent views onto the estuary, Fraser River and adjoining farmland. There are several "bird blinds" along the trails that allow you to view bird activity without being seen and disturbing the wildlife. Binoculars are a must.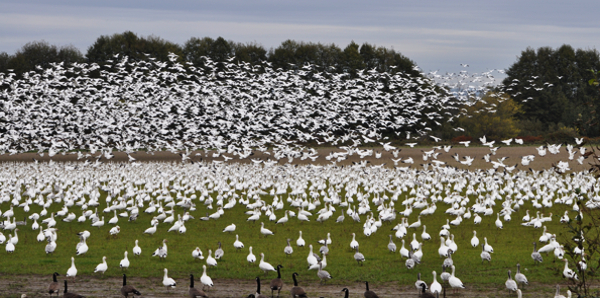 Visit in All Seasons
Bird visits change by the seasons, so there is always a new species to search for and admire. Sanctuary staff keep track of the daily bird species count, and on our last visit, they noted more than 65 bird species, including; eagles, sandhill cranes, herons, hummingbirds, a pygmy owl, and many, many ducks.
The annual Lesser Snow Geese migration in fall (and again in mid-winter) is a particularly popular event at Reifel Bird Sanctuary. The snow geese usually arrive by early October, flying more than 5,000 km on their way back from summer spent on Wrangel Island in the Arctic Ocean, north of Siberia in Russia. The 2012 bird count was 70,000 birds – spectacular viewing for any bird lover.
Feed the Ducks!
Buy some feed and treat the ducks to some seeds
Family Admission is just $16, and the under two set is free. Do also purchase a few bags of birdseed to feed the ducks near the entrance. Children love feeding the ducks, and you may be surprised at how excited they'll be to see eagles, hummingbirds and herons during their walk through the Sanctuary.
Picnic tables are located outside the Sanctuary entrance for snacks or lunch. If you're visiting Reifel on a Sunday in summer, you could venture to the Ladner Village Market, just 15 minutes away. Or extend your visit and spend the afternoon at one of Westham Island's farm properties.
Emma-Lea Farms offers berries galore (u-pick or ready pick), including strawberries, blueberries, raspberries, as well as fresh vegetable sales (including pumpkins in fall). Westham Island Herb Farm features fresh, hand-picked produce, fruit, herbs and flowers. Their General Store sells locally made honey, jams, jellies and other homemade goodies. Finally, stop at Westham Island Winery to sample some fruit wines. Or simply purchase a bottle to enjoy at home, when the kids are down after their long day on the Island.
Directions
From Vancouver, the 31 km drive to Reifel Bird Sanctuary and Westham Island will take about 45 minutes, depending on traffic. Take the 99 south through Richmond and the Massey tunnel, and exit onto River Road in Delta. Follow along until you reach Westham Island Rd, and follow the signs.
Photo Credits: C. Laroye
Claudia Laroye
Claudia lives in Vancouver. She's the mother of two teenage boys, and has a thirst for travel, chocolate, and pineapple margaritas. She writes and blogs as thetravellingmom.ca, offering a modern mom's guide to family travel sanity. She is much too active on Twitter as @travelling_mom.