Canadian Spacewalkers: Take a Walk on the Space Side
You may know Bob McDonald from CBC's Quirks & Quarks. This Officer of the Order of Canada has worked hard to help the rest of us come to grips with science. And now he's launching a new book, Canadian Spacewalkers: Hadfield, MacLean and Williams Remember the Ultimate High Adventure. It offers a fun and fascinating exploration of the adventures of the only three Canadian astronauts to ever step into space.
Help Launch Canadian Spacewalkers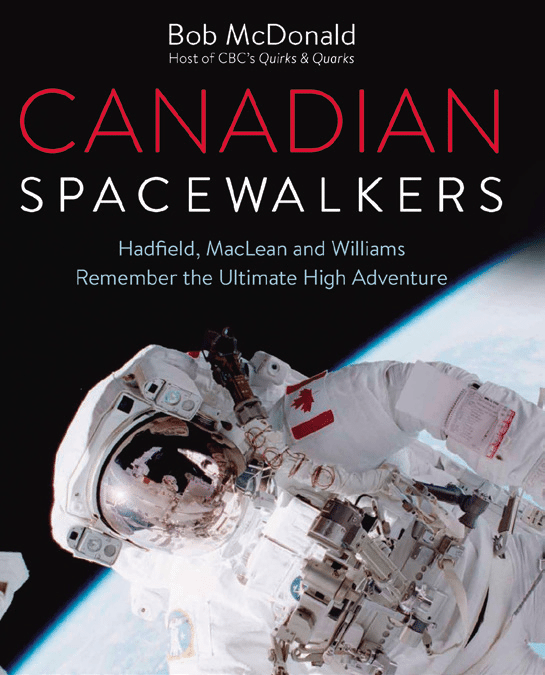 To help with the launch McDonald will be coming to the H.R. MacMillan Space Centre for an event starting at 7:00pm on Tuesday, October 28, 2014. If you have a child who loves all things space, you'll want to take note of this family-friendly experience. Join McDonald for an astonishing journey into the stars. Discover the stories of these three Canadian astronauts, as told by one of Canada's favourite media personalities. Enjoy a journey through the universe across the planetariam dome and hear more about the extraordinary training and lives of these astronauts – and the beauty they can see.
In Canadian Spacewalkers, Chris Hadfield, Steve MacLean and Dave Williams share what these spacewalking experiences have meant to them. This is the story, in their own words, of years of underwater training in the world's largest swimming pool, the difficulties of fighting against a suit that just doesn't want to be flexible and working with tools while wearing the equivalent of hockey gloves. You'll also hear about performing construction work in a weightless environment where the most spectacular view of the Earth you've ever seen constantly passes 400 km below your feet or above your head – because up and down have no meaning in space.
Taking a Walk on the Astronaut Side
While McDonald isn't an astronaut himself, he has immersed himself in astronaut training. From flying in a zero-G airplane, to spinning up to three times his weight in human centrifuges, to surviving motion sickness devices, he's done a lot. And he did all of it in an effort to get a small earthbound taste of what these extraordinary astronauts have experienced in space. He's also learned what they go through as they prepare to blast off, and walked in the footsteps of astronauts.
Whether you or your children have any desire to go on your own spacewalk, there's a lot of inspiration to soak up in Canadian Spacewalkers. All three real-life Canadian spacewalkers encourage young people to follow their dreams, no matter what they are. As Steve MacLean puts it, "Find something you love, stay focused on it, work hard at it and the next thing you know, it's more than an experience – it becomes a passion that drives you. It changes how you walk through life."
The event on October 28, 2014 is suitable for all ages, and what's more, it's free. You do need a ticket, however. Get yours by registering at eventbrite.ca or by calling 604-738-7827.
Amber Strocel
Amber Strocel is a writer, aspiring math teacher, suburbanite, wife and mom of two. She believes in the power of the Internet to connect people, and she believes that numbers are the poetry of the universe. You can often find her knitting, sewing, volunteering, working in her garden, and sneaking chocolate when no one's looking. She blogs at Strocel.com and shares her photos on Instagram as @AmberStrocel.