Back-to-School: Bayview Parent Participation Preschool
We know, we know: it's only July. It's too soon to start thinking about back-to-school. If you're still on the hunt for the perfect preschool for your little one, though, you'll want to get on that right away. Spaces fill up fast – in fact, many schools have long waiting lists – and the early bird gets the worm. If you live in Kitsilano, we have the scoop on a preschool that still has spaces available.
Back-to-School Planning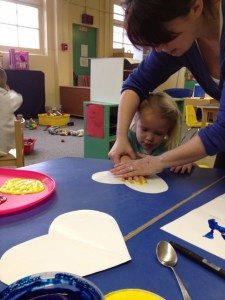 Bayview Parent Participation Preschool holds classes on Tuesdays and Thursdays from 9:00-11:30am and 12:30-3:00pm at Bayview Community School, which is at Collingwood Street at West 6th Avenue. The school welcomes three to five year olds and their parents to become more involved in their community while learning, developing and growing in a fun and safe environment. Registration is open now, and if you sign up for the afternoon class (where demand is pretty much always lower) before August 1, they'll waive the registration fee. Anything that reduces the cost of back-to-school is a win in our books.
Bayview offers a play-based preschool program, led by licensed early childhood teacher Carolina. As a parent participation school, class is enriched by the support of parents. Parent participation preschools require parents to make a time commitment. There are one or two classroom duty days per month, an assigned duty role that one parent in each family will hold for the year, and mandatory parent education meetings. In return, however, the schools generally have lower fees and lower child-to-adult ratios than other preschools. As well, you'll get to know the other children and parents in your community.
Choosing a Preschool
Choosing a preschool isn't always easy. As a parent making this decision, you need to explore your options. Parent participation preschools offer many advantages, but not every parent is able to make the necessary time commitment. As well, some children flourish in a play-based environment and others do better with the structure in a Montessori classroom. When we interviewed experienced preschool teacher Elizabeth Reid she said, "I think parents need to get down to their gut instincts." We think that's excellent advice.
If you think Bayview Parent Participation Preschool may be the right fit for your family, you can find more information online at www.bayviewppp.com.
Amber Strocel
Amber Strocel is a writer, aspiring math teacher, suburbanite, wife and mom of two. She believes in the power of the Internet to connect people, and she believes that numbers are the poetry of the universe. You can often find her knitting, sewing, volunteering, working in her garden, and sneaking chocolate when no one's looking. She blogs at Strocel.com and shares her photos on Instagram as @AmberStrocel.