Vancouver Mom to Follow: Patricia Tait
This week's Mom to Follow is a super grammer whose family refers to her prolificness as "spamming the gram!" Thing is, her photos are amazing! Patricia Tait was born and raised in Germany and his mom to two amazingly funny, confident, awesome, annoying and passionate children: Noah, soon to be 8 and Stella, soon to be 6. Stella entered kindergarten in the fall of 2017, which allowed Patricia to return to work full-time. Patricia is an account manager for a non-profit-association management company.
Patricia believes that one of the best ways to be involved in your children's childhood is becoming part of it. In her free time, she loves to be her kid's personal photographer as well as a major part of their activities. She is an active volunteering member of the Vancouver Thunderbirds Hockey Association, where both kids play Hockey and sits on the Board of the Vancouver Westside German School, where Noah and Stella deepen their German heritage language skills.  Patricia also enjoys photography, spending time with her family and friends, particularly while organizing their homes and closets and sipping on bubbles or a good bottle of wine.
Some of Patricia's favourite spots in Vancouver

Granville Island has got to be one of the most interesting places in the city for both – adults and kids. We come here to explore, shop, eat, watch sunsets, play and go on the waterslide in the summertime, take photographs, listen to live music and simply to enjoy the most beautiful view of the city. Favourite place to eat: Sandbar, seated on the patio by a fireplace! This place and its food never disappoints! Sandbar and Seasons in the Park, are our kid's favourite restaurants. They actually ask to go every holiday or birthday. And they put on their best behaviour.
This is one just for me and my husband, or for all of us – my husband and I love to escape to Colony on a late Friday afternoon if our schedule allows, to take advantage of their amazing Happy Hour food and drink specials before we pick up the kids. If it's the 4 of us, we go for family wing night and local beer specials! This place is in walking distance from our home, incredibly child-friendly and the food and service are great!
It doesn't matter which one, Second Beach, Third Beach, Kits Beach, Spanish Banks… spending summer days at the beach with my family makes me happy. In the heat in our swim suits or during the cold season in toques – the feeling of having the ocean right at our doorstep makes me feel really grateful to live here. There is something about watching freighters waiting to come into the harbour and the mountains, at times covered in snow, that is simply fascinating.
The Thunderbird Stadium – UBC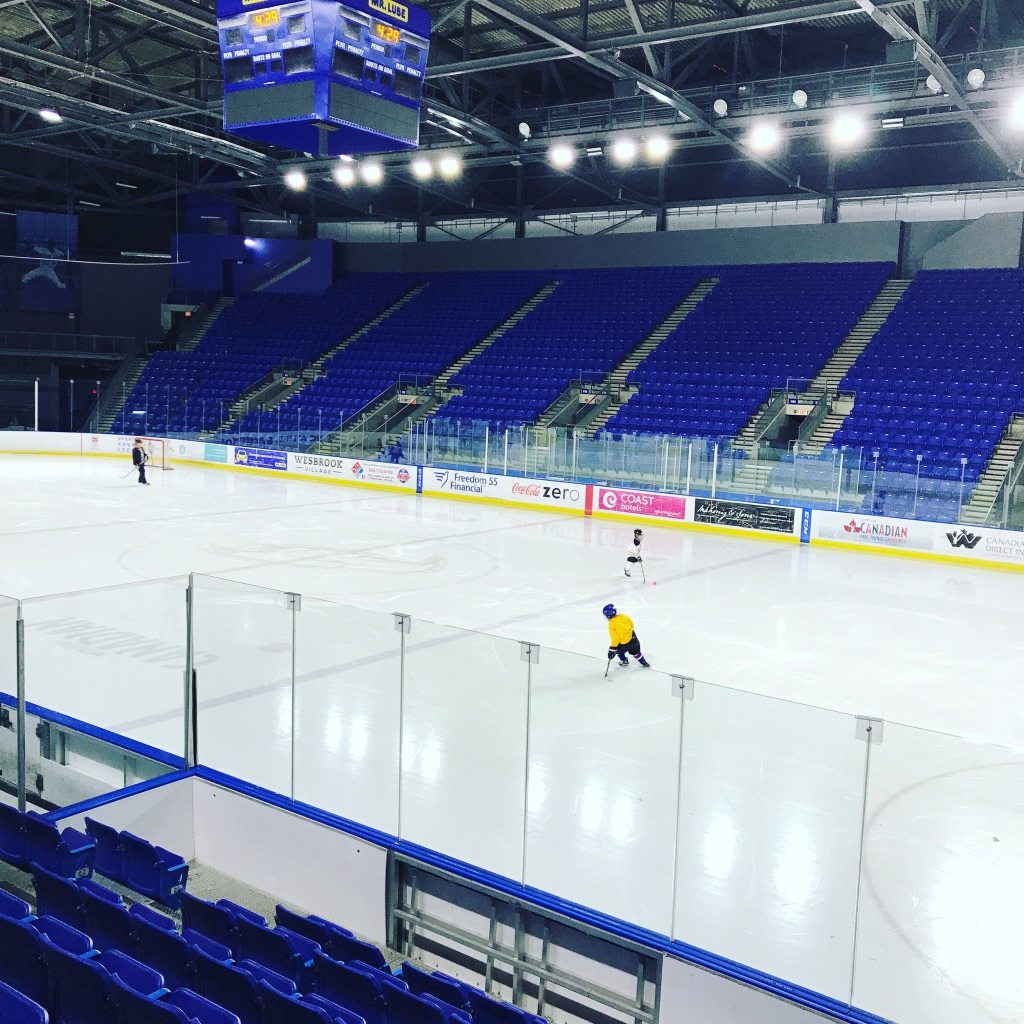 Yes, we are – a hockey family! Not in a million years had I imagined that I would find myself spending most of my weekends watching both my kids (and husband playing his own team or coaching the kids' teams) on the ice playing hockey. I have grown to embrace and love this Canadian sport and tradition – and although it forces me to get up at 6 am on Sunday morning to take my son to practice, I wouldn't want to have it any other way!
Home Sweet Home

Although we are busy as a family as everyone else is, we LOVE to spend time at HOME. ALONE. AS A FAMILY. We love to sleep in, let the kids watch their favourite shows, cook food and drink wine, play board and card games, watch movies together, build Lego, play with stuffies or Barbies, read books, take naps, cuddle, go for bike rides around the hood, have pillow fights, laugh until our bellies hurt and just be together. We try to remind ourselves to embrace it all until it's over.
Follow Patricia and her family's escapades on her social channels!
Harriet Fancott
Harriet Fancott is the Editor and Social Media Manager for Vancouver Mom. She has over 20 years experience in the arts, tech and mom-based blogging arenas. She lives in East Vancouver with her husband and son where they enjoy exploring all that Vancouver has to offer from festivals and events to playgrounds and beaches to sushi and ice cream (although not together).