Big pumpkin patches, while fantastic in their scope and offerings, can be overwhelming for the quieter, gentler set. We talked to local mom Connie Hobbis, who is taking her family on a pumpkin patch tour around the Lower Mainland to discover lesser known hobby farms in support of our local BC Farmers.
They recently visited Meadows Family Farm in Maple Ridge. Here's what she had to say: "Leanne and her family started this farm in 2015 with a few bunnies and chicks for an Easter event and evolved from there. Their mantra is to 'create a place where families and friends can spend time together, have fun, experience a little bit of the farm life and create memories that will last a lifetime.'"
How to plan your visit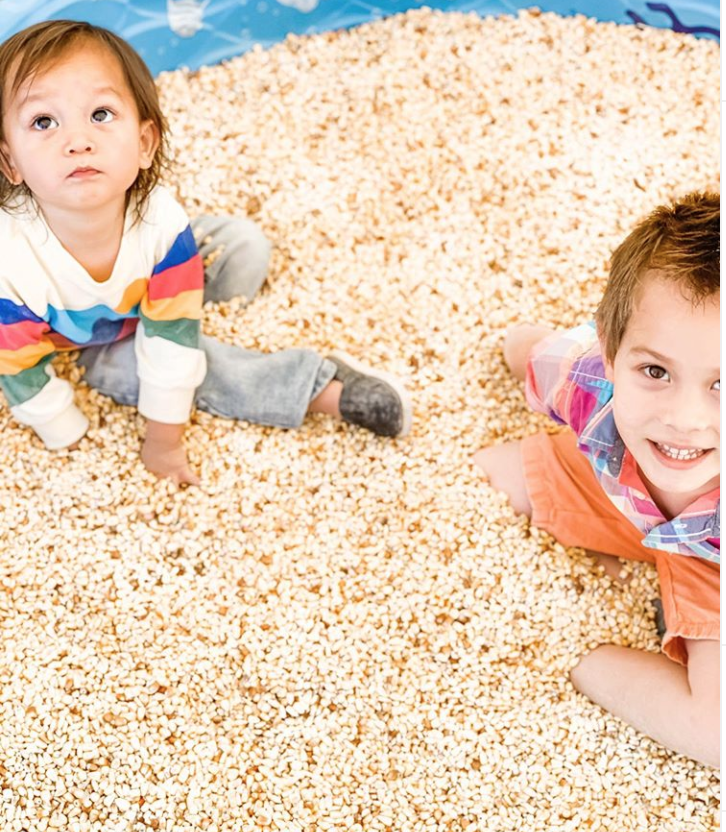 Main Attractions
Hobby farm, petting farm, pumpkin patch display, and general trailer store with a playground area and umbrella sheltered picnic tables for lunch.
This farm is perfect for toddlers and little babies as the whole farm is very walkable so leave your stroller at home.
Purchase food for the animals, they offer a hand scoop and food for $2/cup
Admission and Hours
Tuesday-Sunday 10-4pm (closed Mondays)
$7 per walking age guest, $5 for seniors
Accepts cash or credit card

Ways to save
Group/Family rate (6+ or more guests) – 10% off

Free Parking
Enter by the wacky waving tube guy with plentiful parking with a large visible parking lot off the main road.

Parking to entrance
Short distance, less than 10 metres

What to wear / what to bring
Rainboots and light coat
Water & snacks to keep hydrated, there's a general store on-site

Washrooms
Washrooms and several hand wash basins on site located outside the petting farm area with proper COVID precautions and social distancing rules in effect. Baby change table available.

Special Notes
Rabbit, rabbits, rabbits—okay, just the cutest bunnies near back 🐰 **A MUST SEE**
See Also
Meadow Family Farm
24331 Dewdney Trunk Road, Maple Ridge, BC
Instagram: @meadowsfamilyfarm
Website: meadowsfamilyfarm.ca
Connie Hobbis is a Vancouver Mom of two who enjoys adventuring with her kids around BC (& beyond). Follow her on Instagram at @buddycons


Connie Hobbis
The author behind @buddycons, Connie writes about her detailed adventures with her kids around BC (& beyond), believer of 'presence over presents' in motherhood & literacy development in children. She shares tips on traveling with ease with kids, home organization & gentle minimalism with having less. She lives in the Metro Vancouver area with her husband & two kiddos. Before becoming a mom, she worked in the Financial Industry and is a two-time award winning People Leader. Follow her adventures & updates on Instagram @buddycons.