Celebrating 75 Years: The Cloverdale Rodeo Returns
The Cloverdale Rodeo and Country Fair is back with a bang, celebrating its 75th anniversary in 2023. As one of Western Canada's most popular family events, it promises an unforgettable experience for all ages during the May long weekend
Back in the Saddle: Honouring 75 Years of Thrills at the Cloverdale Rodeo and Country Fair
The four-day event at the Surrey, B.C. Fairgrounds is a family favourite, featuring rodeo events, live music, skateboarding competitions, kids' activities, and delicious food trucks.
Rodeo Events
Cowboys and cowgirls show off incredible rodeo skills with their animal partners. Watch bull riding, saddle bronc riding, and barrel racing. These high-stakes events keep you on the edge of your seat, as riders display grit to claim victory.
Live Music Performances
The Cloverdale Rodeo and Country Fair is not just about the rodeo, it's also about the music! Enjoy live performances by renowned artists like George Canyon and other talented musicians. The concerts create an electric atmosphere for the festivities, with everyone tapping their feet and singing along to the beat!

>> Live Music Performances
World Freestyle Skateboarding Round Up
If you prefer wheels to hooves, don't miss the thrilling World Freestyle Skateboarding Round Up, showcasing incredible skill and style. Skaters from around the globe gather to compete in this unique event, showcasing their incredible tricks and techniques. This competition is sure to inspire awe and admiration from spectators of all ages.
Activities for Kids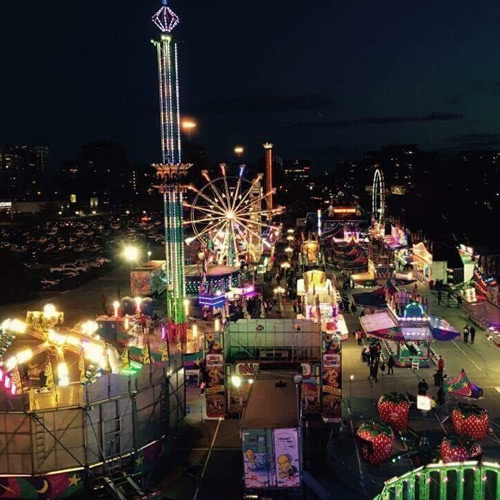 Get ready for a family fun-filled day! Kids will have a blast with face painting, pony rides, and a dedicated kids' zone filled with games and attractions. There's no shortage of fun for little ones to keep them entertained all day. Parents can relax knowing their children are enjoying themselves in a safe and exciting environment.
Over 40 Food Trucks
With over 40 food trucks to choose from, indulge in a smorgasbord of mouth-watering dishes. From classic rodeo fare like BBQ and corn dogs to diverse international cuisines, there's something delicious for everyone to feast on!
Saddle up for a rootin' tootin' good time at the 75th anniversary of the Cloverdale Rodeo and Country Fair! Join them on the May long weekend for thrilling rodeo events, live music performances, skateboarding competitions, and kid-friendly activities. Join the Western Canadian tradition with an impressive selection of food trucks for the whole family. Mark your calendars and head to Cloverdale Fairgrounds in Surrey, B.C. for an unforgettable experience.
How to get Tickets
Join the fun at The Cloverdale Rodeo and Country Fair for entry for only $12 (13 years +). Get your tickets online now and enjoy free entry for kids 12 and under.
Furthermore, The Cloverdale Rodeo & Country Fair opens on Friday, May 19, 2023 and runs until Monday, May 22 2023.

Folllow Cloverdale Rodeo & Country Fair at:
Website: www.cloverdalerodeo.com
Facebook: https://www.facebook.com/Cloverdalerodeo
Instagram: https://www.instagram.com/cloverdalerodeo
The Cloverdale Rodeo & Country Fair is an annual event that takes place in May in the city of Surrey, British Columbia, Canada. It is held at the Cloverdale Fairgrounds, which is located in the historic Cloverdale neighbourhood of Surrey.
Vancouver Mom
Would you like to write for us? We welcome well-written guest submissions with a local interest slant. Share your tips, review local businesses and highlight hot trends for Vancouver moms. Get all the info on our Contributor Page!