Vancouver Day Trip: Affordable Family Fun in Whatcom County
Many Vancouverites associate the city of Bellingham, Washington with shopping. While there may be deals to had by spending a day south of the border at the mall, there's a whole lot more to Whatcom County than bargain-hunting. If you have a passport and a day to explore, there are lots of affordable options for family-friendly fun within an easy drive of the border. Today we're sharing our top five day trip picks in Northwestern Washington State.
Affordable Family Day Trip to Whatcom County
1. Family Interactive Gallery at Whatcom Museum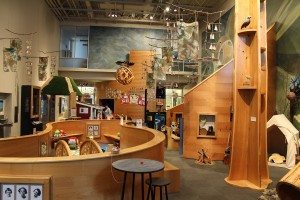 The Family Interactive Gallery at Whatcom Museum in downtown Bellingham is a great way to while away a few hours with the kids. It's a much smaller space than Science World or the Aquarium, which actually works in its favour. Once your kids are inside there's not really anywhere they can escape to. With a toddler area in the centre and exhibits around the outside, it's easy to keep an eye on two or more kids at a time. The gallery usually isn't too busy, and a visit is a lovely, chilled-out experience. At the back the art studio welcomes children to paint, draw, build and create. Exhibits allow kids to make their own stop-motion movie, go camping, grow food, explore the water cycle, dance and more.
Admission: Adults $10, Students/Seniors $8, Kids 2-5 $4.50, Kids under 2 free
Location: 250 Flora Street, Bellingham, WA
Hours: Wednesday-Saturday 10:00am – 5:00pm, Sunday 12:00 – 5:00pm
More info: www.whatcommuseum.org/learn/family-interactive-gallery
2. Hovander Homestead Park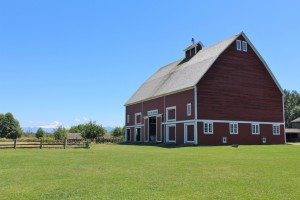 The Hovander Farm in Ferndale, Washington preserves the rich history of pioneer farming in a public park. The big red barn is a truly impressive structure, and inside you'll find a collection of antique farm implements and old harvesting equipment, which children can explore and climb on. From May to October there are also farm animals to see, including turkeys, goats, chickens, rabbits and more. This isn't a petting farm, but kids will still enjoy waving at the animals, and they definitely add to the experience. Hovander House is a gorgeous home, and tours are available on weekends between Memorial Day and Labour Day. Even if you can't get inside, though, you can wander through the gardens. The site also features a big new playground, an old water tower to climb, bathroom facilities, a Children's Story Garden, picnic areas and walking trails. You can walk from the farm to nearby Tennant Lake, or hop in your car and park right beside the 50 foot viewing tower and Fragrance Garden.
Admission: Free
Location: Nielsen Avenue, Ferndale, WA
Hours: 8:00am – Sunset Daily
More info: www.co.whatcom.wa.us/parks/hovander
3. Lynden Pioneer Museum
If someone in your family loves old vehicles, the Lynden Pioneer Museum is a must-see. Located inside an unassuming store-front, the museum is surprisingly large inside. It chronicles the history of Whatcom County before to World War II, and includes information about First Nations communities, early settlers, agriculture, businesses and more. There's also a life-size replica of Lynden's historic downtown. The dolls in the old toy exhibit are both fascinating and creepy. The jewel in the museum's crown has to be its transportation exhibit, featuring horse-drawn buggies and carriages, as well as many old cars. The collection is extensive, and chronicles the many vehicles that preceded the automobile, as well as displaying the rise of motorized transportation. While you're in Lynden, there are also lots of family restaurants if you're looking for a bite to eat, and you have to stop by Edaleen Dairy for some ice cream.
Admission: Adults $7, Students/Seniors $4, Kids 6 and under free
Location: 217 Front Sreet, Lynden, WA
Hours: Monday-Saturday 10:00am – 4:00pm
More info: lyndenpioneermuseum.com
4. Whatcom Falls Park
Whatcom Falls Park is a lovely place to get up close and personal with nature, take in some stunning natural beauty and go for a stroll. If you like Lynn Canyon but the suspension bridge is too much for you or you find the crowds overwhelming, head to Whatcom Falls. The falls are beautiful, and there are a number of kid-friendly walking trails that allow you to explore the area. The nearby playground, fish hatchery, picnic tables and washroom facilities make this day trip fun for everyone. Insider tip: for a post-hike treat, head to Lafeen's Donuts and Ice Cream (www.lafeens.com) for a little bit of local flavour.
Admission: Free
Location: 1401 Electric Avenue, Bellingham, WA
Hours: 6:00am – 10:00pm Daily
More info: www.cob.org/services/recreation/parks-trails/whatcom-falls-park.aspx
5. Birch Bay
If life is a beach, then a stop in the little seaside village of Birch Bay is a must for your Whatcom County day trip. The bay is a large tide flat, which means that when the tide is out it goes way out, and when the tide is in the water is shallow and warm, and perfect for young children to play in. With a sandy public beach and a rocky area at the state park, there's lots of room to spread out. Washroom facilities are somewhat limited in the public beach area, though the state park offers more modern options. Birch Bay also features a number of local businesses and restaurants. A local favourite is The C Shop, which is half candy shop, half cafe and pizerria. Their salt water taffy is really phenomenal, and their chocolate selection is impressive. It has seasonal hours and is closed over the winter, however, so be sure to head to www.thecshop.com before you stop by. There are a number of restaurants and businesses that are open year-round if you visit in the off season
More info: www.birchbaychamber.com
There are also a number of seasonal events and festivals in Whatcom County, including Blaine's Old-Fashioned Fourth of July, the Old Settlers Picnic in Ferndale, the Northwest Washington Fair in Lynden, Birch Bay Discovery Days, the Whatcom County Farm Tour and more. To plan your own day trip, head to www.bellingham.org.
Amber Strocel
Amber Strocel is a writer, aspiring math teacher, suburbanite, wife and mom of two. She believes in the power of the Internet to connect people, and she believes that numbers are the poetry of the universe. You can often find her knitting, sewing, volunteering, working in her garden, and sneaking chocolate when no one's looking. She blogs at Strocel.com and shares her photos on Instagram as @AmberStrocel.