GIVEAWAY! Enter to win tickets to the Vancouver International Children's Festival
We are thrilled to be giving away 8 pairs of tickets to Poggle at this year's Children's Festival on Granville Island. This charming performance is specially designed for the tiniest of theatre goers, the 0-3 year-old set. Tickets are for the Saturday, June 2, 10 am show and include access to the non-stop fun of the Activity Village.
We know what you're thinking: "My 2-year-old could never sit through a performance!"
Well guess what? They don't have to. Poggle is made with small, curious, active kids in mind. They have ample space for movement and seating in a warm, welcoming setting. In a world dominated by screens, this living, breathing magical show is exactly what kids crave and need.
Enter to win a pair of tickets to Poggle on our Facebook Page or on Instagram!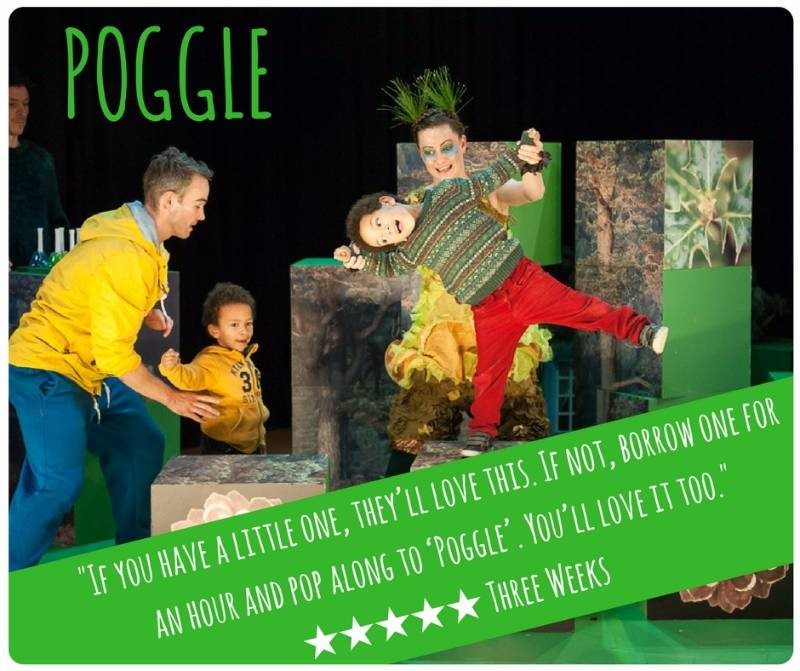 The magical charm of Poggle
Scottish child whispers, Barrowland Ballet will guide children on a 45-minute adventure inspired by nature. Vince wants to explore the forest but he's too scared. Until one day he meets Poggle, a friendly creature who helps him overcome his fears and together they explore the forest and the magical musical tree.
Share a special moment with your little one in a world filled with play, exploration and wonder.
With live music, clapping rhythms and bubble popping throughout, Poggle will take you on a magical and visual journey. Children are even invited to explore the forest too and discover the hidden secrets within the set after the show. Follow Poggle and his friend as they find the joy in nature and strength in themselves.
Special relaxed performance of Poggle for sensory affected kids.
There is a Relaxed Performance of Poggle on Friday, June 1 at 12:30 pm designed for kids with ADS or sensory issues aged 0-14. The lights are lower, sounds softer, there are in-out privileges and fewer tickets are released so the room doesn't feel crowded. It's a warm, friendly, welcoming experience.
Enter to win a pair of tickets to Poggle on our Facebook Page or on Instagram!

 
This post is sponsored by Vancouver International Children's Festival 
The 41st annual Vancouver International Children's Festival takes place May 28 – June 3 on Granville Island where world-class theatre, music, dance, circus, puppetry and storytelling comes to entertain Vancouver children and families. This year, ten professional performing artists from as far-reaching as Scotland and Australia are scheduled to perform 73 fantastic shows.
Harriet Fancott
Harriet Fancott is the Editor and Social Media Manager for Vancouver Mom. She has over 20 years experience in the arts, tech and mom-based blogging arenas. She lives in East Vancouver with her husband and son where they enjoy exploring all that Vancouver has to offer from festivals and events to playgrounds and beaches to sushi and ice cream (although not together).