Where to Eat in Vancouver: Kid-Friendly Corduroy in Kitsilano
Article by Jo Ramsay, sharing the scoop on where to eat in Vancouver for kid-friendly fare.
Corduroy, Kitsilano's unassuming but trendy bar on Cornwall Avenue has recently opened its doors to daytime diners (11:00am-3:00pm weekdays). Having enjoyed a visit on a rare girls' night out, I was keen to try their lunchtime fare. But would it fit the bill for where to eat in Vancouver during daylight hours?
Where to Eat in Vancouver to Re-Live Your Youth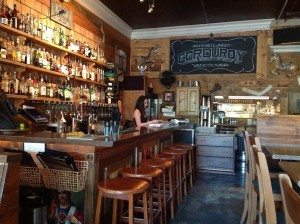 With cool music playing in the background and the laid back surroundings of a late night bar it's not the first place that comes to mind when you think of a kid-friendly Vancouver eatery, which is what's great about it. It gave me hope that I hadn't totally abandoned my vaguely hip youth in favour of restaurants with laminated menus and novelty plates.
Our lovely waitress was totally unfazed when our group of five adults and eight hungry preschoolers piled in and even offered the genius suggestion of two separate tables for the children and adults. As the eldest is not yet four we resisted this tantalizing option…for now. Touches like this, and the fact that they automatically brought out the children's food first, complete with child-sized cutlery, made it feel as though kids were genuinely welcomed rather than simply tolerated. Their efforts also include, admittedly quite rudimentary but pleasingly existent, baby change facilities.
Kid-Friendly Vancouver Restaurant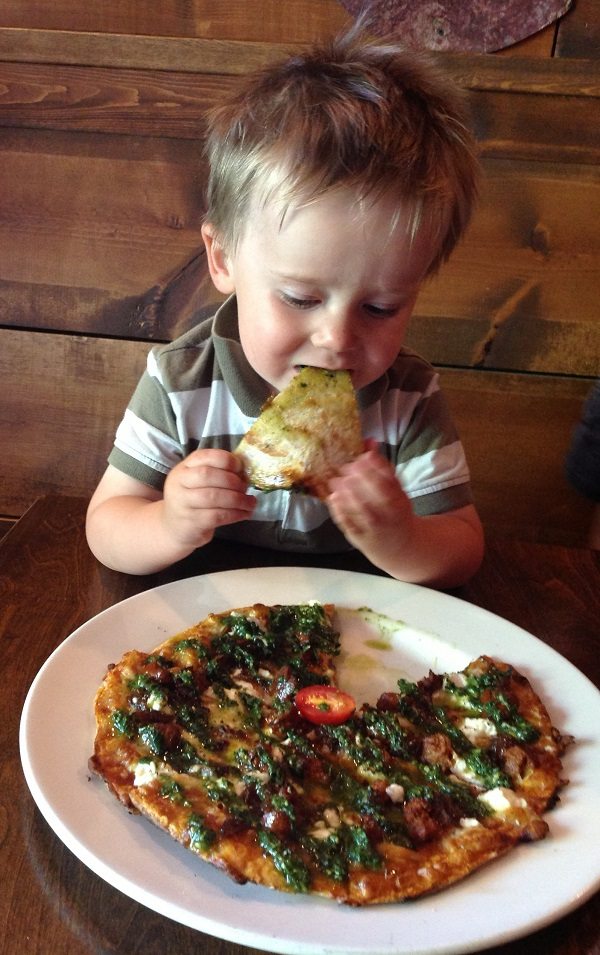 The children made beelines to the well-equipped play area located on the stage (and quickly whipped away before the hipsters arrive for comedy and open mic nights). It's cleverly self-contained, which meant I managed at least half a grown up conversation before a three year old figured out how to open the homemade gate and exited the play area with a trail of mini escapees behind her like a toddler Pied Piper. Unfortunately, whilst the toys will still be available the owners plan to give the play area a summer vacation in favour of outside seating but I've been assured it will return later this year.
Despite a varied menu for both kids and adults most of us plumped for pizza. I'm beyond trying to stick to some pre-baby notion of child rearing and ordering the vegetable sticks when there's pizza in the vicinity, though they do use fresh, local, organic produce wherever possible so I didn't feel too much mom-guilt. I ordered spicy lamb sausage with caramelized onions, goat cheese and mint pesto – an absolutely delicious combination of sweet and spicy atop a delightfully thin and crispy wholewheat pizza base. My two year old took one look at his rather plainer margarita and quickly dug into mine.
A Rare Quiet Moment
Our group happily ate our way through roasted organic chicken fettucini in pesto cream, mushroom medley pizza topped with truffle crème fraiche and chorizo and sun dried tomato pizza with basil aioli and there was barely a crumb left. In fact I think there was even one of those rare moments when all the children were sitting in one place quietly eating at the same time. I wish I'd taken a photo for prosperity.
Whilst I still ended up sitting on the floor doing a puzzle it was one of the most relaxing experiences I've had eating out with children. Our motley crew left with bellies full of delicious food and happy smiles. I'll definitely be heading back to this hidden gem before everyone else finds out and adds it to their own list of where to eat in Vancouver.
Corduroy
www.corduroyrestaurant.com | Twitter | Facebook
1943 Cornwall Avenue, Vancouver, 604-733-0162
Jo Ramsay is a producer, director, writer, Brit abroad, mom of two mischievous bundles of fun, a newly converted yoga obsessive and lover of all things comedy. Jo blogs at Titchy Jo and tweets as @JoRamsay1.
Vancouver Mom
Would you like to write for us? We welcome well-written guest submissions with a local interest slant. Share your tips, review local businesses and highlight hot trends for Vancouver moms. Get all the info on our Contributor Page!