Where to Eat in Vancouver: Fresh and Healthy at The Naam
It's Wellness Month here at VancouverMom.ca, and many of us are looking for healthy dining options. Today, in her final post, West Side Contributor Kate Marples shares her tip on where to eat in Vancouver for healthy cuisine.
We are always on the lookout in my family for restaurants that open early for breakfast on weekends. We recently discovered that The Naam, the quintessential West Side vegetarian restaurant, is open 24 hours. Sold. Early morning weekend breakfast it is.
Where to Eat in Vancouver if You're up Bright and Early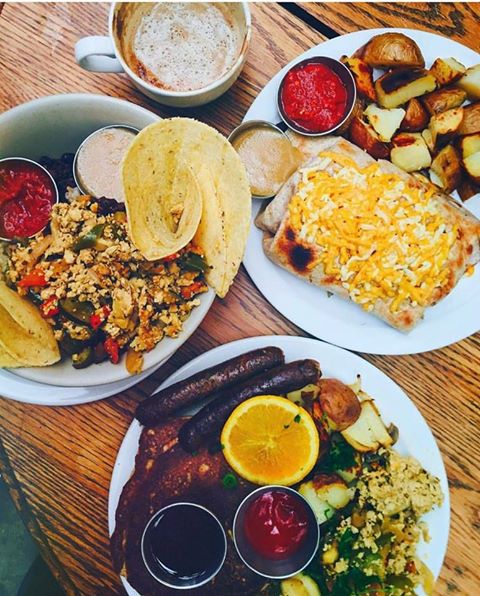 Whether you're a vegan, a vegetarian or an omnivore, you will find something to suit your taste at The Naam. With a good variety of egg (or tofu) dishes, omelettes, pancakes, cereals and smoothies, both you and your picky little ones will be satisfied. The ingredients are super fresh and healthy – which is important in a vegetarian restaurant.  It certainly beats a whole lot of other early morning breakfast places where the closest thing you'll find to a vegetable is hashbrowns.
On a recent visit to the Vancouver restaurant, prompted by my daughter's early rising and a complete lack of food in my refrigerator, I ordered the spinach and feta omelette. Was it the best breakfast I've ever had? Probably not. But it was still pretty tasty, and the ingredients were exceptionally fresh and healthy. And did I mention that they're open 24 hours? If your kid is going to wake you up at 6:00 am on a Saturday, you might as well get out there and get some fresh, yummy food in your belly!
Not Just Breakfast
For those of you who are fortunate to
have children who don't wake up before the sun rises, you can still check out The Naam for lunch or dinner. Don't be scared off by the fact that you can't order a steak. Their salads, Mexican dishes and veggie burger platters more than make up for the lack of meat on the menu.
While The Naam is certainly a child-friendly Vancouver restaurant with their high chairs and generally welcoming attitude, it is also a great place if you're wondering where to eat in Vancouver for date night or an evening out with friends. They have live music every night from 7:00 – 10:00 pm. The schedule of performers is posted on their website, so once you find a favourite, you can be sure to go back again and again to hear them some more.

What's your favourite Vancouver restaurant when you're looking for fresh and healthy food? Leave us a reply and let us know.

The Naam
www.thenaam.com | Facebook
2724 West 4th Avenue, Vancouver
Image credits: The Naam (banner and bottom), Tosha Lobsinger (middle)